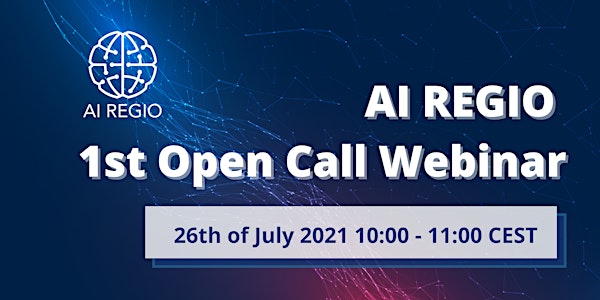 AI REGIO 1st Open Call Webinar
AI REGIO 1st Open Call Webinar
About this event
AI REGIO will build a one-stop-shop platform that enables access to resources for AI-based solutions in efficient and sustainable manufacturing, with particular emphasis on resources that can lower the AI adoption barriers for SMEs.
The first open call of AI REGIO is currently open. Its objective is to select up to 8 SME-driven experiments to complement AI REGIO in the extension of the current portfolio of "AI for Manufacturing" solutions; and benefiting directly SMEs in underrepresented regions, with the perspective to join the VANGUARD Initiative. Selected consortia will benefit from financial support of up to EUR 100.000.
Join the AI REGIO 1st Open Call Webinar and get engaged in the project to get support for AI adoption in your organisation.
Agenda of the Webinar:
10:00 - 10:05 Welcome and presentation of the objectives of the webinar
10:05 - 10:15 AI REGIO project overview
10:15 - 10:30 AI REGIO open call for experiments presentation
10:30 - 10:45 Inspiring experiments carried out under AI REGIO
• INTELLIMECH
• S2P - Smart Plastic Products
10:45 - 10:55 Questions and Answers
10:55 - 11:00 Wrap-up and next steps
You will receive the link to join the webinar by e-mail after registration.