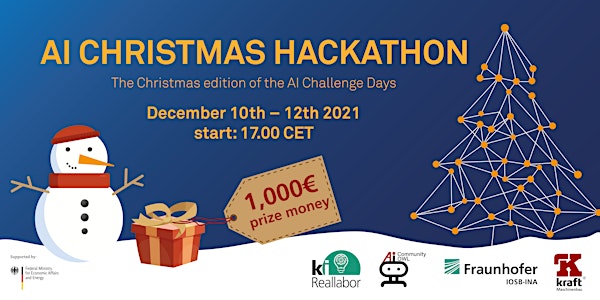 AI CHRISTMAS HACKATHON
AI CHRISTMAS HACKATHON – The Christmas edition of the AI Challenge Days
About this event
Ho ho ho – Welcome to the AI Christmas Hackathon! Not long now and Santa Claus will come by with a bulging sack full of industry data and an exciting AI use case.
THIS IS WHAT YOU CAN EXPECT:
Together, AICommunityOWL and the AI Living Lab bring together experts, enthusiasts, students, practitioners and industry to realize the potential of artificial intelligence.
For a few days you will have the opportunity to use real data from industrial processes to realize your own AI algorithms and find solutions for industry.
Everyone can participate, whether you are an AI professional or a rookie, alone or in a group!
All you need is a laptop/computer with a programming language of your choice. Prior knowledge of Python is recommended.
THE CHALLENGE
The data for the challenge will be provided by G. Kraft Maschinenbau GmbH. Kraft Maschinenbau has developed in 200 years from a blacksmith's shop for wagon construction to the construction of agricultural machinery to an international manufacturer of special machinery.
The challenge will remain secret to the AI experts until the event.
THE PRICE
In addition to the glory, prize money totaling 1,000€.
1st place = 750€
2nd place = 250€.
FREE PARTICIPATION
Participation is free of charge. The necessary access data will be provided via e-mail in good time before the event.
SCHEDULE
Friday. 10th December
4.45pm: Zoom Check-In
5.00pm: Welcome
5.10pm: Keynotes
6.00pm: Announcement of the challenge
6.15pm: Team building session
6.30pm: Publication of data sets
9.00pm: Late Support Session
Saturday, 11th December
9.00am / 3.00pm / 9.00pm: Support Session
Sunday, 12th December
9.00am: Support Session
12.00pm: Submission of results
12.30pm: Pitch Session
13.30pm: The end
CONTACT DETAILS
Any questions? Feel free to contact:
Cosmo.alison.schwabedissen@iosb-ina.fraunhofer.de
If you want to stay informed, follow us!
Twitter:
@FraunhoferLemgo
@AICommunityOWL
LinkedIn:
@Fraunhofer IOSB-INA