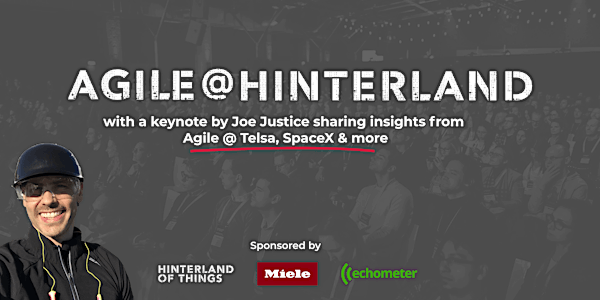 Agile @ Hinterland | Learnings from Tesla
Agile@Hinterland is an event for agile practitioners to get inspired by Tesla veteran Joe Justice - who talks about 'Agile in Hardware'.
About this event
As a side event of the 'Hinterland of Things' conference, this barcamp is intended for agile thought-leaders interested in an open exchange on their agile transformation and on "Agile in Hardware development".
We're especially excited to welcome Joe Justice as keynote speaker. Joe co-founded Wikispeed and worked on Agile@Tesla first hand with Elon Musk. Tesla is leading the "Agile in Hardware" movement and by focusing not on building the product itself but on "building the machine that builds the machines". This challenge requires a mindset shift on many levels - as Joe will elaborate in his presentation.
Throughout the event, we'll encourage an open exchange amongst all attendees. The more open you share your thoughts, the better your value!
The agenda
9:00 - 9:30 AM : Welcome & Check-In
9:30 - 10:00 AM : Keynote by Joe
10:00 - 10:15 AM : Q&A with Joe
10:15 - 10:45 AM : Breakout Sessions
10:45 - 11:00 AM : Check-Out
About the keynote speaker

Joe Justice has worked with Bill Gates, the leadership team at Amazon, and operated the Agile program at Tesla for Elon Musk. Joe founded WIKISPEED which became an example of automotive design and production speed in a fun, egalitarian culture. Joe enjoys collaborating as a board member, writing, teaching, and running companies to make a good future arrive faster.

Miriam Sasse studied industrial engineering and psychology and accompanied teams from the fields of plant and mechanical engineering, automotive construction, civil engineering, electronics, IT, services as well as research in the implementation of projects. She currently works as an Agile Coach and Transformation Consultant at Bertelsmann SE & Co. KGaA / arvato Systems.
Jean Michel Diaz worked as as Executive Assistant in a German DAX30 Joint-Venture. With his experience as a Scrum Master and in lean process management, he believes in the power of retrospectives and co-founded Echometer, a startup spin-off of the Psychological Department of the University of Münster in 2019.

Special thanks to our sponsors for allowing us to run this event!
Hinterland of Things is the leading platform to enable and shape Digital Transformation in the heart of the German Mittelstand. Our Mission is to create a sustainable ecosystem of visionary minds to fuel innovation. We do this by building persistent connections and a valuable exchange of knowledge to create a shared idea of our future. Our actions are driven by traction, trust and tradition.
Miele is the world's leading provider of premium domestic appliances for cooking, laundry care and floor care. Miele has been an independent family-owned company since its establishment in 1899 and is equally committed to its owners, employees, customers, suppliers, the environment and society.
Echometer combines team health checks and retrospectives into a unique solution for agile team development. As a startup spin-off of the psychological department of the university of Münster their solution is already used by companies like Shopware, Miele, DATEV, Volvo and VW.