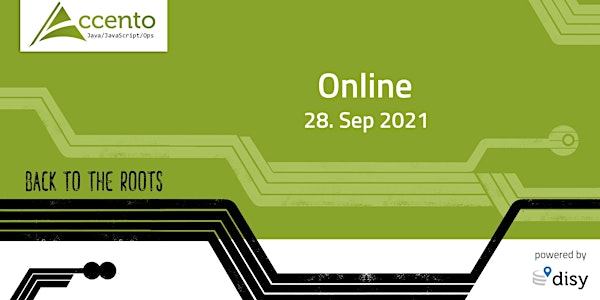 Accento Conference 2021 - Java/JavaScript/Ops
Accento Digital is a high-caliber online conference for experienced Java/web developers.
Refund Policy
Refunds up to 1 day before event
About this event
Today's the day of the conference, since 0800 CEST (0600 UST), you can hop into Accento.
Accento Digital is a high-caliber online conference for experienced Java/web developers. If you're up for a full day of inspiring talks, professional sessions, interesting discussions, and new ideas around Java, JavaScript, web development, and operations, you don't want to miss it.
Three Tracks, 15 Talks, 1 Keynote
Accento will have about 15 talks, split across three tracks:
talks on Java and the JVM dive deep into our favorite backend platform, improving your understanding of essential tools and processes
no backend without frontend — the JavaScript / web dev track focuses on making your user interface more resilient, have more performance, look nicer, and be all around even better to maintain and use
then we'll look into operations — think continuous delivery, Docker, cloud, etc.
Online - Once again
We originally planned Accento to take place in-person in Karlsruhe, but the ongoing pandemic prevented that. More details on this page, but the gist is:
all talks happen as planned
Stay in Touch
Thrilled for a full day if top-notch speakers?! So are we! Get your ticket now and join us at Accento 2021.
For further informations about our speakers, partners & more, please visit our website: https://accento.dev or follow @AccentoDev on
Any questions? Ping us on Twitter or mail to hello@accento.dev.