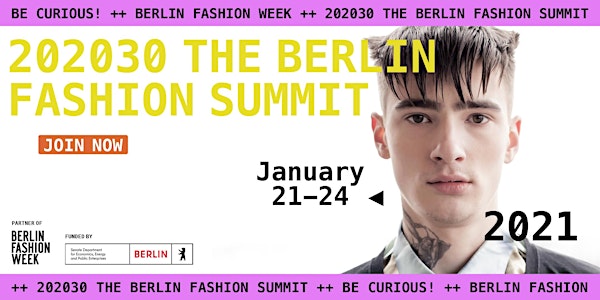 202030 THE BERLIN FASHION SUMMIT
The 202030 Berlin Fashion Summit - developing visions focusing on sustainability and digitalisation.
About this event

WHAT ++ ENVISON & ENCOURAGE FUTURE FASHION SYSTEMS
This is Berlin's roaring 2020's call for transformation in fashion: 202030 – The Berlin Fashion Summit
202030 - The Berlin Fashion Summit is designed to be(come) a cross-disciplinary platform, where avant-garde creatives and critical grassroot protagonists meet industry stakeholders to work together. The challenge is to connect and find solutions for the needs of diverse fashion industries, consumer cultures, innovation-driven sustainability, and the tech movement.
By involving experts from different disciplines, the 202030 - The Berlin Fashion Summit aims to stimulate a visionary, creative and encouraging dialogue. Through a multi-staged process, we aim to bridge existing innovations with the industry and envision concrete tangible connections and solutions for a more sustainable future of fashion.
202030 - The Berlin Fashion Summit is organized by studio MM04 in cooperation with Sqetch and the Beneficial Design Institute.
PROGRAM ++
PRE SUMMIT (Public/ German)
21-01-2021 3-5 pm // Policy Lab
SUMMIT (Public/ English)
22-01-2021 3-4.30 pm // Fashion Culture
23-01-2021 3-4.30 pm // Fashion Economy
24-01-2021 3-4.30 pm // Fashion Product
ALL EVENTS WILL TAKE PLACE ONLINE!
WHY ++ THE TWENTIES CALL FOR TRANSFORMATION
The 2020's are destined to become the decade of glocal changemaking — this was clear long before the Covid-19 pandemic disrupted most of our global human activities. Now the need to transform outdated systems could meet a historic opportunity to combine recovery from the disturbing pandemic with all the benefits of sustainable development.
Also, Berlin Fashion Week is transforming itself with a refocus on its roots as the European capital of creative industries and continues to focus on a sustainable future with a more than ever cross-disciplinary approach to celebrate fashion and the people involved.
202030 - The Berlin Fashion Summit is dedicated to reinventing fashion as a system that enables and produces sustainable economies, structures and products and leverages a positive societal impact — for a global fashion culture that inspires sustainable lifestyle.
HOW ++
International and local experts and innovators from fashion, science, business, education, politics, art & tech will be invited for 202030 - The Berlin Fashion Summit's kick-off event in January 2021. The 202030 dialogue is divided into three parts:
The Pop Up Think Tank is not public and serves as the first experimental and preparational part. It consists of three top-notch workshops, discussing systemically relevant questions from different points of view – by envisioning the future of #1 fashion culture, #2 fashion economy and the #3 fashion product itself.
The SUMMIT serves as the main public part and opens up the dialogue to a broader audience. Each summit day will highlight one of the preceding topics #1 fashion culture, #2 fashion economy and #3 fashion product. Individual workshop participants will present the outcomes of the Pop Up Think Tank. Furthermore, inspirational keynotes will be held, followed by demonstrations and presentations of best practises. A closing panel will wrap up the insights of each day and provoke progressive solutions and guidelines for future operations of the fashion industry.