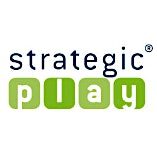 StrategicPlay®
StrategicPlay® ist spezialisiert auf die co-kreative Gestaltung strategischen Spielraums. 2006 starteten wir mit LEGO® SERIOUS PLAY® und wurden Lead Partner von LEGO A/S für die Methode. Seit 2010 vermitteln wir unser Wissen außerdem als offizieller Trainingspartner weltweit in CoCreation-Trainings und Workshops.
Uns fasziniert, wie Aufgaben ihre Komplexität verlieren und Projektstaus sich auflösen, wenn man kreativen Lösungen eine Chance und Raum zum Wachsen gibt – eine Faszination, die wir gern an Teams in Unternehmen weitergeben.
StrategicPlay® is the brand for playful and strategic co-creation. We started in 2006 with LEGO® SERIOUS PLAY® and are now one of the few official providers for LEGO® SERIOUS PLAY® trainings.
We are fascinated how big challenges lose their complexity and new solutions are created when we guide teams through our cocreation processes.