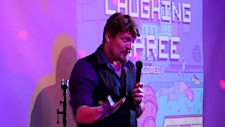 Comedian Chris Doering
Former Kabarettist and current Stand-Up Comedian who lives in Berlin. If you enjoy a good Nazi joke followed by fart joke, you might just like this guy. A bit. Maybe. Probably not.
Chris has extensive touring experience all over Europe. He has opened for Anthony Jeselnik and Jim Gaffigan, Andy Haynes, Ian Fidance as well as co-produced Jamali Maddix and Ari Shaffir. He's part of the comedy collectives Propaganda Comedy and The Berlin Offensive, and runs Laughing Spree Comedy, Laughing Bearlin, the Eastern European Comedy Special and Berlin for Dummies.