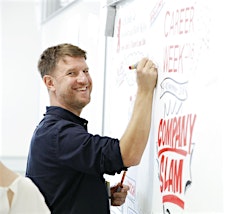 Benjamin Felis | Graphic Recording
Hi! My name is Ben and I'm based in Berlin.
I'm a former graffiti artist and work as a full time graphic recorder & illustrator since 2013.
I teach creative visualization techniques for over 10 years and by now have worked in over 15 countries in Europe, South America and Africa.
I'm trained in:
Graphic Recording
Visual facilitation
Visual Storytelling
Visual Presencing (Theory U)
Systems Scribing
Business Model Canvas
Coaching
Organizational Development
In the last years I taught thousands of students worldwide an now want to share all the knowledge online.
Happy to have YOU in the class :)

Yours,
Ben
Es gibt derzeit keine anstehenden Events.