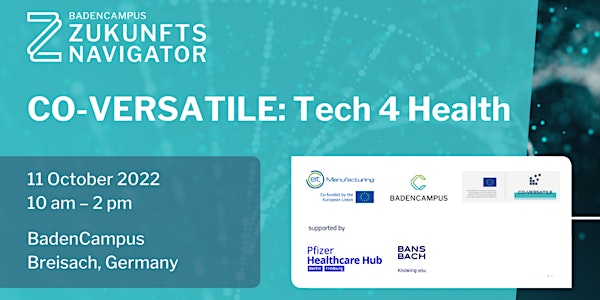 Zukunftsnavigator #12 Tech 4 Health. CO-VERSATILE.
Tech 4 Health. CO-VERSATILE.
When and where
Location
BadenCampus Bahnhofstraße 35a 79206 Breisach am Rhein Germany
About this event
The matchmaking and demystification event "Tech 4 Health. CO-VERSATILE." builds on current and past industry-driven research and innovation initiatives to deliver flexible responses and address innovative solutions for eHealth and eCare related products and services as well as for resilient service supply chains. It will showcase innovations in Europe impacting a significant increase in health and well-being, such as:
Disinfection spraying systems
Software focused on supporting the digital transformation
Innovative face masks and respirators
New paradigm of eCare, and
Simulation and visualisation approaches for production of heath and care technologies.
In addition, the event will introduce you to the Digital Technopole, a cloud-based platform for democratic access to experts and tailored solutions, which assists manufacturers quickly with readily available solutions, including software and services tools.
Participants will meet tech experts from the field of simulation and visualisation of supply chains in MedTech as well as innovative eHealth and eCare solutions and get to know already applied solutions.
For those who face challenges in the areas mentioned, there are many great technological solutions available that can help resolve them. To shed light on those solutions and demystify their implementation potential we showcase successfully implemented use cases and connect participants to domain experts.
Participants will benefit from interesting impulse talks of experts in the fields as well as from presentations of technological solutions followed by discussions of concrete applications in bilateral meetings. The event format facilitates the exchange between technology providers and users for a successful, future-proof implementation of innovation.
This event is organized by BadenCampus, EIT Manufacturing, CO-VERSATILE and Pfizer Healthcare Hub.
Agenda
10:00 am Welcome by Malaika Lauk, BadenCampus, EIT Manufacturing and Robert Lovas, SZTAKI and Wolfgang Kniejski, EIT Manufacturing
10:15 am: "Together for more health", Hans Zebner, Pfizer Health Care Hub
10:35 am "Der Health+ Inkubator an der RUB - Improving Lives", Prof. Dr. Christian Klaes, Ruhr-Universität Bochum
10:55 am: Solution presentations
Fraunhofer IML (Michael Dominik Görtz)
HSSMI (Katharina Deme)
STAM (Alberto Landini)
cloudSME (Andreas Ocklenburg, Lisa Ocklenburg)
11:23 – 11:43 am Coffee Break
CAPTAIN Coach (Evdokimos Konstatinidis)
WITA – PROLONG (Giuseppe Conti)
Change IT (Doreen Dahlmann)
heyvie (Marius Krämer)
Vimelio (Emil Kastler)
12:18 am: "Translation Center Digitization in Medicine", Dr. Christian
Haverkamp, Acting Director of the Institute of Digitalization in Medicine Head
of the staff unit IT processes at the hospital board of directors
12:38 pm: "The Digital Technopole – bringing together manufacturers and ICT
experts for rapid response", Sebastian Peña Serna, Managing Director clesgo
13:08 pm Bilateral meeting
About the organisers
As an innovation platform, BadenCampus connects start-ups, mid-sized companies, municipalities and local authorities, talents and scientific institutions to foster solutions for economy and society based on new technologies. Joint formats in an inspiring working environment create solutions for the economy and society based on new technologies.
In the fight against COVID-19, manufacturing and distributing vital medical equipment became a major challenge. Several unforeseen spikes in demand for essential medical devices and personal protective equipment (PPE) have been causing a greater urgency for supply chain optimisation and for deploying innovative approaches to scale up flexible and sustainable production methods.
To protect European citizens and address the needs of the healthcare sector on short notice, the EU-funded CO-VERSATILE project https://cordis.europa.eu/project/id/101016070 aims to prepare Europe for managing pandemics by elevating the adaptability and resilience of the manufacturing sector. The goal is to offer manufacturing and logistics firms readily available and customisable solutions - accessible via the 'Digital Technopole' platform - that enable them to boost the production of medical equipment. The ultimate objective is to ensure Europe's preparedness to protect its citizens and respond quickly at times of crises.
EIT Manufacturing supports start-ups and SMEs to strengthen their competitiveness and expand European markets and business models with the help of large innovative companies, research institutions and universities. The EIT Manufacturing community consists of six hubs across Europe, more than 80 members, several dozen activity- and network-related partners and supported start-ups. Partners include Volkswagen, Volvo, KUKA, Festo Didactic, Whirlpool Europe, Technische Universität Darmstadt and Fraunhofer-Gesellschaft. EIT Manufacturing is one of the knowledge and innovation communities of the European Institute of Innovation & Technology (EIT), a body of the European Union, dedicated to enabling innovators to turn their best ideas into products, services and jobs for Europe.
The event is supported by Pfizer Healthcare Hub
Our goal is to develop marketable solutions for drug production, clinical research, therapy support and other patient solutions. Our mission is to adapt the potential of digital innovations for the healthcare industry by initiating collaborations between the Pfizer Group and innovative companies. We connect experts and innovators in the healthcare sector, provide a platform for discussion, identify potential and drive dialogue on a variety of stages – creating space for groundbreaking innovations.