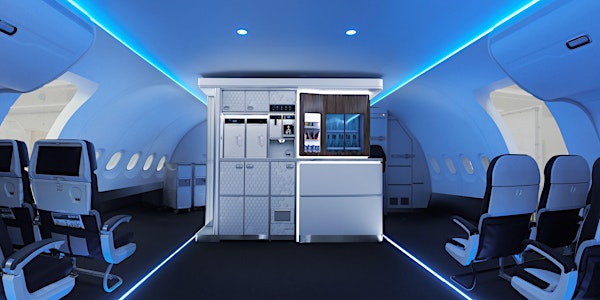 ZAL Discourse: Connected Cabin in Aircraft
New technologies for a smooth passenger journey and optimized flight operations
When and where
Location
ZAL Zentrum für Angewandte Luftfahrtforschung Hein-Sass-Weg 22 21129 Hamburg Germany
About this event
The future is digital. In aviation research, this is especially true for the aircraft cabin. Technological innovations and digitization will ensure a smooth and seamless passenger experience in the future. In the upcoming ZAL Discourse 'Connected Cabin in Aircraft', various experts will shed light on today's state-of-the-art in the connected aircraft cabin and current projects focusing on new technologies in this field.
What are the most promising technologies for passengers, airlines, and manufacturers? And what does the future of a 'connected cabin' look like? From new IT architectures to the use of IoT connectivity.
Agenda:
03:45 Opening & Registration
04:00 Introduction: 'Cabin of the Future'
– Dr. Leonid Lichtenstein, Head of Data & Power Networks at ZAL GmbH
04:10 Lecture: 'Smart & Connected Aircraft Cabin'
A balancing act between operational cabin management, airline business and passenger expectations
– Dr. Lothar Kerschgens, Senior Program Manager R&T Safran Cabin
04:35 Lecture: 'Airline Business Processes in a Smart Cabin'
Digitization in the cabin offers airliners many opportunities to improve their business processes. These are generally not related to operational safety. However, they must comply with the recently introduced CS 25.1319 for cyber-security certification.
– Prof. Dr. Ralf God, Head of the Institute of Aircraft Cabin Systems at Hamburg University of Technology (TUHH)
05:00 Lecture: 'IoT in Aircraft Cabin'
The "Internet of Things" (IoT) enables us to connect, experience and control smart elements in our homes, where we already take them for granted. Now we are ready to bring this megatrend from the ground into the aircraft cabins as well. An Avionic Standard is being established to ensure the interoperability between the smart devices.
– Dr. Bing Chen, Expert for IoT in cabin & cargo, Airbus Operations GmbH
05:25 Panel Discussion
– All speakers
05:55 Wrap-Up & Conclusions
18:00 Optional: Get Together & Networking
Please note that we can't guarantee a name tag for guests who register after January 25th.