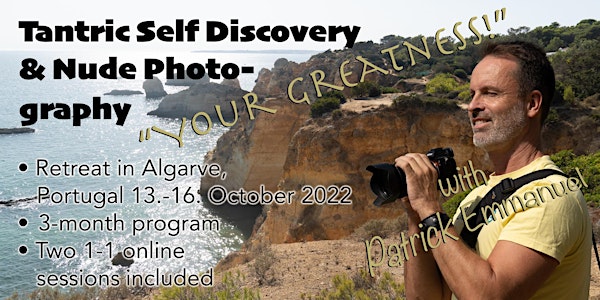 Your Greatness! - Tantric Self Discovery & Nude Photography
Discover yourself while learning in a tantric group of men to see your beauty and show it trough extraordinary photography. 3-month program.
Zeit und Ort
Veranstaltungsort
Casa Risa House & Spa 1 Rua da Igreja 8500-132 Mexilhoeira Portugal
Karte und Wegbeschreibung
Rückerstattungsrichtlinie
Rückerstattungen bis zu 30 Tage vor dem Event
Zu diesem Event
People have often asked me "how did you find this liberty to show yourself in your naked body?" and others "how do you take such beautiful photographs?".
This program does not only want to answer these questions but to take you into the same joy:
Photography is a wonderful way to experience our creativity and celebrate our body. But how do we deal with negative feelings we may have about our body? Through this program you will discover ways to relate more deeply to yourself, to your body and all of its parts.
Photographical tips of a master photographer who has gone through the same struggles, will help you to overcome shame, discover your beauty and create outstanding photographic works. You will realize that this is an incredibly healing process. When you shoot other gorgeous men, you will realize, that you are actually a part of them, too.
Find the full description of the program here.