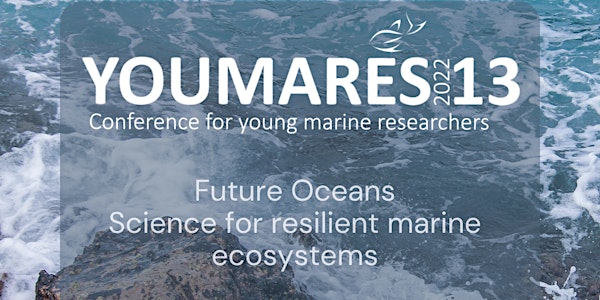 YOUMARES 13 Future Oceans - Science for Resilient Marine Ecosystems
YOUMARES 13 Future Oceans - Science for resilient marine ecosystems. Hybrid conference Berlin 11- 14.10.2022
When and where
Location
Invalidenstraße 43 Invalidenstraße 43 10115 Berlin Germany
Refund Policy
Contact the organizer to request a refund.
About this event
YOUMARES is an international conference which has been organized by the Working group on Studies and Education as a program/project of the German Society for Marine Research (Deutsche Gesellschaft für Meeresforschung e.V. (DGM)). Since 2009, the successful conference YOUMARES has taken place each year with different scientific topics related to the marine sciences. YOUMARES is an important meeting point for bachelor, master, PhD students and young researchers, who are highly committed to investigation in oceans.The major aim of YOUMARES is to establish a scientific network for young researchers where all participants from all over the world have the opportunity to create and to share knowledge and ideas to solve problems that our oceans are facing today.
In the context of the UN Decade of Ocean Science for Sustainable (2021 -2030), the YOUMARES conference 2022 will use the second outcome of the Ocean We Want: "A healthy and resilient ocean , where marine ecosystems are understood, protected, restored, and managed" as a guiding framework to promote marine research that covers a variety of ocean related fields and, simultaneously touches upon the Sustainable Development Goals (SDGs) .
We want to provide a stage for an interdisciplinary community of young marine researchers. The outcome "A healthy and resilient ocean" is linked to the sectors of marine science which they touch upon: Innovation & Technology, Research & Science, Society, Governance & Policies, Education & Art, Economy. The second outcome identified by the UN provides a variety of potential topics that can be discussed during YOUMARES 2022, like data collection using citizen science, species identification guides, scientific findings on specific marine species/ecosystems, potential modeling, and mapping software (GIS), stakeholder analysis and involvement, marine protected areas (MPAs), etc.
YOUMARES13 conference will be an important platform for a variety of research projects including citizen science approaches, education & outreach programs, and projects with a focus on businesses and entrepreneurship. This conference provides a space for like-minded young researchers from numerous nationalities and fields of study to present their research and have productive interaction with fellow researchers. The diverse and interdisciplinary atmosphere of the event allows for effective networking and enhances new partnerships and perspectives on marine related topics.
YOUMARES is an endorsed project of the UN Ocean Decade since 2021.