YOUMARES 12 Conference offers you interesting workshops on October 8, 2021:
About this event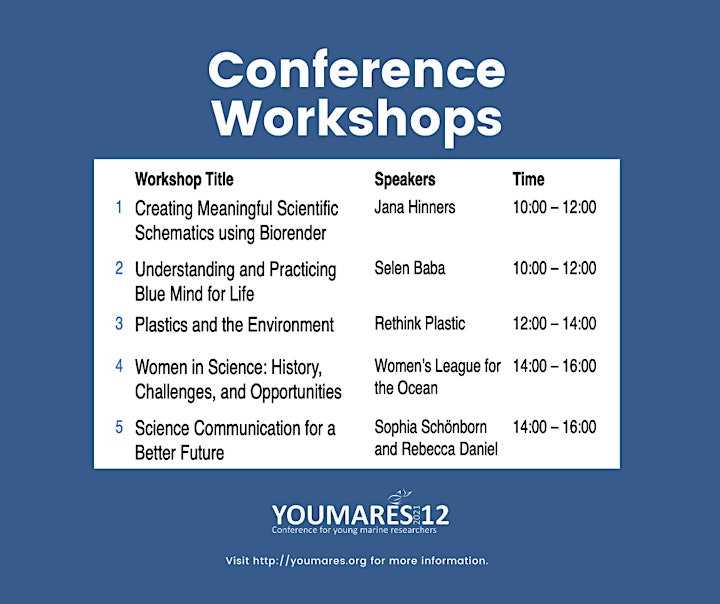 Choose the workshop sessions you wish to attend:
1. Creating Meaningful Scientific Schematics
Creating elegant and meaningful schematics allows scientists to convey key information in an easily-understandable way. This workshop will cover design principles on the choice of colour, fonts and icons to visualize scientific information. The participants will learn to work with Biorender, a freeware that allows to create scientific illustrations in an effortless way. All participants have the opportunity to create a scientific schematic from scratch and receive individual feedback.
2. Understanding and Practicing Blue Mind for Life
The sea is all a mystery; once we step in, we are charmed by it forever. Take a moment and try to remember what your first memory of the sea is? Does it make you feel relaxed, replenished, and rejuvenated? Once we step in the water, our heartbeat slows down, body temperature goes down, and the brain areas connected to emotions as empathy and pleasure activate. This state of mind we reach is called 'blue mind,' a term coined by Nichols Wallace, who explores the neurological interrelationship between the human brain and water. However, why do we love water too much? Considering that it initially comes out of the ocean, "life consists of series of encounters with water" (Nichols 13). What does this information trying to tell us? Moreover, how do you feel when you encounter viral videos on the internet regarding our planet's ecological problems? Is your state of mind more in the negative or positive direction? Do you believe they work in the sense of preserving our ecosystems? Therefore, in this workshop, we will be discussing our biological and evolutional connection with water and explore the idea of practicing Blue Mind for life.
3. Plastics and the Environment
Catch the latest trends on sustainable innovation around plastics from a packaging specialist who works in the beverage industry. Afterwards, a circular design thinking workshop will get your creativity flowing in a moderated event where you can be part in envisioning a future without plastic waste.
4. Women in Science: History, Challenges, and Opportunities
Given the reality of the underrecognition and undervaluation of women in STEAM, this interactive workshop intends to raise attention to the challenges women face in their scientific careers in ocean sciences, focusing on early career researchers. The workshop will be a safe space to share everyone's research goals, how they bump into the patriarchy structure of science and discuss pathways for change. We will bring important concepts to this discussion such as ecofeminism and gender equity, and think about how they have been merged (or not) into the global scientific and sustainability agenda, as the assessment made by Global Ocean Science Report, the interface between SDG 5 (Gender Equity) and SDG 14 (Life below water) of 2030 Agenda, and the UN Ocean Decade for Sustainable Development. Finally, we will approach practical examples by bringing stories about pioneer women scientists and their legacy, as well as inspiring current women's collectives from different parts of the world that are fighting to address gender inequality in ocean sciences.
5. Science Communication for a Better Future
Climate change, overfishing, plastic pollution - the ocean is increasingly under threat. We need a knowledgeable society in order to inspire action and bring about positive change.
The psychologist and writer Anne Roe said it best, "Nothing in science has any value to society if it is not communicated." Effective science communication is key to awareness of global issues, and participation in solving them. But how do you convey a message successfully to a non-specialist audience?
In this workshop, Rebecca Daniel, Director of The Marine Diaries, and Sophia Schönborn, Creative Director at Studio Monströös, will provide an overview of their current work in science communication. Want to work in science communication? We will briefly touch upon our careers to date, and there will also be a chance to ask questions and gain advice.
You'll learn what science communication is, and why it's important. We'll share insights from different media examples (such as videos and articles) and explore their successes and pitfalls. As a group we'll discuss why some examples fail whilst others succeed, as well as simple guidelines to follow for effective ways to share scientific information.
Prior to the session, you'll be sent a number of scientific articles on varying topics to choose from. During the session, you will have the opportunity to meet others, and brainstorm together. Working individually or in small groups, you will share ideas, choose a medium, and develop a storyline for your chosen topic. At the end of the session, you will share your work and the group will give feedback to each other based on the key principles learnt.
From this workshop you'll develop the skills to effectively communicate with different target audiences and achieve your goals, whether promoting ocean protection, landing your dream role, or securing funding for research.
Studio Monströös is a Berlin-based animation studio that focuses on science communication and knowledge transfer. Using visual tools they reach audiences all over the world. Their motto: images transport ideas.
The Marine Diaries is a non-profit organisation using digital media to communicate ocean science through storytelling.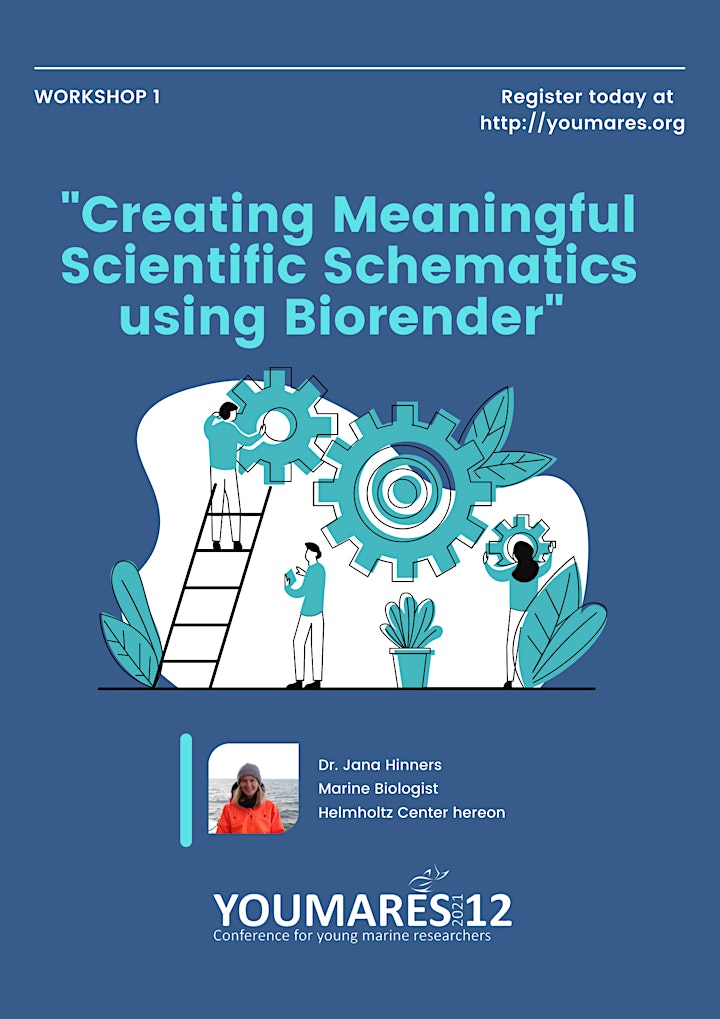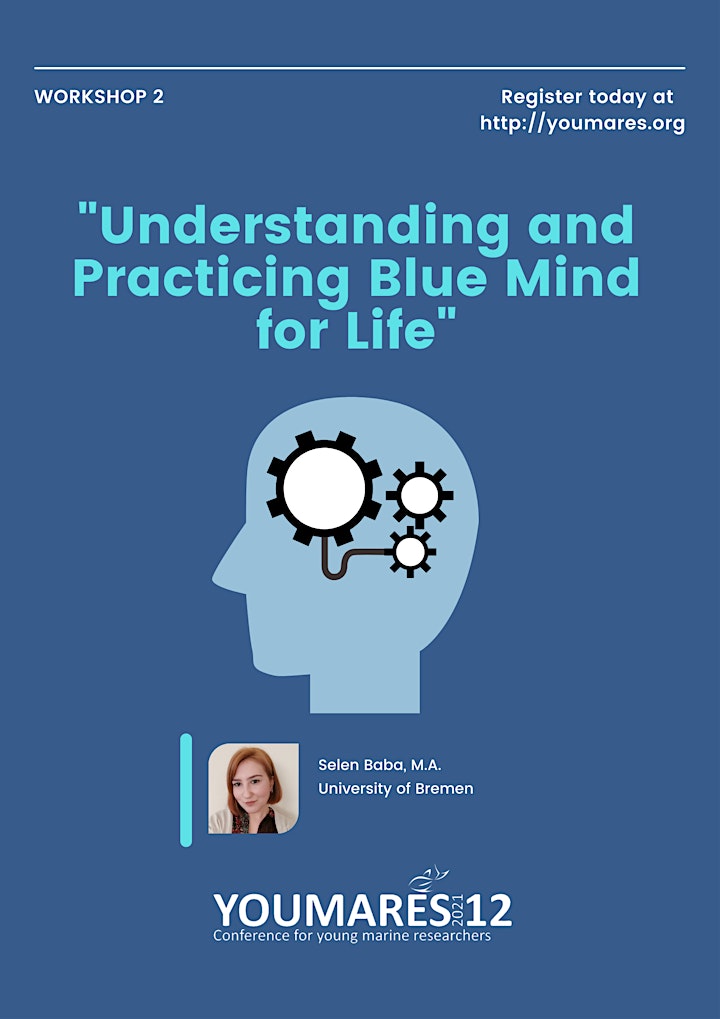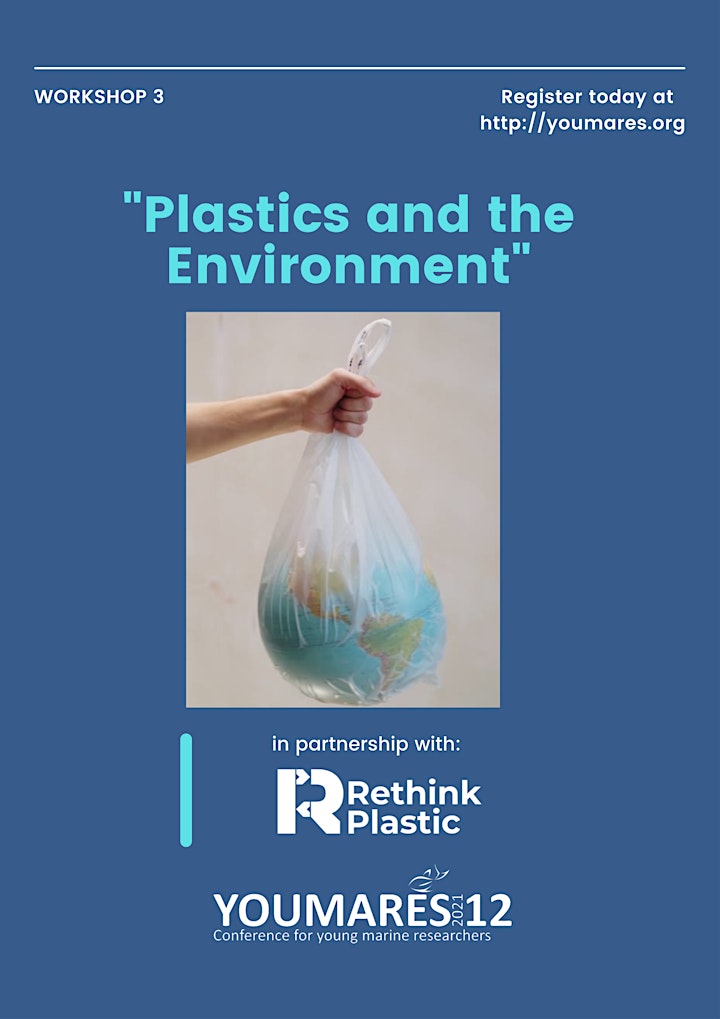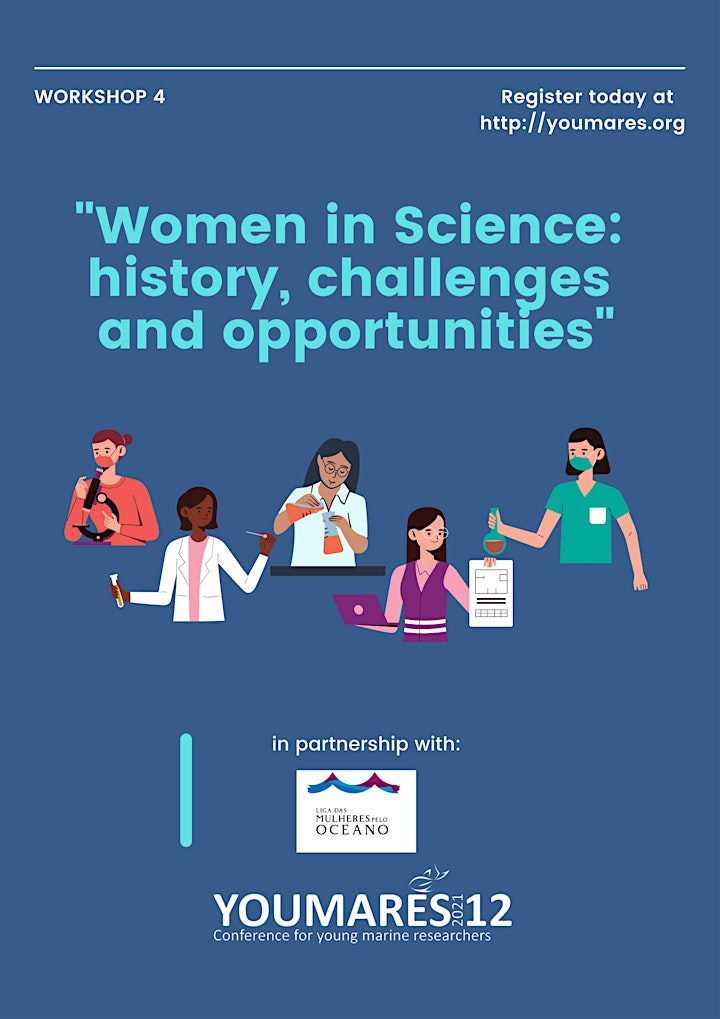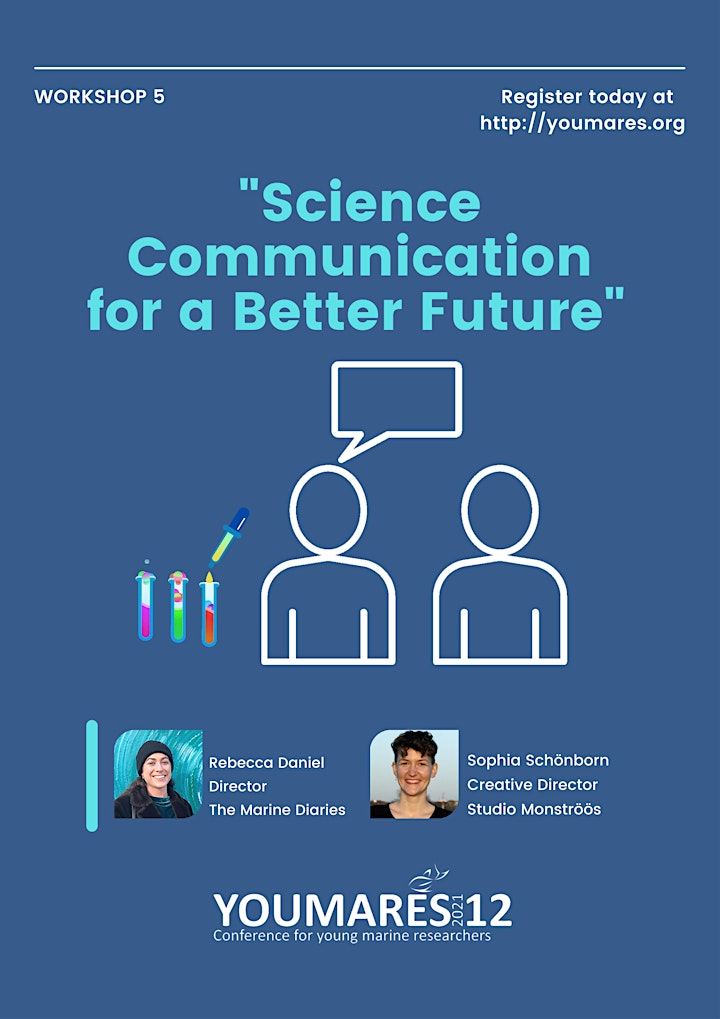 Organiser of YOUMARES 12 Conference Workshops