Event Information
Location
Yogicescape - Yoga & Wellness Studio
Naugarder Straße 14
10409 Berlin
Germany
A fun and explorative workshop where we explore ourselves through yoga, meditation, dance and mindful movements!
About this event
This workshop is for those who want to move with joy, explore the body, and free the mind! During the workshop we will ground ourselves and cultivate awareness of sensations, feelings, and research different movements through yoga, meditation and dance!
This workshop is for everyone, no matter if you are or aren't confident on the dance floor! This time is for YOU to explore yourself! There will only be smiles, kind hearts and non-judgement in the space!
What the workshop includes:
-Introduction and tea
-Mindful vinyasa flow
-Meditation
-Dance and mindful movement
Limited spots!
Price for workshop: 30 €
Book your space or ask questions at:
andreadybvik@hotmail.com
About Andréa Dybvik:
Andréa has devoted her heart to be a professional dancer and holistic yoga teacher. She has a huge passion for creating a mind-body connection and gaining knowledge of how you can work with yourself to live your best life! After practicing yoga sporadically through many years beside her dance studies, she really fell in love with the yoga philosophy as a whole during a challenging time of her life. She slowly started to integrate the eight limbs of yoga into her life, and the practice of yoga became a space where she could explore herself from within and experience life with love, joy and peace for herself and for others - on and off the mat!
Andréa has a 200 H YTT from Yoga East+West and a 10 H Advanced Pranayama training from Awakened Spirit Yoga. Yoga has contributed to more awareness and presence in her dance practice, and the dance adds a huge amount of creativity, playfulness and freedom to her teaching. Her wish is to hold space for her students to discover their infinite possibilities through movement, meditation and pranayama, and give people tools to explore themselves and their creativity through the magical practice of yoga!
Instagram: @andrea.dybvik (yoga) // @andreadybvik (dance)
Website: andreadybvik.com
Corona Guidelines:
For the workshop follows 2G+ rules at the studio. Please bring a proof that you are vaccinated or have recovered from Covid-19 within the last 6 months. Additionally please bring a negative Covid-19 test certificate (not older then 24 hours).
The studio provide mats, but feel free to bring your own if want!
Please wear a mask while moving inside the studio.
When entering the studio, please check-in using Luca-app or Corona-Warn app (QR codes available in studio).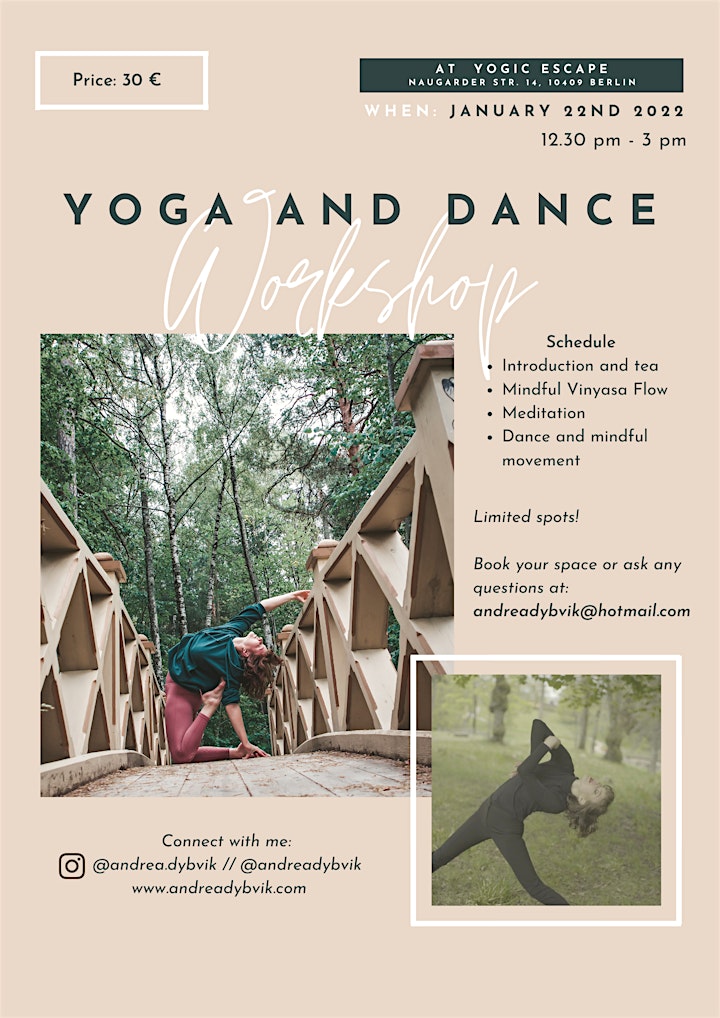 Date and time
Location
Yogicescape - Yoga & Wellness Studio
Naugarder Straße 14
10409 Berlin
Germany