Dieses Event ist beendet.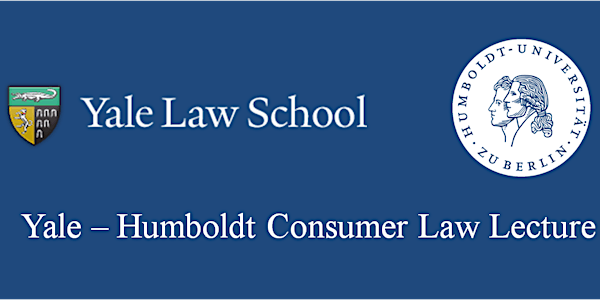 YHCLL
Von Prof. Dr. Susanne Augenhofer, LL.M. (Yale)
Datum und Uhrzeit
Mo., 6. Juni 2016 14:00 - 19:00 CEST
Veranstaltungsort
Humboldt-Universität zu Berlin Unter den Linden 6 Senatssaal Berlin, Berlin 10099
Beschreibung
Ladies and Gentlemen,

In June 2016, the Yale-Humboldt Consumer Law Lecture will take place for the third time at Humboldt-University Berlin.

In this annual lecture series, up to three faculty members from Yale Law School and other leading US law schools are invited to spend some time in Berlin at Humboldt Law School. During their stay, and as part of a variety of activities, the three visitors will interact with colleagues as well as with doctoral candidates and students. The highlight of the planned events is the Yale-Humboldt Consumer Law Lecture, which is open to all interested lawyers. The speakers' remarks will be followed by discussion.

The Yale-Humboldt Consumer Law Lecture aims at encouraging an exchange between American and European lawyers in the field of consumer law, understood as an interdisciplinary field that affects many branches of law. Special emphasis will therefore be placed on aspects and questions which have as of yet received little or no attention in the European discourse.

For this year's event on Monday, 6 June 2016, we are privileged to welcome Professor Richard Brooks (Yale Law School/Columbia Law School), Professor Henry Hansmann (Yale Law School) and Professor Roberta Romano (Yale Law School) as speakers.

For further information on the lecture as well the speakers, please refer to the enclosed flyer and to our website at http://augenhofer.rewi.hu-berlin.de/yhcll.
Please note: Participation in the event is free of charge but registration should be made online at https://www.eventbrite.de/e/yhcll-tickets-19617501475 by 27 May 2016.

It would be my distinct pleasure to greet you at the Yale-Humboldt Consumer Law Lecture in spring 2016.

With best regards and warm wishes for the upcoming holiday season,
Susanne Augenhofer
Über den Veranstalter
Prof. Dr. Susanne Augenhofer, LL.M. (Yale)
Humboldt-Universität zu Berlin - Juristische Fakultät
Lehrstuhl für Bürgerliches Recht, Europäisches Privatrecht, Rechtsvergleichung
sowie Marktregulierung durch Verbraucher- und Wettbewerbsrecht
Unter den Linden 6, D-10099 Berlin