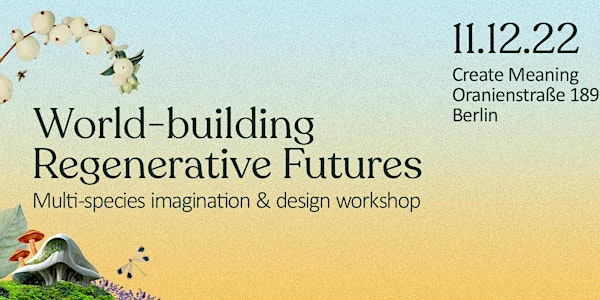 World-building Regenerative Futures: Multi-Species Imagination & Design
From designing for humans to designing with all living beings. Join us on a collective worldbuilding journey towards regenerative futures.
When and where
Location
Create Meaning GmbH Oranienstraße 189 10999 Berlin Germany
Refund Policy
Refunds up to 7 days before event
About this event
What to expect?
We reject shoulds or preconceived solutions. Expect experiential and relational transformations that will allow you to expand your perception from what is into what could be. From deep imaginal world-building journeys into inspired and aligned action.
Why now?
In the storm of complexity of crises, as the existing worlds break down in front of our eyes, we seek for regeneration of life. Extractive ways of relating to the world are becoming obsolete for the futures that are arriving. This workshop is centered around rebuilding and regenerating our world through relational interspecies perspectives.
In the workshop you will learn:
- About shapeshifting in an experiential way. You will experience yourself and your co-participants differently and learn what is possible if we quieten our human egos.
- How to envision and design regenerative futures that tap into shared agency and serve the needs and desires of multi-species: not just humans.
- To reflect on what it means to belong and unfold in times of collapse.
- How to expand our perception and collective imagination for radical social transformation.
For whom:
For those who feel disillusioned with the world we live in today and long for regenerative futures.
Creators, artists, designers, writers, storytellers, and change-makers who want to enrich their lives and work with multi-species perspectives.
The flow of the Workshop
Arrival, landing, grounding.
1. Part One: Shapeshifting Meditation
In this immersive imaginative meditation, you will be guided through a shapeshifting experience that allows you to put aside your human identity and momentarily incarnate into a body of different species. The meditation invites you to wander into a regenerative future scenario and how the more-than-human person perceives that future: the ecosystems, landscapes, the community it belongs to, and self-perception.
2. Part Two: Relational Sensemaking
Dreaming with the mind awake and eyes open. Deepening felt experience of the more-than-human life worlds through intimate relating. By submerging into group inquiry, we will expand our awareness and experiential knowledge of our newly embodied beings.
You will learn to see the world through relationships.
3. Part Three: Worldbuilding for Regenerative Futures | Topographies of Visions
Now that we better understand the life worlds and needs of more-than-human beings, we ask ourselves the question: What does the regenerative future look like and how do we get there? How do we distill the envisioned future into actionable steps? How do we shift from design for humans to design with and alongside the more-than-human world?
In traditional worldbuilding, we are used to concepts such as economy, politics, education, healthcare, environment, religion, etc. What if we redefine labels in terms of questions? Going beyond the traditional segmentation of worlds and societies we can reimagine futures through the lens of values. Breaking down and synthesizing.
We will dive into re-envisioning how aligned action looks like in the regenerative world, and how agency is expanded and multiplied in a multi-species approach. We will visually map out the worlds we have been building with multimedia materials.
We will guide you through an emergent guided visualization inspired by the regenerative futures you created and by the magic that emerged throughout the workshop.
Practical details and registration
Do I need to bring anything?
After part 2 of the workshop, we have a 30min tea & snack break to get to know your fellow shapeshifters better. After that, we'll delve right back in.
All materials, tea, and snacks will be provided. (Please reach out if you have dietary requirements)
Workshop price: 30 EU
Early bird: 25EU (until November 27)
About us
Niels Devisscher
Niels is a freelance facilitator, creator and communication Strategist. As an award-winning photographer, writer, and designer he investigates aliveness, healing, and poetic expression in landscapes. Niels is committed to helping create the conditions for greater aliveness in living systems.
Rūta Žemčugovaitė
Freelance writer, facilitator, multi-disciplinary artist and researcher based in Berlin.
Exploring systems change through regenerative design practices. Currently working with systems change facilitation through the lens of more-than-human perspectives. Researching mycelium as a biomaterial for regenerative futures.
Rūta has a background in psychology and work experience in trauma-informed facilitation practice, Holochain, AI, and humane tech startups.