Description
Every edition of Polish Tech Night is preceded by dedicated workshops for all applicants and other startups-participants from Poland and beyond.
During this intensive afternoon we focus on business, law& compliance, finance insights of investments with German partners, marketing & communication and other important aspects.
You will get a comprehensive knowlege from Experts about how to navigate in the German Startup Ecosystem and how to set up your new business branch in Berlin.
Polish Tech Night promotes mutual benefits of international cooperation within the startup industry between Berlin and Poland in terms of investments, financing, know-how transfer, development of common product and services.
Therefore we are working together with Polish and German organizations in order to provide a varied portfolio of potential partners and market players from startups, investors, SME companies, industry associations to show mutual benefits of the German-Polish cooperation and share experience we already gained in this area.
We are pleased to present you the following partners and topics of our Workshops:
Agenda & Speakers
14:00 - 14:30 Startup ecosystem in Berlin - how to start?
Lukas Wagner, Berlin Partner für Wirtschaft und Technologie
14:30 - 15:15 Legal aspects of doing business in Germany
"Cross border litigation, debt collection and international contracts" Andrzej Bielajew, Härting Rechtsanwälte
"Minimum working conditions in Germany", Christina Stogov, Härting Rechtsanwälte
"GDPR in data collection and marketing", Lasse Konrad, Härting Rechtsanwälte
15:15 - 15:45 Equity Fundraising on Blockchain
Agnieszka Sarnecka, Neufund
15:45 - 16:20 How to convince a VC?
Fabian Leipelt, WestTech Ventures
16:20 - 16:40 Coffee & Snacks Break
16:40- 17:10 Beyond Europe. Beyond your business. Could You Grow and Thrive in Silicon Valley?
Hubert Moik, Go Silicon Valley
17:10 - 17:40 A Global German & Polish Success Story?
Katarzyna Wilczek & Wojtek Szkutnik, Talixo
17:40 - 18:10 The Power of PR - How to Build Business by Strengthening Your Brand
Maria Urban, PIABO PR
18:10 - 18:30 Q & A + Networking with Speakers
Drinks & Snacks included
Around 19:00 - Get Together with mentors and participants in... (venue to be announced, beer included)
More details about the MENTORS.
Impressions from the Workshops of the last edition.
Due to a very high demand and registration volume in the last editions we decided to introduce a nominal fee for the workshops, in order to guarantee the number of participants, variety of topics and quality of insights.
Supporters: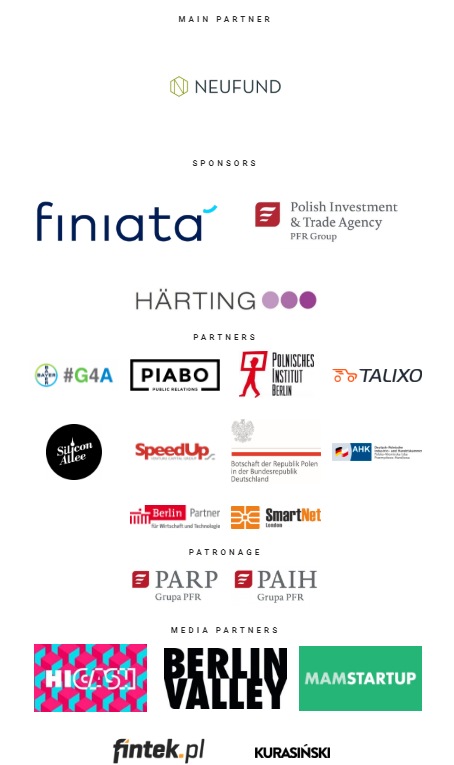 By applying to Polish Tech Night startup stage presentation you agree, that Polish Tech Night Organisers may collect, use and share your personal data, which you have provided in the startup application form, with third parties like event partners or sponsors.
Organizer of Workshops for Startups @ Polish Tech Night #4
Die Digitalwirtschaft in Berlin-Brandenburg wird seit vielen Jahren durch den Branchenverband SIBB e.V. repräsentiert, vernetzt und in Politik und Gesellschaft vertreten.


Connecting for Success
Creating the best knowledge exchange environment 
Supporting international digital business models 
Being a scientific partner for progressive research projects
Intergating sustainabilty and an open-minded approach into our core model

Von diesen Motiven geleitet, sorgt der SIBB für einen aktiven Austausch weit über die Grenzen der Digitalwirtschaft hinaus. Im Zeitalter der umfassenden Digitalisierung von Wirtschaftsabläufen wendet sich der Verband mit seinen fachlichen Angeboten und den TOP-Experten der Mitglieder an verschiedenste Branchen, die die Digitalisierung in Ihren Unternehmen vorantreiben wollen. Der SIBB fördert mit seinem reichhaltigen Serviceangebot den Austausch, die Kooperation, den Wissenszuwachs und die Internationalisierung der gesamten Digitalwirtschaft in der Region.
Zum Angebot für die Unternehmen gehören 12 Fachforen, spezielle Weiterbildungsangebote (IQ@SIBB) und diverse Meetup-Events rund um Themen der Digitalbranche. Viele gemeinsam mit Partnern konzipierte Fachveranstaltungen bilden Vernetzungsplattformen für die ganz verschiedenen IT-Anwenderbranchen mit der Digitalwirtschaft. Die Initiierung gemeinsamer Forschungs- und Entwicklungsprojekte von Gruppen von SIBB-Mitgliedern ist ein weiterer Tätigkeitsschwerpunkt der beiden SIBB-Geschäftsstellen. SIBB-Kongresse und diverse SIBB-Gemeinschaftsstände auf Messen in der Region und im Ausland komplettieren das Leistungsspektrum des SIBB für seine Mitglieder. Zu den mehr als 250 Mitgliedsunternehmen gehören Digitalunternehmen mit verschiedensten Schwerpunkten:
internationale Tech-Companies
IT-Dienstleister
Telekommunikationsunternehmen
Start-Ups
E-Commerce-Firmen
diverse Hochschulen und Forschungseinrichtungen