Eventinformationen
Rückerstattungsrichtlinie
Rückerstattungsrichtlinie
Rückerstattungen bis zu 7 Tage vor dem Event
Ghosted while job searching in Germany? Find out why and become the candidate recruiters want to hire!
Zu diesem Event
This is your chance to turn things around in your job search process and land your dream job in Germany! 🚀
How? By joining our 3-hour workshops with professional recruiters you will learn everything that matters when it comes to creating strong application documents that help you get a job in Germany 🎯 And you will not only learn how to do it, but you will actually also be able to work on your documents in parallel and receive feedback from peers but also from the experts themselves.
What will you get out of it (besides a fun workshop)?
Knowledge about what matters for recruiters in Germany
An understanding of how to create a CV and cover letter
Templates for your CV and cover letter
You will come out with an updated CV and a strong cover letter
The chance to practice interview skills
Answers to all your questions for your job search in Germany
And with all this 👉 a FastPass to land your next job in Germany
How is the event structured?
Check out our agenda 👇🤩 Don't know about you, but we love it and are so excited to start this event!
If you have any questions feel free to reach out: team@careerbee.de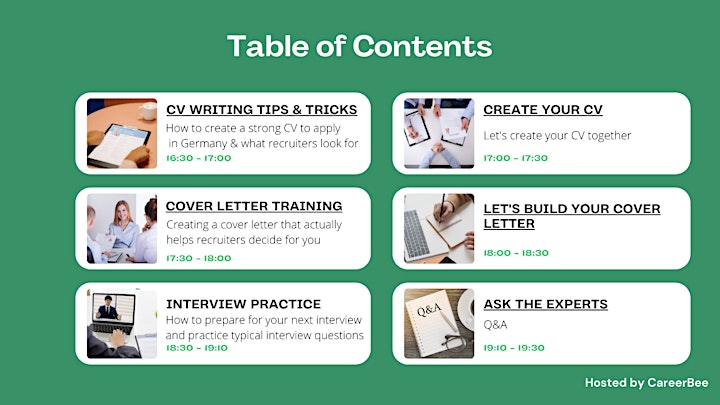 Datum und Uhrzeit
Veranstaltungsort
Rückerstattungsrichtlinie
Rückerstattungen bis zu 7 Tage vor dem Event