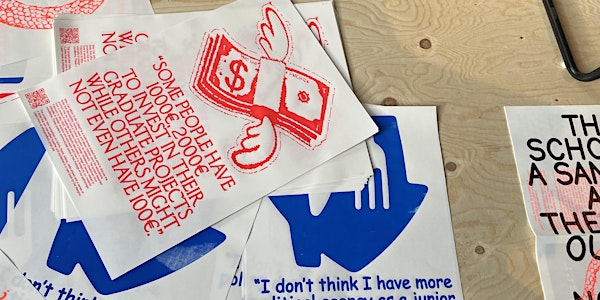 WORKSHOP Können sich Designer*innen leisten kritisch zu sein?
Matos möchte mit Euch den Zwiespalt und die Haltung von Designer*innen zwischen Elfenbeinturm Uni und Berufsalltag erforschen.
When and where
Location
HOCI - House of Creativity and Innovation Bethmannstraße 7 - 9 60311 Frankfurt am Main Germany
About this event
Im Workshop stellt Afonso de Matos zuerst sein Masterprojekt "Who Can Afford To Be Critical?" vor. Diese Multiformat-Kampagne besteht aus verschiedenen grafischen und textlichen Materialien, die darauf abzielen, die Grenzen des Bildungsversprechens der Gestaltungshochschulen in Bezug auf die Erschwinglichkeit, das Geld, die gesellschaftliche Klasse und die Arbeit, zu hinterfragen. Ist es möglich, nach dem Elfenbeinturm eine "kritische" bzw. eine moralische, ethische, verantwortungsvolle Praxis, als Designer*in zu führen?
Afonso (Portugal, 1998) sieht sein Masterprojekt lediglich, als die praktische Darstellung und Verknüpfung verschiedener Knotenpunkte eines wachsenden Diskurses, die von den Schriften von Designforschern wie Silvio Lorusso, J. Dakota Brown und Marianela d'Aprile bis hin zu anonymen Meme-Seiten angetrieben sind. Die radikalisierende Inhalte auf Instagram und Twitter verbreiten sich, von den Stimmen der Designstudenten bis hin zu seinen eigenen inneren Zweifeln, die dieses Projekt angetrieben haben. Was hast Du für Erfahrungen diesbezüglich?
In the workshop, Afonso de Matos will first present his master's project, "Who Can Afford To Be Critical?" This multi-format campaign consists of various graphic and textual materials that aim to question the limits of the educational promise of design universities in terms of affordances, money, social class and labor. After the ivory tower, is it possible to lead a "critical" or a moral, ethical, responsible practice, as a designer*?
Afonso (Portugal, 1998) sees his master's project as merely, the practical representation and linking of various nodes of a growing discourse driven by the writings of design scholars such as Silvio Lorusso, J. Dakota Brown, and Marianela d'Aprile to anonymous meme sites. Radicalizing content on Instagram and Twitter is spreading, from the voices of design students to his own inner doubts that have driven this project. What are your experiences in this regard?