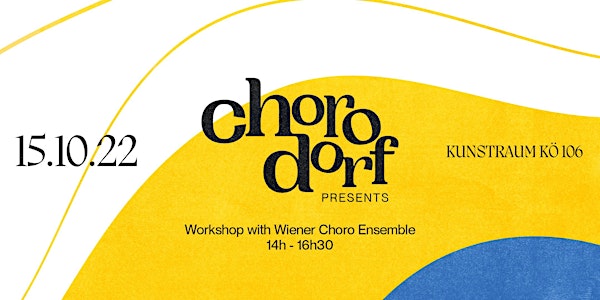 Workshop "ChoroDorf Presents"
Workshop with Wiener Choro Ensemble
When and where
Location
Königsallee 106 Königsallee 106 40215 Düsseldorf Germany
Refund Policy
Contact the organizer to request a refund.
About this event
DE____
Workshop mit dem Wiener Choro Ensemble
Über diese Veranstaltung
Wir laden alle Musiker mit unterschiedlichen Instrumenten, Komponisten, Arrangeure und Sänger ein, mit uns für zweieinhalb Stunden in die Welt des brasilianischen Choro einzutauchen.
Der Choro-Workshop wird vom Quintett des "Wiener Choro Ensembles" auf Englisch, Deutsch und ggf. Portugiesisch geleitet.
In dieser Zusammenkunft werden wir die grundlegenden Aspekte des Stils durch eine interaktive musikalische Praxis unter Verwendung von perkussiven Instrumenten (Tamburin, Agogô, Surdo, Gazá, Body Percussion und mehr) erforschen, wobei der Schwerpunkt auf den Hauptinstrumenten jedes Teilnehmers liegt.
Melden Sie sich über Eventbrite an, teilen Sie uns mit, welches Instrument Sie mitbringen werden, und nutzen Sie dann den speziellen Teilnehmerrabatt, um das Add-on zum Hauptkonzert zu kaufen. Und schließen Sie sich am Ende des Abends der "Roda de Choro" an, um mit professionellen Musikern zu jammen.
Inhalte:
Geschichte des Choro
Wichtigste Komponisten und Lieder
Formen und Stile
Harmonische Systematisierung
Choro-Tonleitern und Arpeggien
Harmonische, melodische und rhythmische Wahrnehmung
Interpretation
Improvisation im Choro
Komposition
EN____
We invite musicians of all levels with diverse instruments, composers, arrangers, and singers to join us for two and a half hours of immersion in the world of Brazilian Choro.
The Choro Workshop will be conducted by the quintet of the "Wiener Choro Ensemble" in English, German and Portuguese, if necessary.
In this gathering, we will continuously explore fundamental aspects of the style through an interactive musical practice, using percussive instruments (tambourine, agogô, surdo, gazá, body percussion, and more), focusing on the main instruments of each participant.
Sign up through Eventbrite, tell us what instrument you will bring, then use the special attendee discount to buy the add-on to the main concert. And join the "Roda de Choro" at the end of the evening to experience jamming with professional musicians.
Contents:
History of Choro
Main composers and Songs
Shapes and styles
Harmonic systematization
Choro scales and arpeggios
Harmonic, melodic, and rhythmic perception
Interpretation
Improvisation in Choro
Composition
PT____
Convidamos músicos de todos os níveis para que tragam seus instrumentos, compositores, arranjadores e cantores para se juntarem a nós durante duas horas e meia de imersão no mundo do Choro brasileiro.
O Choro Workshop será realizado pelo quinteto do "Wiener Choro Ensemble" em inglês, alemão e/ou português, se necessário.
Neste encontro, exploraremos continuamente aspectos fundamentais do estilo através de uma prática musical interativa, utilizando instrumentos percussivos (pandeiro, agogô, surdo, gazá, percussão corporal, entre outros), focando nos instrumentos trazidos por cada participante.
Inscreva-se através do Eventbrite, nos deixe saber qual o instrumento que você trará, e depois use o desconto especial de participantes para comprar o add-on para o show principal. Ficaremos felizes que vocês tenham a experiência em participar da Roda de Choro no final da noite para improvisar junto com músicos profissionais.
Conteúdo:
História do Choro
Principais compositores e canções
Formas e estilos
Sistematização harmônica
Escalas de choro e arpejos
Percepção harmônica, melódica e rítmica
Interpretação
Improvisação em Choro
Composição