Dieses Event ist beendet.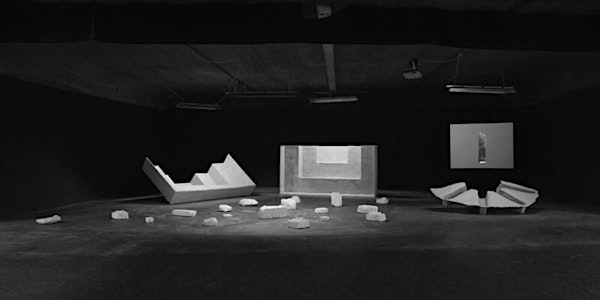 Workshop "Aufzeichnungen aus dem Untergrund"
Aufzeichnungen aus dem Untergrund. A workshop on the artistic handling of traces of repressive architectural spaces
Zeit und Ort
Veranstaltungsort
Pavillon des Architekturmuseums an der Pinakothek der Moderne Barer Straße 40 80333 München Germany
Karte und Wegbeschreibung
Zu diesem Event
The systematic repression system during Franco's regime in Spain, and the Third Reich in Germany left architectural traces behind, nowadays still difficult to confront. This workshop focuses on the different ways to approach this patrimony in order to preserve the historical memory and how to use or treat this remains from an artistic and curatorial fields, filmmaking and scholar research.
Panellists will open the discussion to participants after presenting their own approaches in order to build a fruitful dialogue that could enrich the perspectives from both Spanish and German contexts.
Nicolás Combarro is a visual artist, filmmaker, teacher and independent curator, born in Spain. He presented for the first time his work related to the architecture of repression during Franco's regime at MaimiliansForum, Munich, in the exhibition Aufzeichnungen aus dem Untergrund (15.07.21-26.09.21). He has had individual exhibitions in museums such as the Maison Européenne de la Photographie (Paris), the CGAC (Santiago de Compostela), MARCO (Vigo), Institut Français (Madrid) and in galleries such as the Solo Galerie (Paris), Galería Moriarty (Madrid), Kwanhoon Gallery (Seoul), Galería Taché (Barcelona) or the PABLO Gallery (Manila). He has directed the documentary feature film "Alberto García-Alix. The Shadow line" which premiered at the San Sebastian Festival. He has been awarded grants and prizes such as the 20th Fotopress grant from La Caixa, a grant from the Spanish Academy in Rome, the Laureat from the Cité Internationale des Arts in Paris, the Saab Prize for the best exhibition at the Off Festival in Photoespaña, among others, and has published the books Interventions (Editorial RM), Arquitectura y resistencia (Editorial Cabeza de Chorlito) and Arquitectura Espontánea (Fundación La Caixa).
Miguel Ángel Delgado is a visual artist and filmmaker, born in Spain. Founding member of the REAR working group with which he has carried out works, exhibitions and activities in art centres such as Tabacalera Promoción del Arte (Madrid), Fundación Seoane (A Coruña), Centro Cultural de España en México, OCEMx (México DF). His work has been shown at Festival Márgenes, 143 Delicias Centro de Arte Dos de Mayo, La Fábrica Barcelona, Picnic sessions CA2M, Round the corner Lisboa or Seoul Art Space. Was selected as artist in residence by the Hangar-AECID grants in Seoul. As a filmmaker he is working on San Simón, currently in production; the interactive documentary film The shadow line; and the short documentary film Industrial Travelling.
Lourenzo Fernandez Prieto is Professor of Contemporary History at the University of Santiago de Compostela since 2005. He was Vice-Rector for Institutional Relations of the USC between 2007 and 2010 and Director of the Department of Contemporary and Latin American History of the USC until 2016. He directed different research works related to the construction of modernity in Galicia, the rural world and the civil war. He is a member of the editorial board of different historical research journals and participated in numerous congresses and symposia of the specialty. In addition, he directs the Interuniversity Project "Nomes e Voces", dedicated to the investigation of Franco repression in Galicia. He is currently Director of the Juana de Vega Chair of the USC.
Sabine Schalm holds a PhD in History and works at Kulturreferat München History department. Her thesis dissertation, Überleben durch Arbeit. Organisation und Struktur der Außenkommandos und Außenlager des Konzentrationslagers Dachau (Berlin 2009, 2. überarbeitete Auflage, Metropol Verlag) was focused in the concentration camp system opened up to civil society at 140 locations in southern Germany around Dachau. For the first time, the study deals with the development and dimensions of the overall complex of the Dachau external commandos and external camps, as well as their relationship to the main camp. The focus is on the power structures and options for action of the leading actors and the living conditions of prisoners in everyday work and camp life. The analysis reveals the variety of forms of the Dachau fieldworks and satellite camps and enables a differentiation of the parameters of individual and collective survival. She focuses in her current position at Kulturreferaton educational strategies for historical and collective memory preservation and communication.
Maya Schweizer, born in Paris, studied art and art history in Aix-en-Provence, at the Academy of Fine Arts Leipzig (HGB) and at the University of the Arts (UdK) in Berlin, where she graduated as a "Master Student" (Meisterschülerin) of Lothar Baumgarten in 2007. Schweizer works with different media, with a particular focus on experimental video works. She has had numerous solo exhibitions (including Westfälischer Kunstverein Münster 2010, Frankfurter Kunstverein 2011, Kunsthalle Baden-Baden 2014, Irish Museum of Modern Art, Dublin 2016, Kunstverein Leipzig 2018, Museum Villa Stuck, Munich, 2020/21) and has shown her work in group exhibitions and at biennials (including Berlin Biennale, 2006, Centre Georges Pompidou, 2007, The Elizabeth Foundation for the Arts, New York, 2013, Kunsthaus Dresden, 2016, Anren Biennale 2017, China, Manifesta 13, 2020, Neuen Berliner Kunstverein e.V., Berlin 2020). Her videos have already been selected for numerous festivals and events, including Forum expanded during the 67th and the 71.rst Berlin International Film Festival . Berlinale (2017 and 2021), the Vancouver International Film Festival (2017, 2020) and the 65th International Short Film Festival Oberhausen (2016, 2017, 2018, 2019, 2020), where L'étoile de mer was awarded the e-flux prize in 2019. Examples of the grants, project grants and residencies she has received include a grant from the Villa Aurora, Los Angeles (2008) and a work grant from the Berlin Senate (2019), the research grant from the Berlin Senate as well (2017, 2021).So far, four monographs on her work have been published: Voices, (Walther and Franz König, 2121), Where Ivy Cracks The Wall (Naima, Paris / Berlin 2019), Lieux de Mémoire and Desire (Archive Books, Berlin 2015) and Maya Schweizer―The Same Story Elsewhere (Spector Books, Leipzig 2010). Schweizer works in Germany and France.
Yara Sonseca Mas, born in Madrid, is an art historian and freelance curator based in Munich. She had curated Nicolás Combarro's exhibition Aufzeitchnungen aus dem Untergrund and contributed from Munich to the development of his research, co-curating and coordinating this workshop as well as searching for fundraising and cooperation partners. Director of Exhibitions at La Casa Encendida, Madrid, 2006-2015, she had curated institutional exhibitions including solo and site specific projects and has commissioned artworks by emerging artists while editing publications on Antonin Artaud, John Cage, Louise Bourgeois, Arthur Rimbaud, Joseph Kosuth, Andy Warhol, among others. The interdisciplinary approach to the art field of the institution allowed her to work together with the social and environmental studies, performing arts, film and literature departments, always finding common grounds from the expertise of each of them. Curator in residence, Salzburger Kunstverein, Austria, in 2017. In 2018 she curated the exhibition José Antonio Suárez Londoño. Almanach (cat. Koenig Books London), and in 2016, the survey Amie Siegel. Double Negative (cat. Mousse Publishing) both at Museum Villa Stuck, Munich. She recently presented Ludovica Carbotta's first solo exhibition in Germany, at Jahn und Jahn Gallery, September 2020.
In Kooperation mit der Spanischen Botschaft in Deutschland
Der Workshop findet im Pavillon des Architekturmuseums an der Pinakothek der Moderne statt.