Eventinformationen
Veranstaltungsort
Mates
Thierschstraße 20
80538 München
Germany
Beschreibung
At this conference, we want to offer companies in the Workpath ecosystem and designers of a new economic world the opportunity to get in touch not only with other practitioners, but also with experts, and to deal specifically with the upcoming goal cycle. Through an interactive offer of keynotes, case studies, expert 1-on-1s, discussion rounds and workshops, each team can put together an individual programme depending on its focus.
In an honest forum we want to share critical learning experience as well as success cases and create inspiration for others.
Who is it for
C-level executives and agile practicioners
Decision-makers and enablers of agile transformation programs
Program leads and strategic drivers of organizational development
Past participants
Agile leaders and practitioners from some of Europes most innovatives employers, i.a.
SAP
Metro
Deutsche Telekom
Scout 24
N26
ProSiebenSat.1 Media
Zalando
What is in for you
Exclusive input, impulses and insights on the future of work, organizations and leadership from thought leaders of different industries
Networking opportunities with like-minded practicioners of and experts on OKRs, agile transformation and organizational development
Exchange of best practices, challenges and critical learning experiences
---
19th March 2020, Munich
Agenda (preliminary)
9.30 am Open Doors
10.00 am Welcome & Keynote
Introduction by Johannes Müller, CEO at Workpath GmbH

Keynote by Dr. Armin Trost
"Leadership under uncertainty"
11.00 am Workpath Insights
Input by different Workpath experts
"On the state and development of organizational models, OKRs, respective tools and processes"
12.00 pm Lunch Break and Networking
1.00 pm Interactive Workshop Sessions Round 1

"On using OKRs in crisis situations" by Martin Krumbein (Management Consultant, onTarget)

"Organization Design - Design Thinking principles applied to the transformation of organizations" by Prof. Dr. Eike Wagner (co-CEO, emergize)

"How to assess the maturity of your OKR process and its impact on your business goals" by Simon Bock (Customer Success, Workpath)
2.15 pm Interactive Workshop Sessions Round 2
Topic tba by Pascal Fritzen & Robert Kleinscheck (Product Team, Workpath

"Agile leadership: Different ways of working need a different leadership" by Tina Eisoldt (Executive Consultant, wibas)
Exclusive Program Lead Session* by Anne Baumann and Ana Pacios Escudero (Customer Success, Workpath)
* The Program Lead session is an exclusive round table of advanced Program Leads to exchange with peers from different industries about challenges and experiences they are facing in their role. Workpath Customer Success will facilitate the discussion incorporating questions and topics of the participants. We are looking forward to a vivid debate that will help Program Leads to become even better in fulfilling their role. If you are interested in joining the session please send a short email to franziska@workpath.com.
3.30 pm Coffee Break and Networking
Individual networking

Customer Success Sessions
4.30 pm Wrap up and Feedback
5.00 pm End
Note: This event will take place in English
---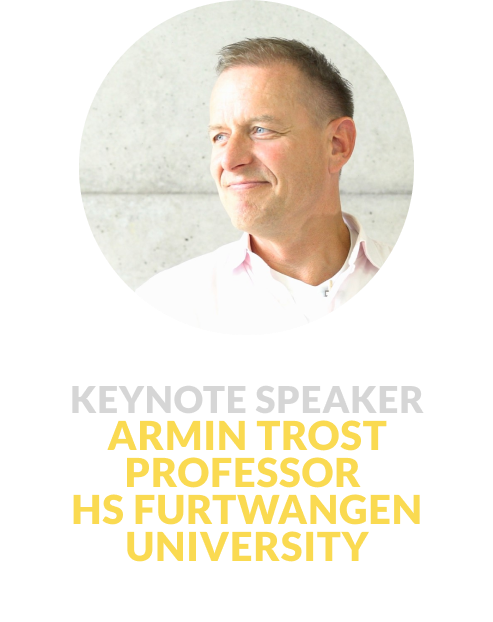 Prof. Dr. Armin Trost is one of THE thought leaders in the field of human resource management. As speaker, author and professor of the top-ranked business school of Furtwangen University, he is committed to a new and modern way of HR management, constantly seeking new solutions to long lasting people-related challenges. From leadership and organization in times of digitization over modern talent acquisition strategies to the future of HR.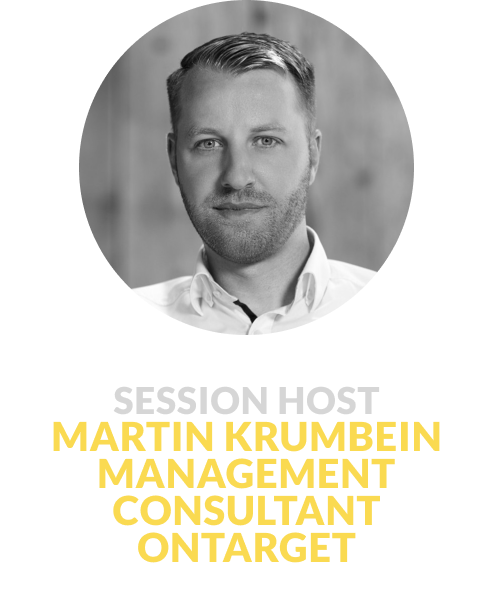 Next to long-lasting B2B experience in the areas of leadership and sales, Martin Krumbein is an expert on Objectives an Key Results, goal navigation and Management by Objectives. With his management consultancy onTarget he supports organizations in executing and tracking strategy effectively.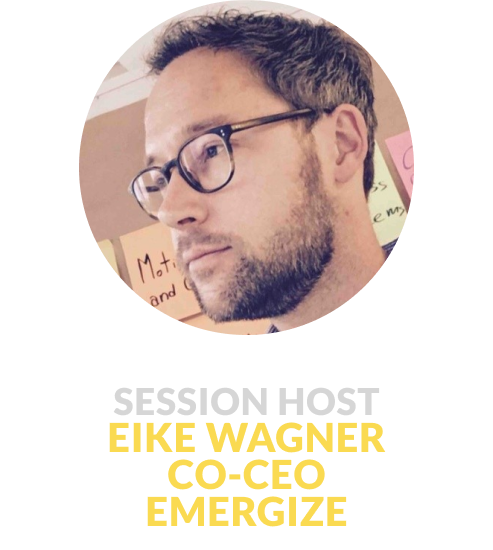 Change strategist Eike Wagner is helping individuals, teams and organizations finding their purpose, recognizing their potential and contributing to a better business and working world. With his company emergize he is enabling organizations to successfully cope with change by creating the right conditions, finding the right timing, activating the necessary energy and taking the most effective next steps.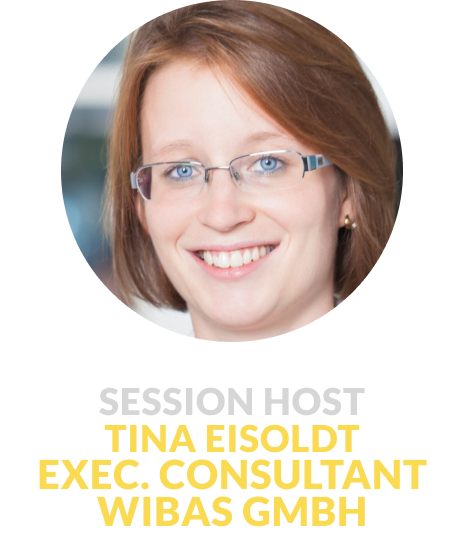 Through training, coaching and mentoring formats Tina Eisoldt, Executive Consultant at wibas GmbH, supports her clients on their journey towards agility. wibas has been supporting organizations with implementing stategic changes for more than ten years with a focus on i.a. business transformation, change management and agile project management.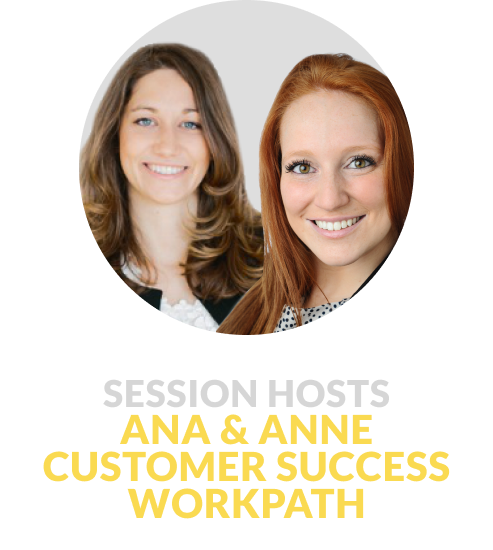 Anne and Ana are part of the Customer Success Team at Workpath. Every day, they help customers to tackle new challenges and support them the best way possible. Through their everyday, hands-on experience with the difficulties, breakthroughs and critical learnings regarding transformation processes, they are experts in this field.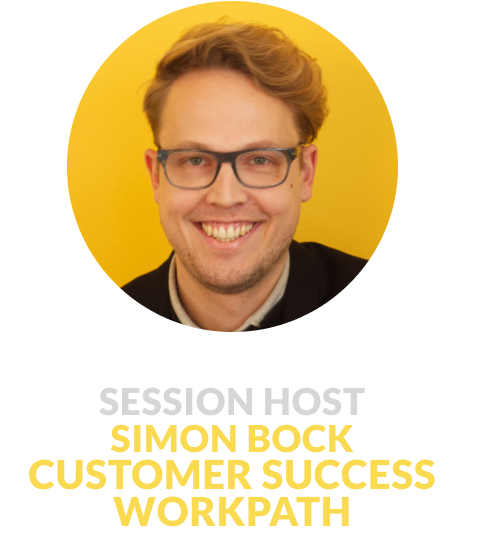 As Head of Customer Success, Simon is responsible for making each and every of Workpath's customers as successful as possible in their OKR processes and along their overall transformation journey. The certified OKR Coach and Trainer has accompanied and enabled many OKR rollouts with enterprise organizations from diverse industries.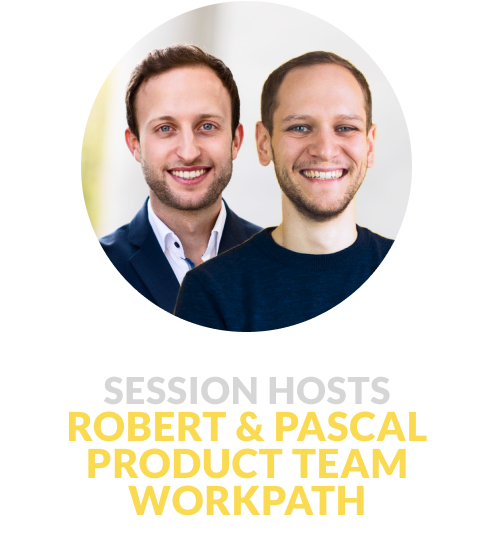 As part of the Product Team at Workpath Pascal and Robert are on the mission of giving the thousands of teams that use the Workpath software more focus, autonomy and purpose at work. Over the years they have acquired extensive knowledge on the "tool side" of transformation and especially OKR processes.
Datum und Uhrzeit
Veranstaltungsort
Mates
Thierschstraße 20
80538 München
Germany