Dieses Event ist beendet.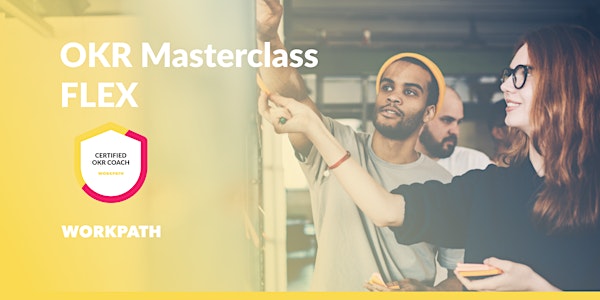 Workpath OKR Masterclass FLEX - 21.+22.11 |ENG|(selfstudy + 2x4h Training)
EUROPE & AMERICAN TIME ZONE FIT! - Get to know the Goal Setting Framework OKR and apply your new knowledge in our practical exercises!
Rückerstattungsrichtlinie
Rückerstattungen bis zu 30 Tage vor dem Event
Zu diesem Event
Workpath Masterclass FLEX
PLEASE NOTE THAT COMPLETING THE E-LEARNING WE WILL SEND YOU IS A PREREQUISITE FOR JOINING THE TRAINING SLOTS
In our Blended Learning Format you will learn the basics of the agile leadership method "Objectives and Key Results" (OKR) and deepen your knowledge through practical exercises and working with our templates.
Format:
1) Complete Workpath E-Learning until 21st of November
2) Join the OKR Bootcamp & Exercises on 21st of November 2 pm - 6 pm (GMT+1)
3) Join the OKR Essentials Recap and Q&A Session on 22nd of November 2 pm - 6 pm (GMT+1)
THE TRAINING SLOTS ARE COMPATIBLE WITH EUROPEAN, NORTH & SOUTH AMERICAN TIMEZONES!
The training is aimed at agile coaches, change managers, decision-makers and everyone who would like to learn more about this framework for agile business management and enable a rollout in their company.
Contents of the OKR Masterclass FLEX
Basics of the OKR Framework
In the Masterclass, a comprehensive understanding of the OKR method is developed and the definition of company, team and personal OKRs as well as the formulation of effective goals are practiced. As a holistic tool for agile leadership, network organization and transformation, various OKR approaches are presented. In addition, a differentiation of Objectives, Key Results, KPIs and comparable models is developed.
Process design for agile leadership
During the Masterclass participants learn how to plan the OKR process in their company and how to integrate OKRs into the operative business. The combination of daily business tasks with Objectives and Key Results will be discussed and Best Practice for meeting structures in the company will be shared. Thus OKRs can be understood and introduced as an activating communication framework for all employees.
Setting own goals
The second day of the Masterclass focuses on practical exercises. Here, the theory of the first day is put into practice by formulating and optimizing goals using specific criteria and methods. In addition, templates that play an important role in setting goals and rollout are applied.
Handbooks, Templates and Tools
Participants get an overview of various tools and systems for mapping, coordinating and ongoing discussion of OKRs. In addition to the introduction to the goal and performance management platform Workpath, all participants receive various manuals for their teams as well as templates for the preparation of workshops as well as planning and coordination processes.
Benefits for you as an alumnus of the Workpath Masterclass
To enable you to apply the contents of the training directly in your company, you will also receive our OKR manuals during and after your participation as well as process templates for the creation of OKRs and the structured implementation of the rollout in your company. Additionally you will gain access to our Workpath Community, where practitioners from all over the world share challenges and best practices in the OKR process
Agenda of the training
PRE REQUISITE: COMPLETE E-LEARNING
Part 1: OKR Bootcamp & Exercises - 21st of November 2 pm - 6 pm (GMT+1)
Here we will jump headfirst into exercises surrounding all events in the OKR Cycle including an extensive simulation of the OKR Cycle in a fictional company.
Part 2: OKR Essentials Recap and Q&A Session - 22nd of November 2 pm - 6 pm (GMT+1)
In this part we will do a quick recap of the essential concepts and go through the OKR Cycle and explain all tools we have created to support your process in a very hands on way. Meanwhile you will be able to ask all remaining questions you have from our extensive E-Learning course.
THE CONTENTS OF THIS FORMAT ARE THE SAME AS IN THE TRADITIONAL ONLINE TRAINING "WORKPATH OKR MASTERCLASS":
- TRANSFORMATION & OKRs: Goals of working with OKRs
- THE "TOOL" OKR: From strategic goals to results
- FORMULATING EFFECTIVE OKRS
- THE OKR CYCLE
- ORGANIZATIONAL- & TEAM GOAL SETTING
- OKR ALIGNMENT
- KICK-OFF, CHECK-IN & PROJECT MANAGEMENT
- RETROSPECTIVE & REVIEW
- OKR ROLLOUT PROCESS
- THE OKR COACH ROLE