The WOMEN'S HUB DAY ZURICH provides a stage to share our deepest visions and dreams so that other women can help us realize them!
About this event
WOMEN'S HUB DAY ZURICH | SHARE YOUR VISION - LIVE YOUR DREAM
The WOMEN'S HUB is a vibrant community that fosters collective growth. Our goal is to support each other in becoming the boldest, truest version of ourselves - whatever that looks like for each of us. We empower each other, both personally and professionally. We believe being vulnerable makes us stronger.
The WOMEN'S HUB DAY ZURICH provides us with a stage where we can share our deepest visions and dreams so that other women can help us realize them. Vague ideas and concrete plans - we welcome all, and love propelling them forward together.
You will get to know each other, exchange ideas, and inspire each other. Throughout the day several women will present on our stage. The HUB TALKS are from women (you!) who want to share their ideas, visions, and projects and receive in-depth reflections from the audience. There will also be a special INSPIRATION TALK by an external speaker. You will get plenty of opportunities to get to know the other participants on a deep level during the interactive parts of the program. And of course, there will be informal encounters throughout the day during the breaks or in the evening with a glass of wine.
Expect to leave the WOMEN'S HUB DAY ZURICH filled with inspiration and a bunch of women you can reach out to for personal quests or professional opportunities the rest of your life!
Agenda
09:00 - 09:30 Check-in, coffee and mingle
09:30 - 10:00 Welcome and connecting hearts
10:00 - 12:00 Women on stage Part I - Talk, reflection and feedback
12:00 - 13:00 We are the HUB - getting to know each other
13:00 - 14:00 Lunch Break
14:00 - 16:00 Inspiration Workshop & Story Trio
16:00 - 18:00 Women on stage Part II - Talk, reflection and feedback
18:00 - 18:30 Thank you and good bye
18:30 - 20:30 Apéro Time
Come on stage (sign-up for speakers for this event is now closed)
The stage is yours! Would you like to share your vision, idea, dream with the other women? Secure your place on the WOMEN'S HUB stage - when you buy your ticket, simply state your interest and topic and we will select the 'Women on Stage' before the DAY.
Please note that the sign-up for speakers for this DAY is now closed. You can still let us know you're interested in being on stage when you sign up, so we know you might be interested in sharing your story at the next WOMEN'S HUB DAY.
You can find more information about the day here.
Find out more about the WOMEN'S HUB in this little video (turn on subtitles for English translation)
WOMEN'S HUB DAY ZURICH SPEAKERS
We are very honored that the following ladies will share their stories with you on September 25th!

Sonali Quantius - Running towards the light
Being pregnant with twins while maintaining a successful career? A breeze. Giving birth? Easy peasy. But then, postpartum depression hit Sonali harder than anything she had ever experienced.
Sonali's life has always been dynamic. From growing up in a small Indian village, to attending some of the world's top universities. From being on top of the world living in Singapore, the US, Sweden and the UK to leaving her secure job in the pharmaceutical industry and founding HaploMind, a Zurich-based company creating an app to support women with antenatal and postpartum depression & anxiety.
At the WOMEN'S HUB DAY, Sonali will share her incredible story, and will reveal how someone who had never ran more than 5K can run a marathon, and with that, change her life.

Ann Erikkson - A place to heal
When Ann was forced to quit her job after the birth of her second son, she took life in her own hands and started an organic farm.
She has always been a farmer at heart, but this time her ambitions go beyond producing the most wonderful veggies, fruits and flowers.
Ann's farm will soon be a safe haven for women facing domestic abuse, as experience has taught her that it is difficult for them to find the support they so deeply need. With their hands in the soil, they can reconnect with nature and with themselves. Ann's farm will be a place for them to be seen for who they are again. A place to rise up, and to rebuild.
At the WOMEN'S HUB DAY, Ann will reveal what inspired her to create her magical place of health and healing, and share with us what she needs to make her big vision happen.

Melanie Kovacs - The path of a joypreneur
She took a leap of faith, left her full-time job and started a six-figure revenue business when she was 28. She was recognized in the Forbes 30 under 30 list, did a TEDx talk and received the Female Innovation Recognition Award.
From the outside, it looked like Melanie was in a flow. And yet, only three years later, she decided to sell her business and throw herself into the unknown yet again.
What drove Melanie to make this bold decision? And how is her new mindset, as a self-proclaimed joypreneur, affecting the way she runs her current business?
Melanie will share her journey from entrepreneurship to joypreneurship, and invites you to come along for the ride!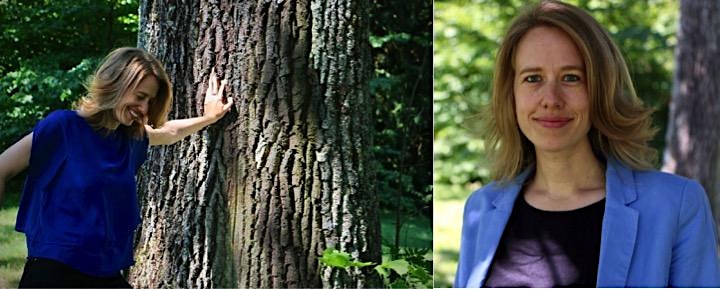 Kathrin Rüegg - Who run the world…?
As long as she can remember, Kathrin has been fascinated by politics. But the fact that political decisions are largely made by men, while women are 51% of the population, frustrated her ever since she was a girl.
When she was 10 she saw herself as the future "Regierungsrätin" in charge of the police in Zurich. At 19 she co-founded the Young Green Party in Switzerland.
And one day in 2017, Kathrin wrote down in her notebook: "Coaching women candidates for 2019 elections?"
She started dreaming: What would the world look like if no decisions were taken without women sitting at the table? And what if coaching could help women to overcome their fear of taking up too much space, and confidently run for political office?
No sooner said than done, she gathered a collective of professional coaches and started coaching Swiss women from all political colors.
At the WOMEN'S HUB DAY, Kathrin will share the ups and downs of her journey, and her vision of what the world could look like when it's run just as much by women as by men.
WORKSHOP: HOW TO USE THE POWER OF YOUR VOICE by TANYA BIRRI
Tanya Birri is a multi-awarded Swiss artist and soulpreneur. She is the host of the "Wild, Free and On Fire"-podcast and recently starred as a talent coach at the "Voice of Switzerland". She works as a "Stimm Schamanin" and supports women to reconnect with their inner voice so they can bring their message from behind the scenes to center stage.
At the WOMEN'S HUB DAY, Tanya will guide us in connecting to our inner voice, and will teach us how we can radiate with our voice and message.
So many of us are afraid to speak up, let alone sing, while using our voice can be extremely freeing. During the workshop, Tanya will gently invite us to let our voices be heard*. We'll first learn to embrace our individual voices through playful exercises, and then experience the magic of connecting with others through sound. Music is like life, a world of opportunities opens when we join forces!
FAQs
Q: Can I definitely hold a WOMEN'S HUB TALK when I sign up for a WOMEN'S HUB DAY?
A: Unfortunately, we cannot guarantee this. More women always sign up for giving a talk than we have places for. We try very hard to make sure that women who have been to several events can be on stage.
Q: I don't have a definite vision that I can share - am I at the right place anyway?
A: Absolutely. We are all on a journey and want to develop. Some women have a dream, some have a concrete vision, and some only have a vague feeling that there is more in them that wants to be discovered.
Q: Do I have to prepare for the WOMEN'S HUB DAY in any way?
A: No, unless you want to give a HUB TALK. Otherwise, everyone introduces themselves briefly, but this happens in a very relaxed way. We also ask you to fill out your profile in the member area of this website where you will find all women who have already participated in a WOMEN'S HUB DAY.
Q: What's the value of attending the WOMEN'S HUB DAY if I don't give a talk?
A: It only becomes really exciting outside our comfort zone ... every woman benefits and brings something different. You listen to the stories of other women, become inspired by them, give them feedback, and connect with kindred spirits. You can make personal contacts in the interactive parts of the day and think about when and with which story you want to go on stage.
Q: How can I connect with the other women? 
A: The heart of the WOMEN'S HUB are the DAYS - where it is certainly easiest to connect and network with other women. Many mastermind groups and friendships started at the DAYs. Furthermore, all women who have already been to a WOMEN'S HUB DAY in a given city have access to a private Facebook group to exchange, inspire, and motivate each other. And through the member area of this website you can also show your story - be part of it!
Q: How can I contact the organizer if I have questions?
A: Just send an email to: nele.cluver@womenshub.ch
Please note, that we are aware that there are a lot of uncertainties planning an event like this these days. We will plan the WOMEN'S HUB DAY in Zurich within the respective guidelines regarding protection concepts and hygiene regulations.
Furthermore, we will (for the time being) limit the number of participants for our DAYs to 40 people. Should the location and regulations allow more participants at a later date, we will increase the contingent again.
Should you not be able to attend the event due to illness, or for example due to a "quarantine situation", we will refund your ticket also on short notice. In any case you will get your money back if the DAY can not take place.