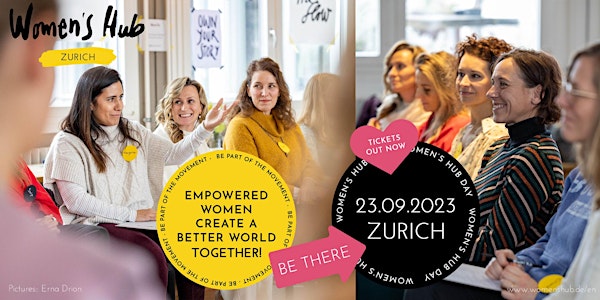 WOMEN'S HUB DAY ZURICH September 23rd 2023
WOMEN'S HUB - Your space to thrive. Your stage to grow. Your community to rise by lifting others. Your movement to change the world.
Date and time
Saturday, September 23 · 9am - 8:30pm CEST
Location
TBD TBD 8001 Zürich Switzerland
Refund Policy
Refunds up to 30 days before event
About this event
11 hours 30 minutes

Mobile eTicket
WOMEN'S HUB DAY ZURICH | SHARE YOUR VISION - LIVE YOUR DREAM
The WOMEN'S HUB is a vibrant community that fosters collective growth. Our goal is to support each other in becoming the boldest, truest version of ourselves - whatever that looks like for each of us. We empower each other, both personally and professionally. We believe being vulnerable makes us stronger.
The WOMEN'S HUB DAY ZURICH is designed to foster personal connections amongst the participating women so that you move beyond small talk right away, and foster meaningful engagements that will last long after the DAY itself.
During the day, four incredible women will share their personal journeys, deepest visions and dreams on stage - not the Instagram-version of their story, the real story - right when they are in the middle of it.
You will also participate in an INSPIRATION WORKSHOP and there will be several group activities that will allow you to connect with the other women way beyond regular networking. And of course, there will be informal encounters throughout the day during the breaks or in the evening with a glass of wine.
Expect to leave the WOMEN'S HUB DAY ZURICH filled with inspiration and a bunch of women you can reach out to for personal quests or professional opportunities the rest of your life!
Agenda
09:00 - 09:30 Check-in, coffee and mingle
09:30 - 10:00 Welcome and connecting hearts
10:00 - 12:00 Women on stage Part I - Talk, reflection and feedback
12:00 - 13:00 We are the HUB - getting to know each other
13:00 - 14:00 Lunch Break
14:00 - 16:00 Inspiration Workshop & Story Trio
16:00 - 18:00 Women on stage Part II - Talk, reflection and feedback
18:00 - 18:30 Thank you and good bye
18:30 - 20:30 Apéro Time
THE STAGE IS YOURS!
Would you like to share your vision, idea, or dream with 50 other women?
For the WOMEN'S HUB DAY, we are not looking for the shiny TEDx-worthy version of your story, but the actual, real journey, right when you're in the middle of it. Being on our stage is an opportunity to express a new side of you that's unfolding. To share a story that has been building up in you, and that you want to share for the first time in front of the most loving, supportive audience imaginable - so that the other women in the room can shower you with 50 love letters filled with encouragement, tips and.. well… love of course ?
If you just experienced a little "tickle" in your stomach reading this - maybe that is your sign to raise your hand and with a bit of luck be chosen to experience this transformational process as one of the four WOMEN ON STAGE in September. Grab your ticket and let us know in the checkout process that you want to be on stage!
FAQ
Q: Can I definitely hold a WOMEN'S HUB TALK when I sign up for a WOMEN'S HUB DAY?
A: Unfortunately, we cannot guarantee this. More women always sign up to be on stage than we have places for. We try very hard to make sure that women who have been to several events can be on stage. For the WOMEN'S HUB DAY on June 3, it is no longer possible to sign up for a talk.
Q: I don't have a definite vision that I can share - am I at the right place anyway?
A: Absolutely. We are all on a journey and want to develop. Some women have a dream, some have a concrete vision, and some only have a vague feeling that there is more to them that wants to be discovered.
Q: Do I have to prepare for the WOMEN'S HUB DAY in any way?
A: No, unless you want to give a HUB TALK. Otherwise, everyone introduces themselves briefly, but this happens in a very relaxed way. We also ask you to fill out your profile in the member area of this website where you will find all women who have already participated in a WOMEN'S HUB DAY.
Q: What's the value of attending the WOMEN'S HUB DAY if I don't give a talk?
A: It only becomes really exciting outside our comfort zone ... every woman benefits and brings something different. You listen to the stories of other women, become inspired by them, give them feedback, and connect with kindred spirits. You can make personal contacts in the interactive parts of the day and think about when and with which story you want to go on stage.
Q: How can I connect with the other women? 
A: The heart of the WOMEN'S HUB are the DAYS - where it is certainly easiest to connect and network with other women. Many mastermind groups and friendships started at the DAYs. Furthermore, all women who have already been to a WOMEN'S HUB DAY in a given city have access to a private Facebook group to exchange, inspire, and motivate each other. And through the member area of this website you can also show your story - be part of it!
Q: How can I contact the organizer if I have questions?
A: Just send an email to: nele.cluver@womenshub.ch