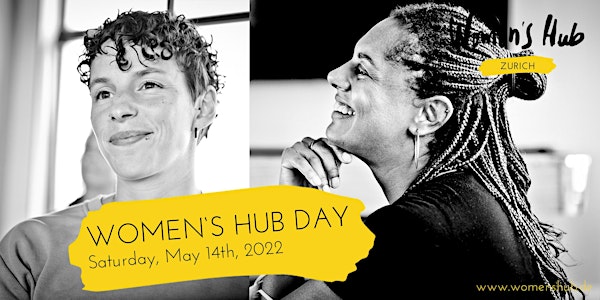 WOMEN'S HUB DAY ZURICH May 14th 2022
WOMEN'S HUB - Your space to thrive. Your stage to grow. Your community to rise by lifting others. Your movement to change the world.
When and where
Location
Ginetta Rieterstrasse 6 8002 Zürich Switzerland
Refund Policy
Refunds up to 30 days before event
About this event
WOMEN'S HUB DAY ZURICH | SHARE YOUR VISION - LIVE YOUR DREAM
The WOMEN'S HUB is a vibrant community that fosters collective growth. Our goal is to support each other in becoming the boldest, truest version of ourselves - whatever that looks like for each of us. We empower each other, both personally and professionally. We believe being vulnerable makes us stronger.
The WOMEN'S HUB DAY ZURICH provides us with a stage where we can share our deepest visions and dreams so that other women can help us realize them. Vague ideas and concrete plans - we welcome all, and love propelling them forward together.
You will get to know each other, exchange ideas, and inspire each other. Throughout the day several women will present on our stage. The HUB TALKS are from women (you!) who want to share their ideas, visions, and projects and receive in-depth reflections from the audience. There will also be a special INSPIRATION TALK by an external speaker. You will get plenty of opportunities to get to know the other participants on a deep level during the interactive parts of the program. And of course, there will be informal encounters throughout the day during the breaks or in the evening with a glass of wine.
Expect to leave the WOMEN'S HUB DAY ZURICH filled with inspiration and a bunch of women you can reach out to for personal quests or professional opportunities the rest of your life!
Agenda
09:00 - 09:30 Check-in, coffee and mingle
09:30 - 10:00 Welcome and connecting hearts
10:00 - 12:00 Women on stage Part I - Talk, reflection and feedback
12:00 - 13:00 We are the HUB - getting to know each other
13:00 - 14:00 Lunch Break
14:00 - 16:00 Inspiration Workshop & Story Trio
16:00 - 18:00 Women on stage Part II - Talk, reflection and feedback
18:00 - 18:30 Thank you and good bye
18:30 - 20:30 Apéro Time
Come on stage!!!
The stage is yours! Would you like to share your vision, idea, dream with the other women? Secure your place on the WOMEN'S HUB stage - when you buy your ticket, simply state your interest and topic and we will select the 'Women on Stage' before the DAY.
Please note that the sign-up for speakers for this DAY is now closed. You can still let us know you're interested in being on stage when you sign up, so we know you might be interested in sharing your story at the next WOMEN'S HUB DAY.
You can find more information about the day here.
Find out more about the WOMEN'S HUB in this little video (turn on subtitles for English translation)
WOMEN'S HUB DAY ZURICH SPEAKERS
We are very honored that the following ladies will share their stories with you on May 14th!

Sandy Kaufmann: Heal your heart heal the world
Sandy is no stranger to love affairs. For years, she was accumulating sentimental failures with men who didn't want to commit and were cheating on her.
She read tons of self-help books and even tried psychotherapy, but she kept repeating the same patterns.
Until one day, everything changed. By healing herself she found the love of her life, and even made it her mission to help single women to identify what stops them from finding love and transform it so that they can finally find and live a fulfilled love relationship.
In her talk, Sandy will share her personal journey to heal her heart that motivates her now to be a love coach and to soon create a holistic coaching school.

Laurence Kozera: Step out of the shadow
After years in the corporate world while living all over Europe, Laurence became a working mother and believed that she could do it all: maintain the fast pace at work and match the highest standards of motherhood. She only had to stretch herself a bit more.
Four years and a second child later, she realized that she had become a shadow of herself. She felt like she was disappointing at home, at work, with her family and friends. Everything had become an enormous to-do list with little energy left to enjoy life.
When the gap between her current self and her true self became too unbearable, she listened closely to her heart, and decided she had to let go of her job at Google, despite all the perks and promising trajectory, and proceed to a full reboot.
Laurence is now starting her own consultancy as a People Strategy expert. In her talk, she will share her journey, and she would love to hear your ideas and potential needs, either around her incubating business or your own journey.

Anna Stando: Gratitude as a key to resilience.
Anna wishes that she knew that being grateful helps you to be resilient earlier in her life. It would have made it easier growing up in a dysfunctional household and dealing with multiple small and big tragedies.
She ultimately stumbled upon gratitude when she was pregnant with her second child during the first lockdowns and she was amazed that such a 'simple' act of practicing gratitude daily was so powerful. It helped to overcome negativity and find joy, and it made her more resilient. Just in time, as giving birth didn't go exactly according to plan…
Since then, she has founded 'My Gratitude Challenge' and helped dozens of women to develop their own gratitude practice and a more resilient mindset.
Anna will share how the different challenges she has overcome have made her into the woman she is today and how giving herself the time to 'play' sparked her creativity and led her to new opportunities. And of course, how being grateful for what was, what is and what will be, is her new way of living.

Polina Suppé: Take it with a grain of salt
Quitting your job after 10 years to go traveling during a pandemic may sound like a bad idea, but it wasn't for Polina.
In fact, sharing food during her travels gave Polina the idea to start a salad-bar, and upon return she joined an accelerator program to turn her business idea into reality, supported by her friends.
Unfortunately, she recently ran into a financial squeeze, and she took a job in her 'old' world, initially feeling terrible about the defeat.
But that's not the end of her journey, it's only the beginning. Polina's talk will make you see that adjusting your plans is simply part of the process - and that talking about your story will help you attract the right people to make your dream happen.

Inspiration workshop with Aly Aesch: See yourself how others see you
For many of us, having our photo taken causes us to nitpick and micro manage every detail of our appearance and makes us hyper aware of our "flaws". We smile our fake smile, and can't wait for the moment to be over. Often the meanest version of our inner critic shows up once we look at those pictures of ourselves. Where we see the beauty in and of others, we so often only see what is not right with us.
In our inspiration workshop with the gifted photographer Aly Aesch, you will experience the opposite. Through her gentle guidance and game changing tips, you will see yourself in a new way. We will have the chance to discover how it can feel like when we finally allow ourselves to see us the way others see us! And while doing so, you will learn how having your picture taken can be a joyful experience that will make you feel more confident, and help you express your uniqueness to the world.
About Aly Aesch
Aly is an American business & branding photographer and videographer based in Zürich, Switzerland. She has called Switzerland home for 10 years.
It's Aly's mission to help women all over Switzerland to show up as their best and most authentic selves online through photography and videography.
FAQ
Q: Can I definitely hold a WOMEN'S HUB TALK when I sign up for a WOMEN'S HUB DAY?
A: Unfortunately, we cannot guarantee this. More women always sign up for giving a talk than we have places for. We try very hard to make sure that women who have been to several events can be on stage.
Q: I don't have a definite vision that I can share - am I at the right place anyway?
A: Absolutely. We are all on a journey and want to develop. Some women have a dream, some have a concrete vision, and some only have a vague feeling that there is more to them that wants to be discovered.
Q: Do I have to prepare for the WOMEN'S HUB DAY in any way?
A: No, unless you want to give a HUB TALK. Otherwise, everyone introduces themselves briefly, but this happens in a very relaxed way. We also ask you to fill out your profile in the member area of this website where you will find all women who have already participated in a WOMEN'S HUB DAY.
Q: What's the value of attending the WOMEN'S HUB DAY if I don't give a talk?
A: It only becomes really exciting outside our comfort zone ... every woman benefits and brings something different. You listen to the stories of other women, become inspired by them, give them feedback, and connect with kindred spirits. You can make personal contacts in the interactive parts of the day and think about when and with which story you want to go on stage.
Q: How can I connect with the other women? 
A: The heart of the WOMEN'S HUB are the DAYS - where it is certainly easiest to connect and network with other women. Many mastermind groups and friendships started at the DAYs. Furthermore, all women who have already been to a WOMEN'S HUB DAY in a given city have access to a private Facebook group to exchange, inspire, and motivate each other. And through the member area of this website you can also show your story - be part of it!
Q: How can I contact the organizer if I have questions?
A: Just send an email to: nele.cluver@womenshub.ch
Please note, that we are aware that there are a lot of uncertainties planning an event like this these days. Since your and our health is very important to us, we are following the existing protocols and are doing what we can to make the location as safe as possible for you.