WOMEN IN AUDIO > Podiumsdiskussion / Panel Discussion
Podiumsdiskusion über die Situation der Frauen in der Audiobranche / Panel discussion on the situation of women in the audio industry
When and where
Location
Studio - Kino Bernstorffstraße 93-95 22767 Hamburg Germany
About this event
English version follows below!
Ein Themenschwerpunkt von MSH MediaSoundHamburg in diesem Jahr ist WOMEN IN AUDIO.
Auch der Medienbereich wird wie fast alle anderen gesellschaftlichen Bereiche von Männern dominiert. Wir stellen in diesem Jahr herausragende weibliche Persönlichkeiten aus den bereichen Musik, FilmMusik und SoundDesign vor, die wir eingeladen haben in MasterClasses, Workshops, im Rahmen unserer Conference oder in SpecialEvents ihre Arbeit vorzustellen.
Am 16. Juni 2022, 19:00 Uhr findet eine hochkarätig besetzte Panel Diskussion zum Thema WOMEN IN AUDIO im Hamburger STUDIO KINO statt.
In dieser Podiumsdisskusion wird die Situation für Frauen in der Audiobranche besprochen und auf die Entwicklung der letzten Jahre zurückgeschaut.
... und natürlich blickn wir auch in die Zukunft!
Die Teilnehmerinnen sind:
* SITI AMINA, Musikerin, Sansbar / Tansania
* ANNETTE GENTZ, Musik Managerin, Deutschland
* SUE HARDING, Foley Artist, Vereinigtes Königreich
* HAYAT SELIM, Screen Composer / Voice Recording Artist, Ägypten
Moderation:
* ATLANTA INA BEYER, ist Kulturwissenschaftlerin, Autorin und Journalistin. Sie lehrt Gender and Diversity an der Hochschule Rhein-Waal und forscht u.a. zu Queerness und Populärkultur. Ihre Dissertation beschäftigt sich mit queeren und feministischen Punkutopien. Sie lebt in Berlin.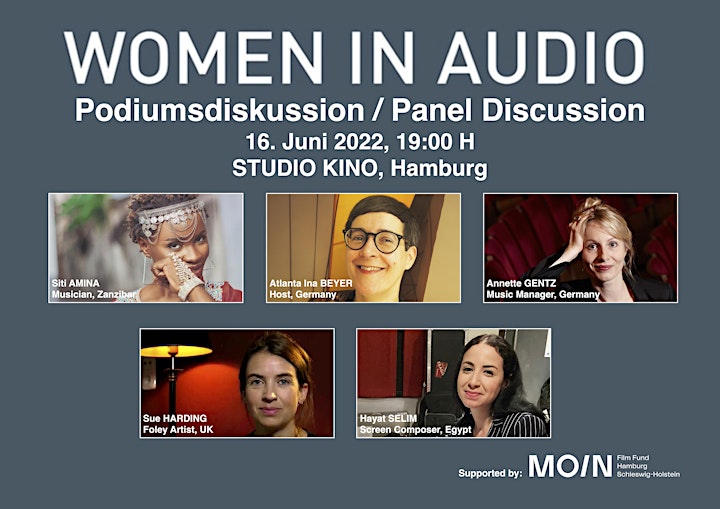 One focus of MSH MediaSoundHamburg this year is WOMEN IN AUDIO.
The media sector, like almost all other areas of society, is dominated by men. This year we are presenting outstanding female personalities from the fields of music, film music and sound design, who we have invited to present their work in MaserClasses, workshops, as part of our conference or in special events.
On 16 June 2022, 7:00 p.m., a top-class panel discussion on the topic of WOMEN IN AUDIO will take place at STUDIO KINO in Hamburg.
In this panel discussion, the situation for women in the audio industry will be discussed and the development of the last few years will be looked back on.
... and of course we also look to the future.
The participants are:
* SITI AMINA, Musician, Zanzibar / Tansania
* ANNETTE GENTZ, Music Manager, Germany
* SUE HARDING, Foley Artist, UK
* HAYAT SELIM, Screen Composer / Voice Recording Artist, Egypt
Host:
* ATLANTA INA BEYER, is a cultural scientist, author and journalist. She teaches Gender and Diversity at the Rhine-Waal University of Applied Sciences and conducts research on queerness and popular culture, among other topics. Her dissertation deals with queer and feminist punk utopias. She lives in Berlin.