Podiumsdiskusion über die Situation der Frauen in der Audiobranche. / Panel discussion on the situation of women in the audio industry.
About this event
English version follows below!
Themenschwerpunkt von MSH MediaSoundHamburg in diesem Jahr ist WOMEN IN AUDIO.
Auch der Medienbereich wird wie fast alle anderen gesellschaftlichen Bereiche von Männern dominiert. Wir stellen in diesem Jahr herausragende weibliche Persönlichkeiten aus den bereichen Musik, FilmMusik und SoundDesign vor, die wir eingeladen haben in MaserClasses, Workshops, im Rahmen unserer Conference oder in SpecialEvents ihre Arbeit vorzustellen.
Am 12. August 2021, 19:00 Uhr findet eine hochkarätig besetzte Panel Diskussion zum Thema WOMEN IN AUDIO im Hamburger STUDIO KINO statt.
In dieser Podiumsdisskusion wird die Situation für Frauen in der Audiobranche besprochen und auf die Entwicklung der letzten Jahre zurückgeschaut.
... und natürlich blickn wir auch in die Zukunft!
Die Teilnehmerinnen sind:
* NINA HARTSTONE, Oscarpreisträgerin für Bohemian Rhapsody (Sound Editing), UK
* SELMA MUTAL, Filmmusik Komponistin, Frankreich
* SARAH LUTZ, Orchestratorin, Schweiz
* MARIJA STOIJNIC, Regisseurin, Serbien
* LESLIE GASTON-BIRD, Sound Designerin, USA
* FREYA ARDE, Komponistin, Deutschland
Moderation:
* ATLANTA INA BEYER, ist Kulturwissenschaftlerin, Autorin und Journalistin. Sie lehrt Gender and Diversity an der Hochschule Rhein-Waal und forscht u.a. zu Queerness und Populärkultur. Ihre Dissertation beschäftigt sich mit queeren und feministischen Punkutopien. Sie lebt in Berlin.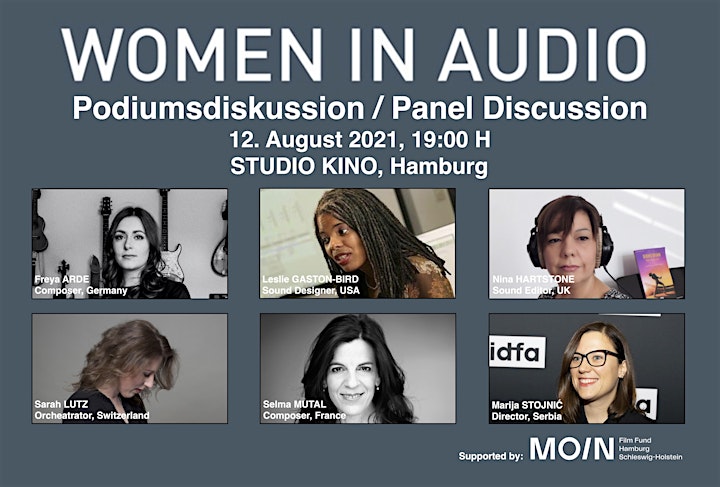 The focus of MSH MediaSoundHamburg this year is WOMEN IN AUDIO.
The media sector, like almost all other areas of society, is dominated by men. This year we are presenting outstanding female personalities from the fields of music, film music and sound design, who we have invited to present their work in MaserClasses, workshops, as part of our conference or in special events.
On 12 August 2021, 7:00 p.m., a top-class panel discussion on the topic of WOMEN IN AUDIO will take place at STUDIO KINO in Hamburg.
In this panel discussion, the situation for women in the audio industry will be discussed and the development of the last few years will be looked back on.
... and of course we also look to the future.
The participants are:
* NINA HARTSTONE, Oscar winner for Bohemian Rhapsody (Sound Editing), UK
* SELMA MUTAL, film music composer, France
* SARAH LUTZ, Orchestrator, Switzerland
* MARIJA STOIJNIC, Director, Serbia
* LESLIE GASTON-BIRD, Sound Designer, USA
* FREYA ARDE, Composer, Germany
Moderation:
* ATLANTA INA BEYER, is a cultural scientist, author and journalist. She teaches Gender and Diversity at the Rhine-Waal University of Applied Sciences and conducts research on queerness and popular culture, among other topics. Her dissertation deals with queer and feminist punk utopias. She lives in Berlin.
Organiser of WOMEN IN AUDIO > Podiumsdiskussion / Panel Discussion
(English follows below)
Media­Sound­Hamburg ist eine internationale Sommerakademie für Filmmusik, Gamemusic und Sounddesign, die seit 2011 jährlich in Hamburg stattfindet. Sechs Tage lang treffen nationale und internationale Filmkomponist*innen, Gamemusiker*innen und Sounddesigner*innen auf internationale Profis und renommierte Experten. In verschiedenen Workshops, Master Classes und der MSH Conference arbeiten die Teilnehmer*innen an konkreten Projekten und bekommen neue Anregungen für ihr künstlerisches Schaffen. Mit weiteren attraktiven Sonderveranstaltungen wie der Verleihung des Young Talent Awards Media Music mit Unterstützung des renommierten Kaiser Quartetts, Konzerten und Werkstattgesprächen mit Regisseur*innen und Filmkomponist*innen öffnet MediaSoundHamburg ihr Angebote auch für ein interessiertes Publikum. MediaSoundHamburg findet an verschiedenen Veranstaltungsorten in Hamburg in Zusammenarbeit mit unseren Partnern statt.

MediaSoundHamburg is an international summerschool for Filmmusic, Gamemusic and Sounddesign, which takes place annually in Hamburg since 2011. For six days, national and international film composers, game musicians and sound designers meet international professionals and renowned experts. In various workshops, master classes and the MSH conference, the participants work on specific projects and get new ideas for their artistic work. With further attractive special events such as the presentation of the Young Talent Award Media Music with the support of the renowned Kaiser Quartet, concerts and workshop discussions with directors and film composers MediaSoundHamburg opens its offers also for an interested audience. Venues are various locations in Hamburg.