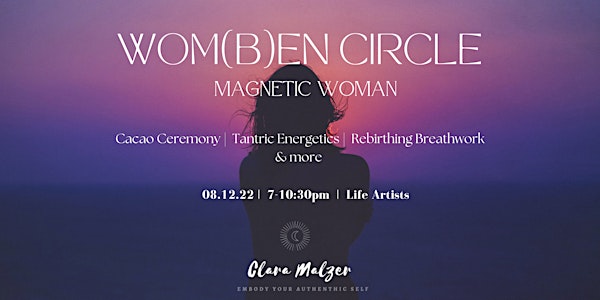 Wom(b)en Circle - Awaken Your Magnetism w/ Cacao + Rebirthing Breathwork
Join an evening of awakening your magnetic woman, exploring masculine and feminine polarities within and a heart-felt cacao ceremony
When and where
Location
Life Artists Creators Hub Milastraße 4 10437 Berlin Germany
Refund Policy
Contact the organizer to request a refund.
About this event
Beautiful being.
We welcome you on a journey of awakening to your feminine magnetism and coming into deeper connection with your body, heart and womb.
This evening will be an opportunity to explore both your feminine and masculine polarities as energetic forces in your body as well as archetypal forces of your psyche. Working with the tantric and psychological aspects of the feminine and masculine allows us to re-establish wholeness within, find deeper clarity and return to our radiant feminine expression.
We'll open a sacred space for different practices and finding energetic alignment to return to your innate play and pleasure, strengthen boundaries and leading the way to your pulsating desire while being held by a group of supportive women.
Our journey will be one of feeling, remembering, healing and sharing where we honor and celebrate all of womb-anhood, guided by the gentle spirit of Mama Cacao.
This circle is for you if you…
Want to return to your innate qualities of play, softness and pleasure
Feel there are parts of that need to be integrated to return to your radiant feminine nature or feel out of balance within yourself
Desire deeper levels of intimacy with yourself and others + explore what it means to surrender
Seek connection with other women to bring out your feminine expression
Every women's circle is a possibility to uncover, see, heal and integrate parts of yourself that have been lost over time and step back into embodying your full potential & feminine radiance.
When women gather, magic happens. Being held in a circle of women that see and witness you in all that you are, in your beauty and authentic feminine nature, is one of the most healing gifts you can give yourself.
What to expect?
Cacao Ritual
Tantric Practices + Exercises
Polarity Play: Exploring your masculine & feminine energetics
Somatic Embodiment
Rebirthing Breathwork
Sisterhood & Sharing
What to bring:
An outfit that allows your magnetic feminine force to come out
Your favorite cup for the cacao
Journal + pen
An item for the altar (fruit, crystals, a sacred object)
One flower (please all bring one flower this time!)
Bring all of you, your authentic, raw, wild nature. All ist welcome, your joy, bliss, anger, grief, sadness and anxiety.
The feminine heals by returning to our essence, by allowing us to be held, seen and witnessed by other women. She heals through connection and an open heart, letting go of comparison and judgment and be seen in your radiant expression. She heals through her feet deep down in the earth, growing her roots and remembering her original mother.
Note:
If you're pregnant, have a heart disease, high blood pressure, take antidepressants or have epilepsy, please reach out to me beforehand. Thank you!
About Clara:
Clara is a Berlin-based somatic + transpersonal life coach, Clarity Breathwork facilitator and trauma-informed yoga + tantra teacher. She merges the therapeutic, yogic and shamanic path as a gateway to deep healing, liberation from old patterns and returning to a state of wholeness.
Her work offers a portal into the spheres of feminine embodiment, somatic healing, emotional + nervous system regulation, yogic + non-dualistic tantric wisdom and movement medicine.
Her work is a stewardship to mother earth, to end the patriarchal voice within, return to truth and liberate the feminine expression as a gateway for embodied healing.
Instagram: www.instagram.com/claradelune_
Testimonials:
" I don't have a lot of words for what happened, the depth of it still takes me over. Thank you so much for your loving presence during the circle and of opening the room for everything to happen. And thank you for your loving guidance during the breathwork."
"Thank you again for the beautiful circle. Today my womb is super active and crazy and is signaling many new beautiful sensations"
"Thank you Clara for creating this room of connection and for the wonderful chance of looking lovingly at what needs to be addressed. It's amazing how you are able to create such a strong energy of love and presence within a group who hasn't known each other before. I am so grateful to experience the knowledge and wisdom of your path and take something with me on my own journey."
"Clara is an extremely special spirited soul who can reach your inside and emotions with her voice and words in an unique way. Her circle and personality made it very easy for me to open up and free my mind. It was an awesome challenging, intense and joyful experience which made me connect deeper with my inner self. "
"Clara thank you so much for this wonderful experience and for showing me this whole new world. Giving me the strength to accept and face my fears and weaknesses as well as guiding me to a bold and honest intention setting."
The Venue:
Life Artists Creators Hub, Milastr. 4, 10437 Berlin
Pyramid Floor - go all the way up - we are located on the 4th floor!