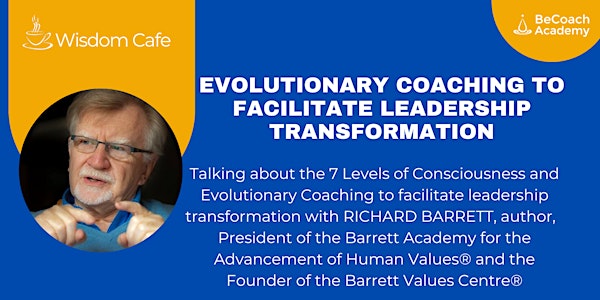 Wisdom Cafe - Evolutionary Coaching to Facilitate Leadership Transformation
Learn about the 7 Levels of Consciousness model and evolutionary coaching from Richard Barret in this live conversation.
About this event
"When you have a map of the territory, it makes your journey a lot easier. When you know what you need to feel happy, now and in the future, you can move forward with confidence."
– Richard Barrett, A New Psychology of Human Well-Being.
The 7 Levels of Psychological Development model is a map towards fulfilment, connection and trust. Using this map accompanied by the clarity around personal values as a compass, a leader can navigate confidently through a highly volatile, unpredictable and rapidly changing environment, steering the ship towards success. The 7 Levels of Psychological Development model shows the pathway from fear to trust through the turbulence of personal transformation.
Today we see far too many examples of leaders unable to face their unresolved fears, unable to tame their ego and unable to let go of power and control. They sink and they take with them their teams, organisations and nations.
Coaches play a critically important role in the journey of a leader from fear to trust. They are like Obi-Wan Kenobi to Luke Skywalker in Star Wars. They challenge, they provoke new levels of thinking, they encourage to face the uncomfortable, they shine a light on the invisible and connect to inner strength and wisdom.
Join us at the Wisdom Café with Richard Barrett, the world recognised thought-leader, an author, President of the Barrett Academy, for the Advancement of Human Values and the Founder of the Barrett Values Centre, who described the power of the 7 Levels model in his bestselling books, like Evolutionary Coaching, New Leadership Paradigm, The Values Driven Organization and many more.
Bring your questions to Richard and get ready for a deep and inspiring conversation.