Description
WINE in the CITY verwandelt 2019 zum 10 Mal die Wiener Innenstadt in einen eleganten Wein-Boulevard. Am Abend des 24. Oktobers öffnen wieder verschiedene Locations in der Innenstadt Ihre Pforten und laden zum Verkosten edler Tropfen österreichischer Topwinzer ein. Menschen mit Begeisterung für die schönen Dinge des Lebens haben einen Abend lang Zeit, unterschiedliche Facetten von Design, Kunst, Mode und Interieur im intimen Ambiente der eleganten Veranstaltung zu genießen und somit Neues abseits der bekannten Pfade kennenzulernen. Viele Geschäfte überraschen Ihre Kunden mit besonderen Schnäppchen und Rabatten an diesen Abend.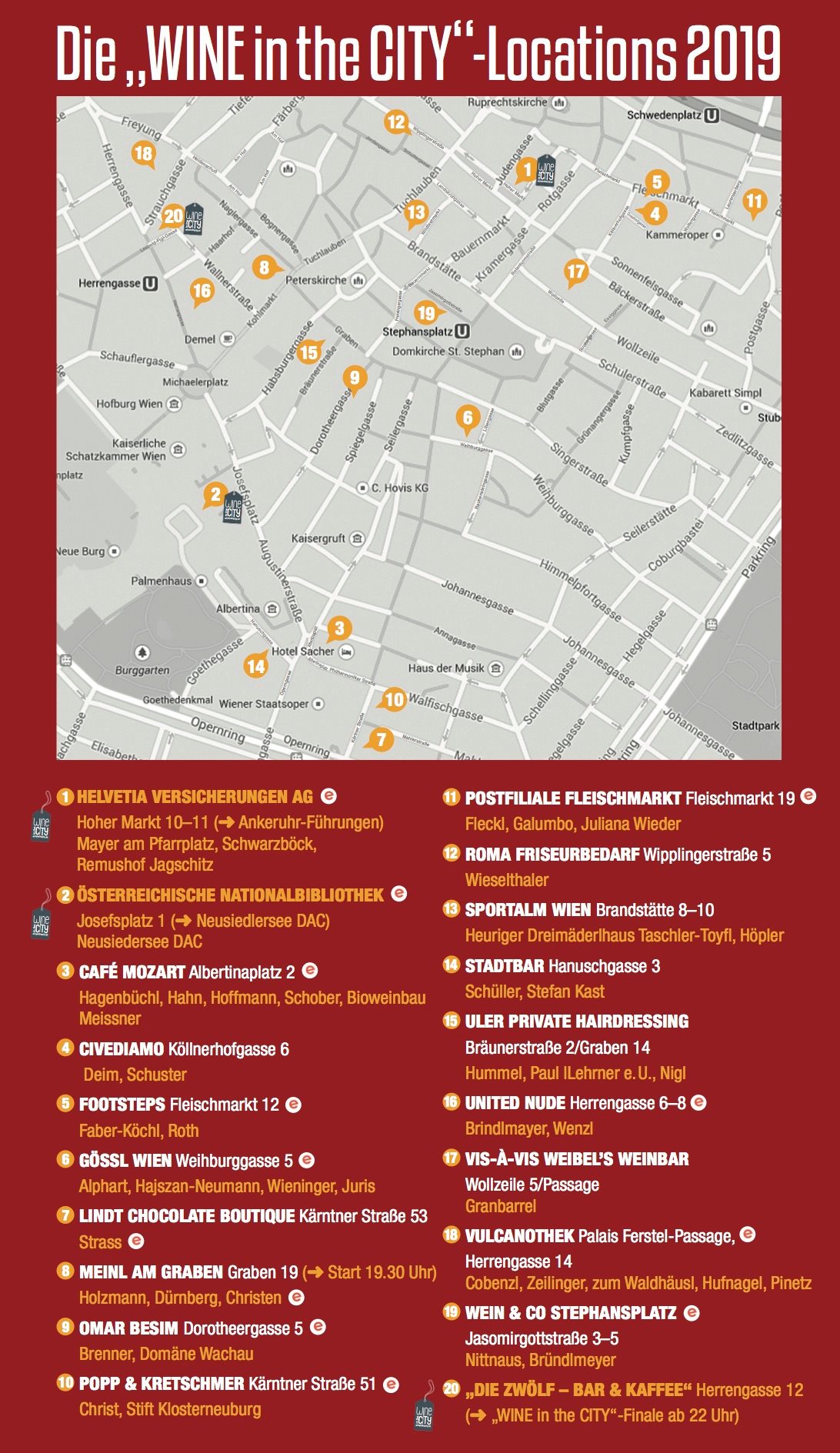 Datum: Donnerstag, 24. Oktober 2019
Uhrzeit: 19:00 bis 22.00 Uhr
Ort: Wiener Innenstadt
Checkin ab 18 Uhr:
Österreichischen Nationalbibliothek, Josefsplatz 1
Checkin ab 19 Uhr:
→ Helvetia Versicherungen AG, Hoher Markt 10-11
→ Café Mozart, Albertinaplatz 2
→ Footsteps, Fleischmarkt 12
→ Gössl Wien, Weihburggasse 5
→ LINDT, Kärntner Straße 53
→ Julius Meinl am Graben, Graben 19
→ Omar Besim, Dorotheergasse 5
→ Popp & Kretschmer, Kärntner Straße 51
→ Post, Fleischmarkt 19
→ United Nude, Herrengasse 6-8
→ Vulcanothek, Palais Ferstl-Passage, Herrengasse 14
→ Wein & Co Stephansplatz, Jasomirgottstraße 3-5
Aktuelle News und nähere Infos zu den teilnehmenden Locations und Winzern gibt es auf unserer Website www.wineinthecity.at und auf Facebook https://www.facebook.com/wineinthecitywien/
Die im Zuge der Veranstaltung WINE in the CITY 2019 gemachten Fotos, können von den Veranstaltern ohne Anspruch auf Vergütung im Zusammenhang mit WINE in the CITY 2019 und mit vorangegangener Veranstaltungen von WINE in the CITY verbreitet, weitergegeben, veröffentlicht und für Berichterstattungs- und Werbezwecke verwendet werden.