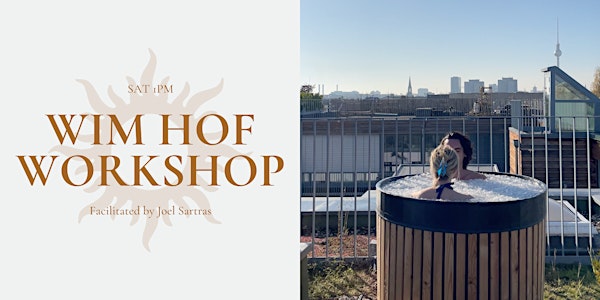 Mehrere Termine
Wim Hof Breathwork x Icebath | Rooftop Garden Mitte
Get in shape and activate your inner warrior with the Workout x Ice Bath experience at Rooftop Boutique Studio of Innersun.
Datum und Uhrzeit
Di., 17. Jan. 2023 07:00 - Sa., 26. Aug. 2023 15:00 CET
Veranstaltungsort
Christburger Straße 18 Christburger Straße rechte Türe Vorderhaus , Klingel Sartras Stumpf 10405 Berlin Germany
Rückerstattungsrichtlinie
Kontaktieren Sie den Veranstalter, um eine Rückerstattung anzufordern.
Zu diesem Event
The cold is our teacher! We guide you through a full body 80 minutes experience to activate each cell of your body and strengthen the mind.
Adress: Christburger Straße 18, right smaller door "Vorderhaus" , bell is " Sartras , Stumpf " go straight through in the elevator dont press any button and wait to be brought up.
About the Experience
A guided 120 minutes holistic experience.
1PM Breathwork Instruction a la Wim Hof
1.30PM Ice Bath Plunge
2.30PM Fireplace Warmup & Chill Out
About the Teacher
Each session is guided by Joel Sartras, the founder of Innersun, Yoga and motivation teacher: He is experienced in guiding meditation, yoga and ice bath sessions and is offering sessions regularly in the Rooftop Boutique Studio in Prenzlauer Berg or at Soho House.
Joel has worked with Wim Hof himself on how to go beyond limits and facilitate an ice bath experience.
About the Space
Innersun is a Rooftop Boutique Studio in Prenzlauer Berg that focuses on Performance Calibration of Body, Mind and Spirit. The approach offers a customized practice for more balance & efficiency made for an urban lifestyle.
Check out the video below for a small preview.