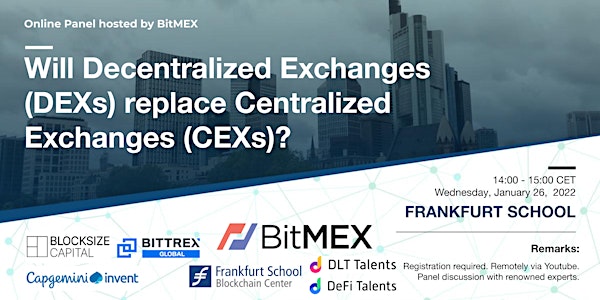 Will Decentralized Exchanges (DEXs) replace Centralized Exchanges (CEXs)
BitMEX & Frankfurt School Blockchain Center(FSBC) will host a panel discussion on "Will decentralized exchanges replace central exchanges?"
About this event
BitMEX with the support of the Frankfurt School Blockchain Center (FSBC) will host a panel discussion on the question of "Will Decentralized Exchanges replace Centralized Exchanges?". With Decentralized Finance (DeFi) taking off since the summer of 2020, the concept of a decentralized exchange became viable. Decentralized Exchanges offer peer-to-peer marketplaces for cryptocurrency trades without any intermediary or custodian. These transactions are entirely handled through self-executing smart contracts. Given that more and more adoption of decentralized finance is to be expected, will decentralized exchanges replace centralized exchanges?
We would also like to elaborate on the following questions:
DEX a security improvement or risk?
Is a world free of regulation (crypto only) possible?
How would the transition phase to fully(mostly) decentralized look?
Are we already within the transition phase and what does it take to go full decentralized finance ?
What are the current problems seen with decentralized exchanges (frontrunning, etc.)?
Automated Market Maker (AMM) vs. order book DEX vs. DEX aggregators
With today's viewpoint what could be adoption enablers or hindrance?
Counterparty risk and liquidity pools / mining are two big challenges with DEXs, are we sufficiently solving them as of today?
During the online panel, you will also have the opportunity to ask questions directly to the speakers.
Participants of the webinar
Prof. Dr. Philipp Sandner, Frankfurt School Blockchain Center (moderator)
Rupertus Rothenhäuser, BitMEX
Connor Payne, Blocksize Capital
Kwon Park, Bittrex
Steffen Reidt, Capgemini Invent
Marcel Grimm, FSBC DeFi Talents Participant
Location and Date
Location: Online Streaming via YouTube. Details for the live broadcast will be sent to you on the day of the event (no prior software installation required)
Date: January 26, 2022
Time: 14h00–15h00 (CET)
Language: English
Agenda
14:00 - Welcome and introductory words (Prof. Dr. Philipp Sandner, Frankfurt School Blockchain Center)
14:05 - Introduction of the speakers (Prof. Dr. Philipp Sandner, Frankfurt School Blockchain Center)
14:10 - Start of the panel discussion: CEX vs. DEX
15:00 - End of online panel
Tickets and registration
Required via Eventbrite; you will receive the URL for the webinar in advance.
Who should participate?
Employees and decision-makers from the financial sector interested in blockchain technology
Lawyers and consultants with a focus on capital market law and digitization
Investment funds, asset managers, and private investors interested in digital assets
Researchers and scholars wanting to gain insight on blockchain based decentralized finance
Regulators in finance
Other groups of people with an interest in capital markets, crypto assets, technology, and digitization
Contact
Frankfurt School Blockchain Center
E-Mail: team@fs-blockchain.de
Phone: +49 69 154 008-790
Web: www.fs-blockchain.de
About the Frankfurt School Blockchain Center
The Frankfurt School Blockchain Center (FSBC) is a think tank and research center primarily focusing on the implications of blockchain technology for companies and businesses. In addition to the development of blockchain prototypes, the center offers a platform for the exchange of knowledge and thought for decision-makers and startups as well as technology and industry experts. The FSBC sets new research impulses and develops education programs for students and executives. The center concentrates primarily on the areas of banking, energy, mobility, and the manufacturing industry.
Privacy policy: By registering for this event, I agree to receive emails from the Frankfurt School Blockchain Center about courses and events in the areas of blockchain, DLT, and crypto assets.