Dieses Event ist beendet.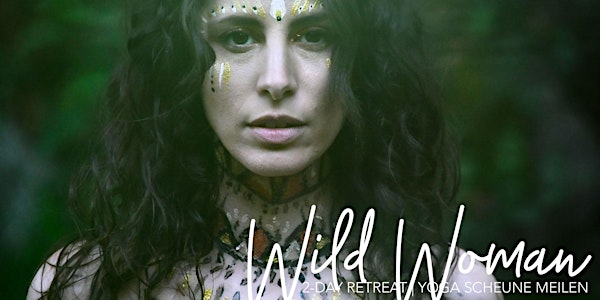 Wild Woman 2-Day Retreat
Zeit und Ort
Veranstaltungsort
Yoga-Scheune 37 Burgrain 8706 Meilen Switzerland
Karte und Wegbeschreibung
Rückerstattungsrichtlinie
Rückerstattungen bis zu 7 Tage vor dem Event
Beschreibung
WILD WOMAN – 2-DAY RETREAT
Do you want to be your most authentic, real and raw self?
Do you want to own your femininity and sensuality?
Do you want to get back in touch with your true nature as a woman?
Do you want to unleash the magnetic goddess you are?
Do you want to finally drop all masks and step into your light?
This special 2-day (non-residential, no housing provided) retreat is designed for the woman who is ready to step forward in life. The woman who is ready to rip down all masks of the pretty, good and "well-behaved" girl. The woman who wants to crack her heart wide open, learn to relax her body and tap into the innate feminine wisdom residing deep inside of her. The woman who wants to heal guilt and shame around sexuality and own her sensuality as her superpower.
UNLEASH ☾ RE-CONNECT ☾ RE-WILD ☾ BE
Within this save environment at the beautiful Yoga Scheune in Meilen, located in the midst of nature, you will have the chance to tear down walls of social conditionings, what a woman has to be, do and have. You will be able to re-write your story and tap into your full feminine power. This retreat is not about learning new techniques which will once more add to your to-do lists, but tools you can easily integrate into your daily life and become your most radiant and captivating version of yourself and find your very own expression of the feminine.
DAY 1
9.30 arrival of women, 10am start of the retreat
☽ Opening Circle ☾
☽ Introduction to the Wild Woman Archetype & Feminine Wisdom ☾
Lunch break
☽ Release "the good girl" Workshop & Ceremony ☾
- Discovering what holds you back from expressing your authentic self
- Release ceremony
☽ Re-discover your Feminine Essence ☾
- Feminine energy practices
- Womb-awakening
- Body acceptance & relaxation
- Self-love rituals
☽ Women's Rituals for daily life ☾
☽ Yin Yoga & Reiki ☾
DAY 2
☽ Sensual Dance (Waistline, Twerking) with Miss TK ☾
Lunch break
☽ Workshop "Embody your goddess self" ☾
☽ Unleash your inner Wild Woman ☾
- Taoist & Tantric practices to unleash your sexual energy
- Heal guilt and shame around sexuality
- Feminine Embodiment practices
- Boundaries and clear communication
☽ Wild Woman Initiation – closing Circle ☾
- Tantric Goddess Rituals, honoring each woman & the divine feminine
- Facial painting by Adriana Machado
- Short photography session for each woman by Adriana Machado
- Closing circle
WHEN 13 & 14 July
WHERE Yoga Scheune Meilen
ENERGY EXCHANGE includes two days and lunch as well snacks & water on both days: CHF 497 (single days only per request, CHF 257)
REGISTRATION Your spot is reserved upon payment (contact Stephanie if you can't book via Eventbrite)
FURTHER INFOS: www.stephaniecristinaengeli.com/wildwomanretreat