Women in Data Science (WIDS) Munich
About this Event
We are delighted to announce that Women in Data Science (WiDS) is comming to Munich on March 21st, in partnership with Sixt SE.
The Women in Data Science (WiDS) initiative aims to inspire and educate data scientists worldwide, regardless of gender, and support women in the field. WiDS started as a conference at Stanford in November 2015. Now, WiDS includes a global conference, with 150+ regional events worldwide; a datathon, encouraging participants to hone their skills; and a podcast, featuring leaders in the field talking about their work, and their journeys.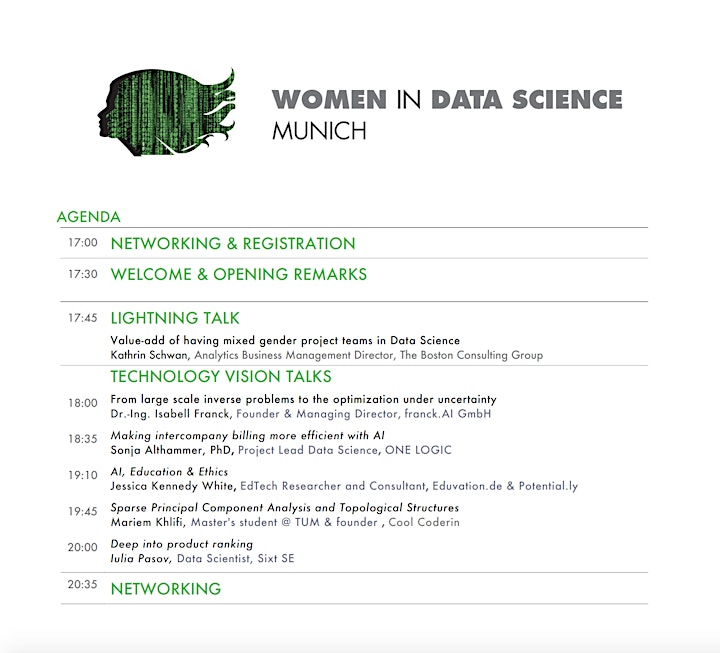 Kathrin Schwan, Analytics Business Management Director @ The Boston Consulting Group, Value-add of having mixed gender project teams in Data Science
Kathrin joined Boston Consulting Group (BCG) in 2017 as the Analytics Business Management Director overseeing the GAMMA specialists teams in Europe and Latin America. Prior she was a VP of Data Science & Analytics at Criteo for the Americas region. After receiving a master degree in Economics and Business Administration from Witten-Herdecke University, Kathrin spent three years as a consultant at Accenture. She also held roles in business operations and business intelligence with Yahoo! and Hubert Burda Media Group. In her spare time Kathrin enjoys free ride skiing and stand-up paddling together with her family and friends.
Sonja Althammer, PhD, Project Lead Data Science @ ONE LOGIC, Making intercompany billing more efficient with AI
Sonja Althammer received her Ph.D. in computational biology in 2012 from the UPF in Barcelona. She completed her postdoctoral studies at Mount Sinai in NYC and then started her industry career in Munich. As a computational biologist, she performed routine diagnostics to identify personalized treatments for leukemia patients. Next, her interest in cancer treatment motivated her to become a Research Scientist at Definiens and mine tumor images. Working closely with the founder and Nobel Laureate Prof. Binnig they matched cancer profiles to immunotherapy agents. Due to the high demand for translations of images to insights, Dr. Althammer established the Bioinformatics Services Team, which grew very fast and succeeded in terms of revenue and publications. Having gained extensive experience in AI, she took the opportunity to become a project leader at ONE LOGIC, a data science company that transforms large and complex volumes of data into genuine added value.
Dr.-Ing. Isabell Franck, Founder & Managing Director franck.AI GmbH, From large scale inverse problems to the optimization under uncertainty
Isabell Franck holds a doctorate in mechanical engineering. During her doctoral work, as well as her studies at the University of California Berkeley (USA), Cambridge University (UK) and Technical University of Munich, she delved into the quantification of uncertainties, statistical models and parameter quantification. She is founder of franck.AI, a provider of software and services for the optimization of automated, highly complex industrial production processes. The innovative approach of franck.AI's solution portfolio is to enable optimal physical results to reduce scrap and reworking, based on limited data through the integration of engineering knowledge. Franck is also closely associated with universities, for example, teaching statistics for engineers as an external lecturer at the University of the Bundeswehr. She previously acquired experience at BMW, Siemens and medium-sized companies.
Jessica Kennedy White, EdTech Researcher and Consultant @ Eduvation.de & Potential.ly, AI, Education & Ethics
Jessica White is an EdTech Researcher and Consultant at Potential.ly, Eduvation & EdTech Partners (EDT). Formerly she was a Research Mentor at UCL for Educate, the 4.5 million EU backed initiative with Nesta, Besa and F6S, that supports EdTech Startups in efficacy led improved services and products by combining research expertise with innovation. In the capacity as EdTech Consultant she identified renewed strategies and improvement for adaptive learning products & services at McGraw Hill Education. She has spear-headed beta testing, curriculum design, education strategies and partnerships as well as media exposure with EdTech startups in Germany and UK. Furthermore she founded Thinc, a charity in Austria, designing, initiating and managing several EU projects reforming education with technology and creativity. With her charity she collaborated with Google Arts and Cultural Institute empowering women in India through Arts, Education and Technology. In Germany she founded Te(a)chology, a series of events that are facilitating discussions on Education, Technology and society. She speaks publicly on how EdTech, creativity and AI has implications on ethical reasoning, learning environments and society.
Mariem Khlifi, Master's student @ TUM, Munich & founder of Cool Coderin , Sparse Principal Component Analysis and Topological Structures
Mariem Khlifi is a student at the Technical University of Munich where she is currently pursuing an MSc. In computer engineering and information technology. Previously, she studied at the Czech Technical University in Prague where she focused on Artificial Intelligence-related topics and the French engineering school IMT Atlantique. Mariem is still paving her way into science, but she has already discovered a passion for research and more particularly in the areas of computer vision, neuroscience and topology. Founder of Cool Coderin, her biggest passion is to propagate her knowledge in the areas she cares the most about and to convince everyone of the importance of creative intuition in shaping science.
Iulia Pasov, Senior Data Scientist @ SIXT SE & PhD student @LMU, Munich, Deep into product ranking
Iulia Pasov is a senior Data Scientist working for Sixt SE, as well as a PhD student in Artificial Intelligence and Psychology. Moreover, she is one of the main organizers of the Women in Data Science (WiDS) Munich conference for 2019. As a Data Scientist, Iulia focuses on building AI-based services meant to optimize car rental processes, as well as pipelines for automatic training and deploying of machine learning models. For her studies, she searches ways to improve learning in online knowledge building communities with the use of artificial intelligence. As background, Iulia holds a BSc. in computer engineering and two MSc. degrees in artificial intelligence, with theses on natural language processing and multi agent systems. She previously worked as a teaching assistant, machine learning engineer and contributed to ROOT for CERN.
Who Should Attend
The conference is open to everyone, regardless of gender, who is interested in engaging with and learning from the local data science community.
Please note that all talks will be held in English.
Got questions? Email Iulia (iulia.pasov@sixt.com) or Theresa (theresa.kultschytzky@sixt.com)