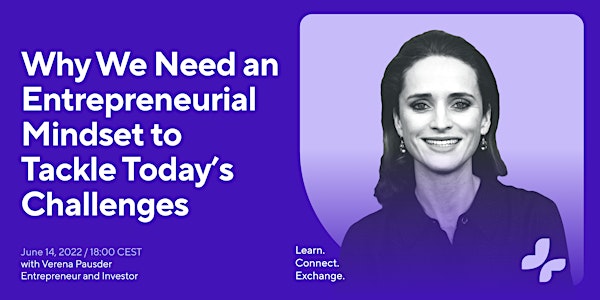 Why We Need an Entrepreneurial Mindset to Tackle Today's Challenges
Why We Need an Entrepreneurial Mindset to Tackle Today's Challenges
About this event
Global challenges from climate crisis to digitization of the economy to educational inequality are so large and complex, that they require everyone's potential and energy to be addressed. While policy and regulation are one aspect of the solution, we also need many more innovative and entrepreneurial approaches.
We must get involved with our ideas and our can-do attitude to actively shape the country that we want to live in. In fact, it is a prerequisite that companies today show clear impact and purpose-drivenness.
As an entrepreneur and investor, Verena Pausder made fighting for better digital education her priority. As 65% of primary school children today will work in jobs, we don't even know yet, this is one of our greatest tasks to prepare our kids for the future.
But for tackling our current challenges, we all have a role to play: as entrepreneurs, as students, as citizens. We need to start small, move fast, but most importantly: Do something!
Join us to learn how to cultivate an entrepreneurial mindset for tackling today's challenges and be on your way to making an impact!