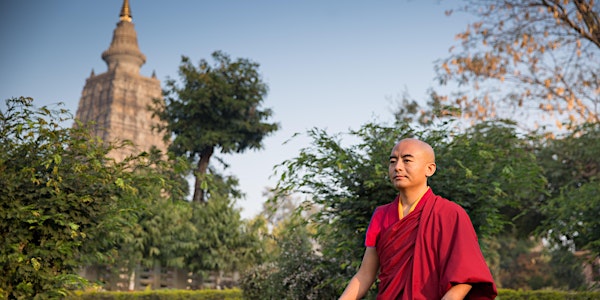 White Tara Empowerment with Mingyur Rinpoche
This programme is open to all.
When and where
Location
Germanisches Nationalmuseum Kartäusergasse 1 90402 Nürnberg Germany
About this event
[Deutsche Version siehe unten]
During this evening programme, Mingyur Rinpoche will bestow the White Tara Empowerment, connecting the practitioner to Rinpoche's lineage tradition. An embodiment of enlightened activity, White Tara serves as the principal deity of the Tergar lineage.
There are no prerequisites for attending the empowerment. This programme is open to all. The Empowerment will be in person only and will not be streamed online.
Cost:
This event is free, online registration is required. There will be an opportunity to offer a donation during the empowerment.
Date and time:
The programme will begin at 8:00 p.m., with check-in at 7:30 p.m. Please be settled in your seats by 7:50 p.m.
You do not need a printed document. There will be a registration on site, where all participants are asked to check in so that we can compare the registrations.
Cancellation of your participation
We ask you to cancel at least 14 days before the start of the event or as soon as possible if participation is not possible, in order to allow those on the waiting list to participate.
COVID-19 policy for in-person events in 2022:
Please adhere to the local Covid restrictions that are in place at the time of the event. Tergar also recommends that face masks are worn as an extra precaution to keep everyone safe.
Travel, Accommodation, and Other Local Information:
Please review this document for local travel and accommodation information. This is a non-residential retreat. You will need to secure your own accommodation if you need it and purchase your own meals.
If you have questions about the location, transportation and accommodations or need special seating or have other requirements, please contact anmeldung@tergar.org.
Biographies:
In his approach to teaching meditation, Mingyur Rinpoche integrates traditional Buddhist practice and philosophy with the current scientific understanding of the mind and mental health – making the practice of meditation relevant and accessible to students around the world. For further information check here.
Ermächtigung Weiße Tara mit Mingyur Rinpoche
Während des Programms wird Mingyur Rinpoche die Ermächtigung der Weißen Tara geben, die Praktizierende mit Rinpoches Übertragungslinie verbindet. Die Weiße Tara ist die Verkörperung erleuchteter Aktivität in der Tergar-Linie.
Für die Teilnahme an der Einweihung gibt es keine Voraussetzungen. Dieses Programm ist für alle offen. Die Teilnahme an der Weißen Tara Ermächtigung ist nur in Person möglich, die Veranstaltung wird nicht gestreamt.
Kosten:
Diese Veranstaltung ist kostenlos, eine Online-Anmeldung ist erforderlich. Es besteht die Möglichkeit, während der Einweihung eine Spende zu geben.
Datum und Uhrzeit:
Das Programm beginnt um 20:00 Uhr, Check-in um 19:30 Uhr. Wir bitten darum, bis 19:50 Uhr die Plätze einzunehmen.
Du benötigst kein ausgedrucktes Ticket. Es gibt vor Ort eine Anmeldung, bei der sich alle Teilnehmer*innen bitte nochmal melden, so dass wir die Anmeldungen abgleichen können.
Stornierung deiner Teilnahme
Wir bitten dich, mindestens 14 Tage vor Veranstaltungsbeginn bzw. so schnell wie möglich zu stornieren, falls eine Teilnahme nicht möglich ist, um so ggf. Interessenten auf der Warteliste die Teilnahme zu ermöglichen.
COVID-19 Richtlinie:
Bitte halte dich an die örtlichen behördlichen Covid-Regelungen, die zum Zeitpunkt der Veranstaltung gelten. Für die bestmöglicher Sicherheit aller, empfiehlt Tergar außerdem als zusätzliche Vorsichtsmaßnahme das Tragen von Masken.
Anreise, Unterkunft und andere Vor-Ort Informationen:
Bitte lies dieses Dokument, es beinhaltet Informationen zu Anreise, Unterkunft, Verpflegung, Kleidung etc.
Wenn du Fragen zu Veranstaltungsort, Verkehrsmitteln und Unterkunft hast, eine Sitzmöglichkeit mit besonderem Bedarf benötigst oder andere Anliegen hast, melde dich bitte unter anmeldung@tergar.org.
Biografien:
In seinem Ansatz, Meditation zu lehren, integriert Mingyur Rinpoche traditionelle buddhistische Praxis und Philosophie mit dem aktuellen wissenschaftlichen Verständnis von Geist und psychischer Gesundheit - und macht die Meditationspraxis für Schüler*innen auf der ganzen Welt relevant und zugänglich. Weitere Informationen findest du hier.