We'll meet you at the Sustainable Investor Summit! #sponsoring #xolaris_talks
About this event
We'll meet you at the Sustainable Investor Summit!
Ticket-Infos: https://www.ic-icf.com/en/konferenzen-en/sis-en/
#sponsoring #xolaristalks
The XOLARIS Group will continue to expand its focus as an international AIFM service for real assets. With our locations in Germany, Liechtenstein, France, Hong Kong and Singapore, we are already able to offer our customers individual structuring solutions. True to our motto "Made with Passion", we take the time to understand the needs of our customers and implement them in individual structuring solutions. Thanks to our integrated approach from structuring to liquidation, we can also take into account all of our customers' wishes in administration and fund accounting.
We support sales partners and investors with our "Sunrise Capital" brand. She serves as an interface between the AIFM and our customers and is the contact person for all questions relating to sales.
Sign up for our reminder email: http://eepurl.com/hfGLXL
About 4. Sustainable Investor Summit | Austria Forum:
https://www.ic-icf.com/en/konferenzen-en/sis-en/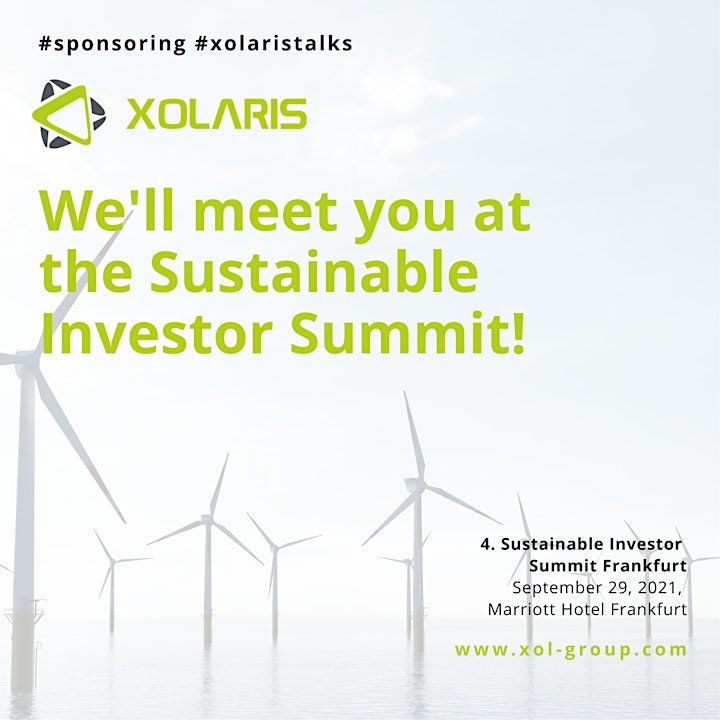 Renewables Energy
ELECTRICITY HAS BECOME A VITAL PART OF THE WORLD WITHOUT IT WE WOULD STILL LIVE LIKE IN THE STONE AGE IT ENABLES INDUSTRIAL PRODUCTION, MOBILITY AND ENTERTAINMENT. OUR SOCIETY HAS BECOME ACCUSTOMED TO THE MOST IMPORTANT TECHNOLOGY THE INTERNET WOULD NOT WORK WITHOUT ELECTRICITY. TO SEE IF WE CAN PRODUCE THIS ELECTRICITY IN A SUSTAINABLE WAY, I WILL EXPLAIN IN A SHORT PARAGRAPH WHAT SUSTAINABILITY MEANS ENVIRONMENTAL SOCIAL GOVERNANCE (ESG)
https://linktr.ee/xolaris_group
Environmental Social Governance
ESG is the abbreviation for "Environment Social Governance". ESG-based or sustainable investing does not yet function according to a fixed
predefined model. Since there are no uniform guidelines yet and the understanding is often on the subjective level of each individual. The most important criteria are explained below.
Environmental
This component of ESG investments primarily includes environmental and climate protection. The aim is to ensure that the earth's natural resources are protected during production. Specifically, this includes investments in renewable energies, efficient use of energy and raw materials, and environmentally compatible production and low
emissions to air and water.
Social
This criterion for ESG investments covers all social impacts of the company's activities, in particular the specific working conditions. This includes above all that human dignity is respected and that good conditions prevail for all. In addition, compliance with labor rights is important. It also includes occupational health and safety, fair conditions at the workplace, as well as appropriate remuneration and opportunities for training and continuing education. Respect for human rights and human dignity as well as prohibition of child and forced labor.
Governance
The third aspect of the ESG criteria considers the ethical behavior of the company - both in society and within the company. Of particular importance here are transparency and fairness, Targeted
measures against corruption¸ transparency and openness; diversity and equal opportunities;
In the creation of a sustainable investment portfolio, the ESG criteria have a decisive function, as according to them certain companies or even
industries are excluded if they are not observed. The exclusion principle, whereby companies that do not meet certain predefined values are excluded from the investment process, is the most common way of implementing ESG criteria.
One of the "Global Trends" we identify is Renewable Energies even though it serves as a buzzword, renewable energies are predestined for the ESG label. Global investments in renewable energy between 2004 and 2019 amount to USD 3.5
trillion and the trend is rising. Due to ongoing
digitalization, the demand for electricity will
increase even further in the future since the industrial revolution, the energy mix of most countries in the world has been dominated by fossil fuels. This has a significant impact on the global climate and human health. Three-quarters of global greenhouse gas emissions result from burning fossil fuels for energy. Fossil fuels are also responsible for large amounts of local air pollution. This air pollution is known to cause health problems.
In this respect, the advantages of renewable energy are clear. Nuclear power has many risks, these can be avoided. The climate is protected and fewer pollutants are produced. Emissions of greenhouse gases such as carbon dioxide (CO2) and methane are reduced, the global greenhouse effect is slower, and climate change is not accelerated any further. The increasingly scarce fossil fuels such as oil, gas, coal and uranium can be optimally replaced by renewable energy sources. The energy supply of industry as well as private households can thus be maintained. The use of renewable energies and the resulting strong and diverse competitive landscape guarantee a high level of quality with a fair price-performance ratio. There are no oligopolies that can dominate and keep prices high. Inexhaustible and free energy sources - especially sun, wind, water is available in abundant quantities and can be used permanently by power plants to generate electricity or heat. Green investments also stand for more employment in the field of
alternative energies (research, development, planning and production of energy power plants). The above-mentioned advantages allow us to draw conclusions that not only the rational but also the moral compass of the investors has been
activated over the years. Investors are of paramount importance to funds as well as their managers, as without one the other cannot function. Thus, fund managers are no longer just chasing returns, they also represent values, norms and principles that the ESG approach defines as filters. With this in mind, renewable energy funds, among others, have been set up. These include stocks and/or real estate assets from the renewable
energy sector. These can be, for example: Hydrogen, plastic recycling, electric car manufacturers, wind power plants, biomass power plants, hydroelectric power plants, geothermal power plants, energy storage manufacturers and supplier
companies for manufacturers from the previously mentioned sectors. From these areas, fund managers can now create packages that are potentially interesting for investors. Thus, even in the renewable energy fund sector, there are products with high risk but also high returns, as well as solid investments designed for long-term value creation that have more moderate returns. Renewable energies will play a key role in the decarbonization of our energy systems in the coming decades.