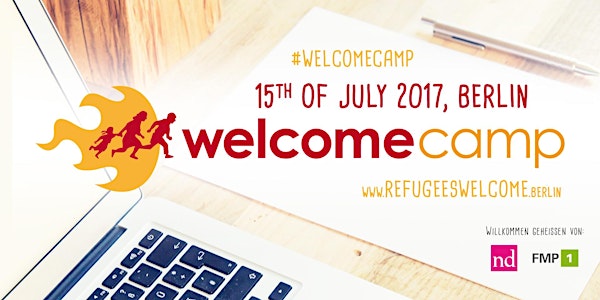 WelcomeCamp Berlin 2017 - Where are we now?
When and where
Location
FMP1 Franz-Mehring-Platz 1 10243 Berlin Germany
Description
Willkommenskultur im Hier und Jetzt

Fast ein Jahr ist vergangen und aus dem WelcomeCamp 2016 sind wichtige Projekte, neue Freundschaften, etablierte Netzwerk-Veranstaltungen und weitere Diskussionen zur Willkommenskultur entstanden. Die Schwerpunkt-Themen haben sich verlagert: Es gilt zusammen mit den Geflüchteten das gemeinsame Leben, den Alltag zu bestreiten, die Suche nach Ausbildungsmöglichkeiten, Jobs und Wohnungen nachhaltig zu meistern. "Wo stehen wir jetzt?" – Das WelcomeCamp 2017 am 15. Juli 2017 soll für alle Teilnehmerinnen und Teilnehmer, Newcomer und Alteingesessene die Möglichkeit bieten, die bestehenden Fragen zu diskutieren und Antworten zu finden.
Du bist Unternehmerin oder Unternehmer und engagierst dich aktiv für die Willkommenskultur und möchtest deine Erfahrungen teilen? Du bist ehrenamtlich tätig und benötigst Unterstützung bei Förderanträgen? Euer Projekt ist neu und ihr möchtet es bekannt machen oder du möchtest dich aktiv für Geflüchtete einsetzen und suchst das passende Projekt?
Wir freuen uns auf euren Wissensaustausch und eure Erfahrungen! Ihr seid das WelcomeCamp 2017!
Welcome culture on the same level in the presence.
Almost one year has passed and the WelcomeCamp 2016 has resulted in stunning projects, new friendships, established network events and further discussions on the welcome culture. The priorities have shifted: the social life, the everyday life, the search for training opportunities, jobs and housing have to be mastered. "Where are we now?" The WelcomeCamp 2017 on 15th of july 2017 is intended to provide the opportunity for all participants, refugees and inhabitants, to discuss existing questions and perhaps even find answers for all of us.

You are an entrepreneur and you are actively involved in encouraging welcome culture and would like to share your experiences? You are a volunteer and you need assistance with applications for funding? Your project is new and you want to make it known or you want actively work on projects for supporting refugees and are looking for the right project?
We are looking forward to your knowledge exchange and your experiences! You are the WelcomeCamp 2017!