We will deal with theoretical grounds and history of neoliberalism and then take a particular look at the neoliberalization of universities.
About this event
In the seminar we will have a look at our current focus on the topic of The Neoliberal University and its Students. As a foundation for it, we will deal with the history and origins of neoliberalism, having a look at its theoretical foundations and roots. Subsequently and starting from the macro-level, we will focus on the development and spread of neoliberalism and take a view at various phenomena that illustrate the process of neoliberalization. Finally, on the basis of this knowledge, we will move from the macro perspective to the micro level - the neoliberalization of the university and higher education, which is the center of our current Focus. The guiding questions from our current call will be attempted to be addressed here.
What is neoliberalism; how did it come about and developed into a global hegemonic social order; and what is the neoliberalization of university and students?
What are the relationships between education, social and global inequality, (neo-)colonialism and capitalist production?
Can the role of students be reduced to being "future employees" and "taxpayers", or doesn't it go far beyond that? What socio-political responsibilities do we bear as students?
The past and the present showed the importance of students and student movements for central social developments: What experiences can we draw from student-led social and political changes?
You will receive concrete information about the literature after your registration. The seminar schedule can be found below.
Themes, topics and dates
As a guideline, the seminar will be divided into give main themes, ten sessions. The first session will start on Tuesday, March 9th, and continues every other week until Tuesday, July 6th. You can also download the timetable here.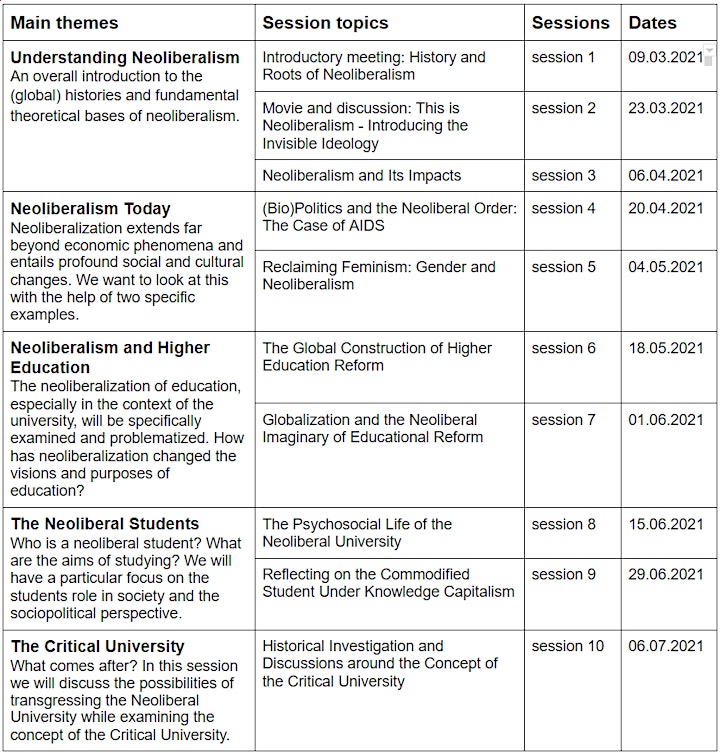 Format and time
The seminar is primarily designed to be interactive, dialogical, and participatory. It cannot be understood as a mere course in the sense of a lecture. We want to engage the topics together in an open discussion, and grounded by carefully selected, short texts.
The seminar will be held online at 15:00 UCT time. Each session is scheduled to last two hours. Here are the specific geographical time zones:
7:00 – San Fransisco
10:00 – Bogota
12:00 – Sao Paulo
15:00 – London
16:00 – Berlin
17:00 – Cape Town
19:30 – Kabul
20:30 – Delhi
22:00 – Ho Chi Minh
23:00 – Beijing
00:00 – Tokyo
How to Register
You only have to register for the first meeting on the 9th of March! You are then automatically registered for all the following sessions. Registration is open until 08th of March.
The individual sessions build on each other thematically. In this respect, it would be desirable if you only register if you intend to attend all seminars. If you don't have time for some of the sessions, that of course is no problem.
And, if in any case you can not continue joining the seminars, please send us an email so that we could give the registration place to other people.
Learning is not only about reading and experiencing the world alone. It is about discussing and critically questioning. This goes first and foremost in mutual exchange and inspiration. As a critical students' community, we want to make space where we can investigate and discuss topics that affect us all, across university and national borders. This is the purpose of our new seminar series, in which we will jointly study various texts, exchange knowledge and perspectives, and develop critical global understandings of the fundamentals in each FOCUS theme. Don't miss it!