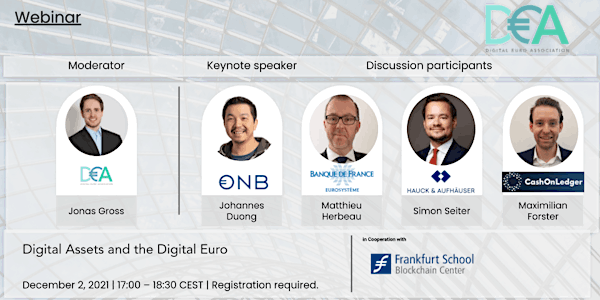 Webinar: Digital Assets and the Digital Euro
In this new DEA webinar, Jonas Gross will talk to renowned experts from the ecosystem about digital assets and the digital euro
About this event
Digitization of financial assets promises tremendous benefits to the capital markets, such as executing fast, efficient, and secure transactions via distributed ledger technologies (DLTs). First financial institutions across the globe look for opportunities to integrate blockchain technology into their security offerings, such as blockchain-based bonds. The World Bank pioneered by issuing a new blockchain-based debt instrument and launched its bond-i already back in August 2018. Today, digital assets are already allowed by the regulator, e.g., in Germany, and will thrive over the next years.
The advantages of digital assets become particularly clear when not only the digital asset itself, but also the payment/settlement of the digital asset is observed. When digital assets are based on DLTs, not only buying and selling the bond via a DLT is possible, but also the payment of the bond - both on the same platform. This allows for instantaneous settlement of assets.
One promising way for digital assets is to settle in central bank money, via a wholesale central bank digital currency (CBDC). While the first central bank pioneered wholesale CBDCs, the Austrian Central Bank has recently conducted a research project for settling a digital asset with central bank money. In their DELPHI (Delivery vs. Payment Hybrid Initiative) project, appropriateness of blockchain technology for issuing and settling digital bonds in real time using a wholesale CBDC was explored. The Austrian Central Bank issued a wholesale CBDC that was used to pay for the digital bond. Potential deliveries of this blockchain-based project are to assess the compatibility of the current legal framework and its various amendment needs and to evaluate the applicability of this project learnings to the market needs.
The aim of this webinar is to discuss how the digital euro will support the digitization of financial assets, such as bonds. In this context, the role of public sector solutions, such as wholesale CBDCs, are explored alongside private-sector solutions.
In particular, in this webinar, we focus on addressing the following questions among others:
How does a digital Euro support the digitization of financial assets?
Is a digital Euro for the settlement of assets needed? Which benefits does a digital Euro provide?
Should the digital euro be provided via a wholesale or a retail CBDC or should the private sector provide such a solution?
What are the learnings from current projects around settling bonds with central bank money via wholesale CBDCs?
Which role does blockchain technology play?
Who is frontrunning wholesale CBDCs?
When will we have a wholesale CBDC in the Euro Area?
During the webinar, you will also have the opportunity to ask direct questions to the speakers.
Participants of the webinar
Johannes Duong, Treasurer, Austrian Central Bank (OeNB)
Matthieu Herbeau, Central Bank Digital Currency (CBDC) Experimentation Manager, Banque de France
Simon Seiter, Head of Digital Assets, Hauck & Aufhäuser
Maximilian Forster, Co-founder & Chief Business Officer, CashOnLedger
Jonas Gross, Chairman, Digital Euro Association (DEA)
Location and Date
Location: Online. Details for the live broadcast will be sent to you on the day of the event (no prior software installation required)
Date: December 2, 2021
Time: 17h00–18h30 (CET)
Language: English
Agenda
17:00 - Welcome and introductory words (Jonas Gross, Chairman, Digital Euro Association)
17:05 - Introduction of the Digital Euro Association (Jonas Gross)
17:10 - Keynote speech on DELPHI project (Johannes Duong, Austrian Central Bank)
17:30 - Panel discussion
18:15 - Q&A
18:30 - End of webinar
Tickets and registration
Required via Eventbrite; you will receive the URL for the online panel in advance.
Who should participate?
Employees and decision-makers from the financial sector interested in blockchain technology and advancements of the monetary system
Decision-makers and employees from the financial and capital market industry who are affected by the introduction of a digital Euro
Lawyers and consultants with a focus on capital market law and digitization
Decision-makers and employees from the financial and capital market industry who are affected by the regulation of the crypto market
Journalists from the economics and technology department
Other groups of people with an interest in capital markets, crypto assets, technology, and digitization
Employees of startups with digital business models
Contact
Digital Euro Association
E-Mail: info@digital-euro-association.de
Web: www.digital-euro-association.de
About the Digital Euro Association
The Digital Euro Association (DEA) is a think tank specializing in crypto assets, stablecoins, central bank digital currencies (CBDC), and other forms of digital money. Our mission is to contribute to the public and political discourse through research, education, and by providing a platform for discussion and a community for policy-makers, technologists, and economists. We are committed to independence and excellence, aiming to set the agenda and to shape policy by encouraging new ideas and forward-thinking in the field of digital money. We deal with new and innovative topics such as the digital, programmable Euro and Libra, but also with "classical" crypto assets such as Bitcoin and Ether. More information on the Digital Euro Association can be found on our website, LinkedIn and Twitter.
Privacy policy: By registering for this event, you agree to receive emails from Frankfurt School Blockchain Center and the Digital Euro Association.