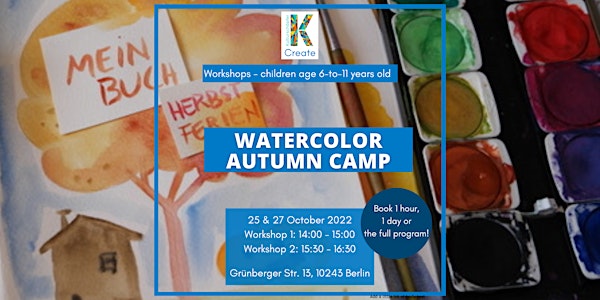 Watercolor Autumn Camp!
Let's paint your own book! 2 days Autumn Holiday activity: 4 workshops! Male dein eigenes Buch! 2 Tage Herbstferien: 4 Workshops!
When and where
Location
Kulturschöpfer e.V. Grünberger Straße 13 10243 Berlin Germany
Refund Policy
Contact the organizer to request a refund.
About this event
Welcome to our Watercolor Autumn Camp!
On Tuesday 25th and Thursday 27th of October, Lujan Cordaro will be hosting the Autumn Edition of the Watercolor Camp: 'Let's paint your own book!'
This watercolor workshop for children (6 - 11) will be a two day Autumn Holiday activity. The children will paint lots of Autumn inspired scenes and paint their own characters, animals and backgrounds. We will play with watercolor - painting animals, nature, and other scenes inspired by this lovely season. The participants will have the chance to gather their artwork in a self-made booklet that they will take home.
The Camp consists of 4 one-hour-workshops divided in two days:
Program
Tuesday 25th October
Workshop 1) 14:00 - 15:00
Workshop 2) 15:30 - 16:30
Thursday 27th October
Workshop 1) 14:00 - 15:00
Workshop 2) 15:30 - 16:30
You can book the whole program or for single workshop.
Note!
Children who stays for the entire day will have a break between 15:00 and 15:30, during which they can have a snack. Please bring the sack and a water bottle from home. Please do not bring nuts, as other children might be allergic to it.
Price:
Whole program (2 days, 4 workshops): 50€
1 day (2 workshops): 30€
1 workshop: 15€
Materials are included.
The workshops are in English, German, and Spanish for children from 6 to 11. We have a limited capacity of 8 participants so book your spot now!
Note that the minimum amount of participants is 3.
This program is for children from 6 to 11 years old. If your child is younger and interested in participating, please contact us at events@kulturschoepfer.de.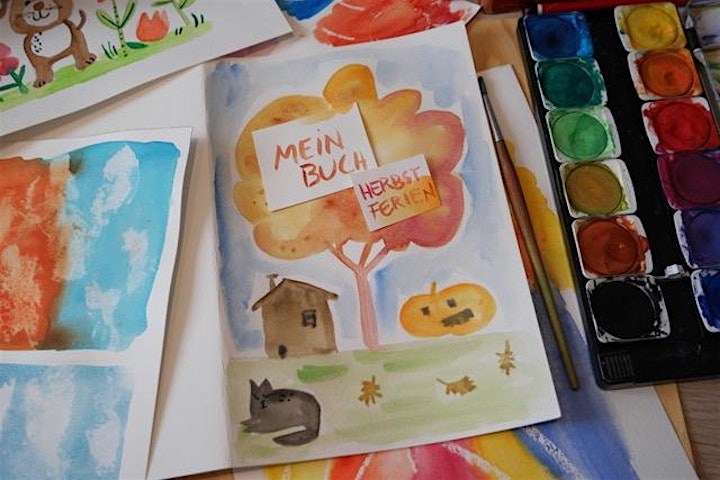 About the workshop leader
Lujan Cordaro is an artist and illustrator. Born in Buenos Aires, Argentina, she now lives in Berlin. She works on different illustration projects and she teaches art to children and adults at the Berlin Art Club and in different spaces in Berlin.
In 2020 she published her first picture book 'Oso', in 2019 she illustrated 'Bernard the brave' and she is currently working on her third book.
You can learn more about Lujan and see here amazing works here.
Willkommen zu unserem Aquarell-Herbstcamp!
Am Dienstag, den 25. und Donnerstag, den 27. Oktober, veranstaltet Lujan Cordaro die Herbstausgabe des Aquarell-Camps: "Male dein eigenes Buch!"
Dieser Aquarell-Workshop für Kinder (6 - 11 Jahre) wird eine zweitägige Herbstferienaktivität sein. Die Kinder werden viele vom Herbst inspirierte Szenen malen und ihre eigenen Charaktere, Tiere und Hintergründe malen. Wir werden mit Aquarellfarben spielen und Tiere, Natur und andere von dieser schönen Jahreszeit inspirierte Szenen malen. Die Teilnehmer haben die Möglichkeit, ihre Werke in einem selbst gestalteten Heft zu sammeln, das sie mit nach Hause nehmen.
Das Camp besteht aus 4 einstündigen Workshops, die auf zwei Tage verteilt sind:
Program
Dienstag, 25. Oktober
Workshop 1) 14:00 - 15:00
Workshop 2) 15:30 - 16:30
Donnerstag, 27. Oktober
Workshop 1) 14:00 - 15:00
Workshop 2) 15:30 - 16:30
Sie können das gesamte Programm oder einzelne Workshops buchen.
Wichitg!
Kinder, die den ganzen Tag bleiben, haben zwischen 15:00 und 15:30 Uhr eine Pause, in der sie einen Snack zu sich nehmen können. Bitte bringen Sie den Sack und eine Wasserflasche von zu Hause mit. Bitte bringen Sie keine Nüsse mit, da andere Kinder darauf allergisch sein könnten.
Preis
Ganzes Programm (2 Tage, 4 Workshops): 50€
1 Tag (2 Workshops): 30€
1 Workshop: 15€
inkl. Materialen
Die Workshops sind in Englisch, Deutsch und Spanisch für Kinder von 6 bis 11 Jahren. Wir haben eine begrenzte Kapazität von 8 Teilnehmern, also buchen Sie Ihren Platz jetzt!
Beachten Sie, dass die Mindestteilnehmerzahl 3 beträgt.
Dieses Programm ist für Kinder im Alter von 6 bis 11 Jahren gedacht. Wenn Ihr Kind jünger ist und Interesse an der Teilnahme hat, kontaktieren Sie uns bitte unter events@kulturschoepfer.de.
Über Lujan Cordaro
Lujan Cordaro wurde in Buenos Aires geboren und lebt seit 2014 in Berlin. Sie hat Modedesign und Kinderbuchillustration studiert und arbeitet seit 15 Jahren als Kunstlehrerin. Sie arbeitet an verschiedenen Illustrationsprojekten und veröffentlichte 2020 ihr erstes Buch Oso, eine Geschichte über Migration. Mehr Informationen über sie und ihre Arbeit finden Sie hier: www.lujancordaro.com; Instagram: @lujancordaro