Eventinformationen
Veranstaltungsort
KPMG
Klingelhöferstraße 18
10785 Berlin
Germany
The Mindful Leadership Circle and KPMG invite you to a panel discussion about mindfulness regarding individuals, companies and society.
Zu diesem Event
From the self to organisations to society: Why self-reflection and inner clarity is the key for inspiring others and moving the world forward together
In this panel discussion event we want to explore how we can extend mindfulness from us as individuals to the bigger picture:
We are facing tremendous challenges these days - climate change, social inequality and increasing psychological distress in the face of exponential change. It is easy to think that other people can take care of this on our behalf. Yet, it might very well be that each one of us has the power to change the world, individually and collectively. And it might very well be that we can accept the call of civic duty to take care of ourselves, our community and our planet.
How to do that? Is self-development and inner work the key towards positive change in the world? And how do we bring this into our everyday life and into our organizations? What are the steps each one of us can take towards bigger and positive change?
The Mindful Leadership Circle is bringing leading heads of companies and experts on stage to share their experience.
------------------------------------------------------------------------
As this event is of limited capacity, please only book one ticket per person. Should you not be able to attend, please cancel your ticket.
The Mindful Leadership Circle is a non-profit organisation and in order to cover additional costs, we would be grateful of receiving donations on the evening. We recommend 15€ per person. KPMG is only providing the space. 7Mind is supporting us with catering. Thank you!
Doors are open from 19:00.
This event ends around 21:45, followed by half an hour of drinks and networking.
We are looking forward to it!
Welcome:
Dr. Yana Heussen (Co-Founder of the Mindful Leadership Circle, The Mindful Company)
On the panel:
Tomas Björkman (Founder of Ekskäret Foundation, Author of "The Nordic Secret", Tedx Speaker: https://www.youtube.com/watch?v=b4dFsHgd1rQ)
Peter Bostelmann (Chief Mindfulness Officer at SAP, Tedx Speaker: https://www.youtube.com/watch?v=wdqbSAWI2xM)
Julia Carloff-Winkelmann (Vice President People & Workplace, Soundcloud)
Sylvia Scherer (Connection Coach & Co-Founder of the movement "Connected Culture Club")
Host:
Eric Mahleb (Senior Manager Design and Innovation Studio, KPMG)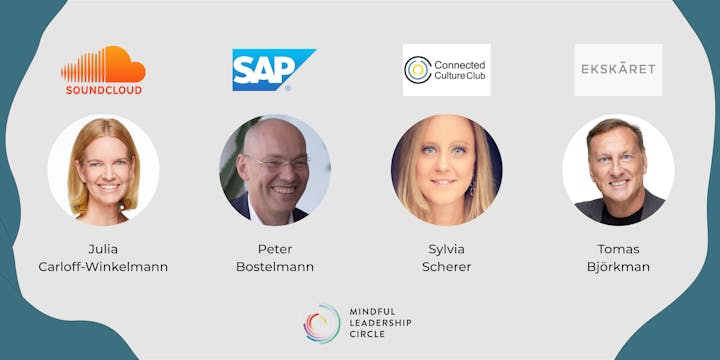 Datum und Uhrzeit
Veranstaltungsort
KPMG
Klingelhöferstraße 18
10785 Berlin
Germany