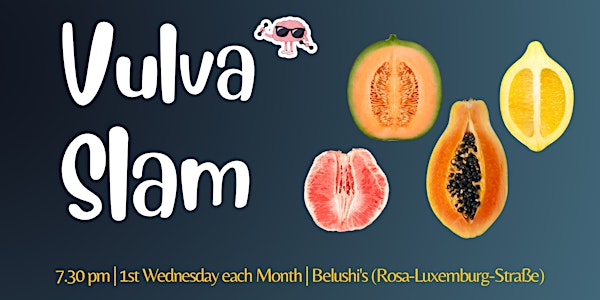 Vulva Slam: English Variety Open Mic - We Charge Your Vulva Power!
Come to charge your vulva power with us!
When and where
Location
Belushi's Berlin (Alexanderplatz) Rosa-Luxemburg-Straße 41 10178 Berlin Germany
About this event
Come experience the joy, the struggles, the beauty and the pain around being a woman, wanting to be one or not being one.
All types of performances are welcome!
It's an open mic. We encourage performers to NOT use their A material. Instead, please be authentic, playful, and experimental. Let the magic of live performance lead us, so we can create a unique night together.
This event is part of Berlin Mental Health Festival.
"I don't have a vulva, can I come to see the show?"
Of course! You silly.
🚫 We are cencored by Facebook due to the word "Vulva". Now unable to do paid marketing, we fully rely on word-of-vulva. Help us spread the word!
🎤 Host by Moni Zhang 🇨🇳
Winner of Berlin New Standup Award 2019 & Founder of Berlin Mental Health Festival. Moni is featured by BBC, Euronews, Scottish Field, and The Scotsman. Now touring with her solo show "Child from Wuhan".
Ticket:
Free Entry + Donation based.
We suggest a donation of 10€ - 15€. Students & unemployed 5€ - 7€.
Refugees welcome as guests.
We accept cards & cash.
When & where:
Wednesday 7. Dec
Doors open: 7.30pm
Show starts: 8.00pm
📍Belushi's Berlin (Alexanderplatz): Rosa-Luxemburg-Straße 41, 10178 Berlin
Corona rules:
Currently, all Covid restrictions have been lifted in Berlin, masks are optional, please wear them if you wish, that is your business.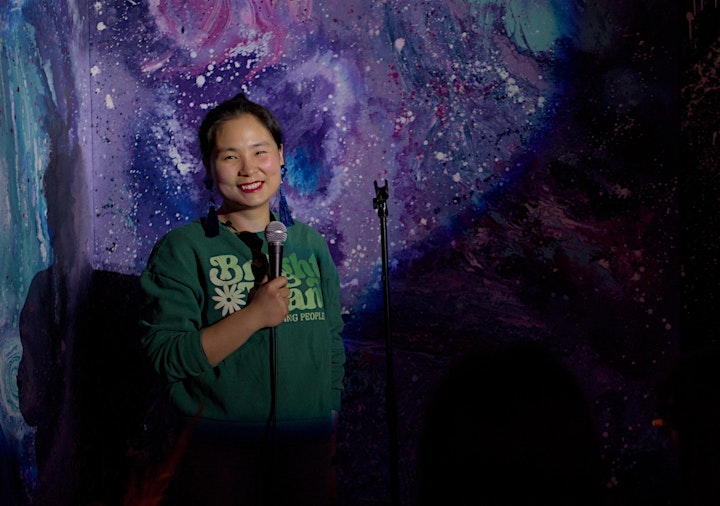 Host - Moni Zhang (Founder & Producer @ Berlin Mental Health Festival)
Originally From Wuhan, a cold, desolate place that became way too famous in 2020. A regular in The Berlin Comedy Scene and The Winner of Berlin NewStand Up Award, 2019.
Moni doesn't hold back with her material. She approaches sensitive subjects like race, sex, and farting with the finesse of a bulldozer. Her wit, set up and unique delivery makes her act fun to watch, while her vulnerability makes her the bravest person you'll meet.
Besides comedy, Moni dedicates herself to promoting awareness for mental health. She founded the Berlin Mental Health Festival, an art festival for mental health. She also produces the weekly "It's Mental! Podcast", where she has in depth conversations with creatives about their mental health journey.
Currently, Moni is touring around Europe with her solo show "Child from Wuhan", an autobiographical one-woman show about trauma, love, and diarrhea. Check more out at www.monizhang.com.
FB & INS: @moni.zhang.comedy