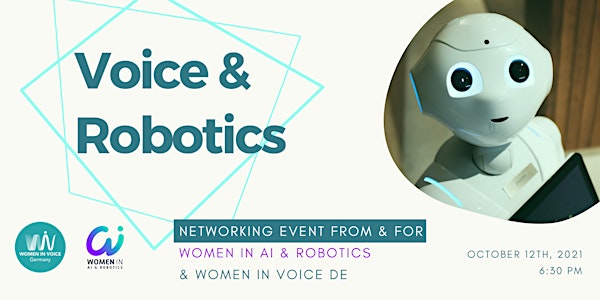 Voice & Robotics: Women in AI & Robotics and Women in Voice Germany
Meet the people behind W.AI.R Germany and WiV Germany, talk about shared values and interests like equality, NLP and Social Robotics.
About this event
A networking event hosted by Women in AI & Robotics Germany and Women in Voice Germany
"Women in…" is such an important movement - That's why Women in Voice and Women in AI & Robotics decided to share this spirit and connect the two communities. We are very much looking forward to a joint networking evening with all of you!
Get to know both communities, find out what inspires all the great researchers, engineers and developers and learn how they work in their diverse and interesting fields! We will meet via the "wonder" platform where we will get to know each other and discuss exciting topics from the voice, AI, robotics and technology industry.
This is also the perfect opportunity for newly interested people to get to know both communities!
We will have several virtual rooms to talk about the following topics:
NLG, NLP and Text-to-speech engines
Emotions from voice
Data encoding
Humans & Robots
Women & Technology
Women in Voice (WiV) Germany - We are the German chapter of Women in Voice, a global community dedicated to connecting women and diverse people who work in or are pivoting to the field of voice technology.
Women in AI & Robotics (W.AI.R.) Germany - We are a network of experts and professionals in Artificial Intelligence & Robotics, working towards gender-inclusive, ethical, and responsible solutions that benefit society.
We are looking forward to meeting you!
Marie (WiV), Teena & Lina (W.AI.R.)