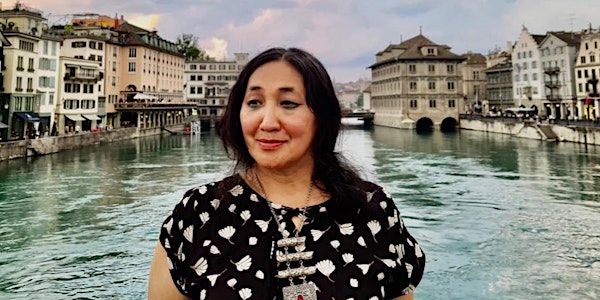 VOICE AS OBJECT / Saadet Türköz
A performative presentation on Saadet Türköz's artistic and experimental practice.
When and where
Location
Wüsten-Buchholz Schloßstraße 1 Koordinaten: 53.128009°, 11.851536° 19348 Perleberg Germany
About this event
PERFORMANCE LECTURE: THE VOICE IS A BODILY INSTRUMENT BY SAADET TÜRKÖZ
__
Sunday, August 14, 2022
5:00 PM - 6:00 PM
Gutshaus Wüsten-Buchholz, Perleberg
Free admission. Regristration required.
__
Saadet Türköz is a Kazakh-Turkish singer, composer and a shiatsu therapist who currently lives in Switzerland. Her ancestors were nomads who migrated from Semey in Kazakhstan to East Turkestan from where they fled via India and Pakistan to Istanbul. Türköz's first recordings were influenced by the folk music of her homeland, East Turkestan; in recent years, her repertoire has widened to include improvised music and modern interpretations of Turkish and Kazakh music. New music became increasingly important to her and she began to feel at home and understood in Zurich's eclectic free music scene. Türköz recorded her album "Kumuska" with the American composer and multi-instrumentalist Elliott Sharp (b.1951), the great artist of the world of electric, metallic, raw sounds as well as complex and groovy rhythms. By now they are trusted partners, having known each other since the 1990's and first recorded together on the album Marmara Sea. Jazz critic Manfred Papst writes in the liner notes: "Saadet Türköz is a charismatic shaman certainly, but not the pompous kind. She has a sense of humour, and even when her head is in the clouds, her feet are on the ground. The words and sounds illuminate daily life."
www.saadet.ch
__
VOICE AS OBJECT, OBJECT (H)AS VOICE
Voice has many connotations throughout its history. To take it out off the beaten track, with Voice as Object, Object (h)as Voice, the Field Kitchen Academy 2022 will tackle the issue far from the subject as the source of the voice and the gender studies – both from perspectives with sound artists, musicians, philosopher of Object Oriented Ontology, ventriloquist, theoreticians of music & sound, and Zen Masters via performances, installations and presentations. For details of the program: http://www.fieldkitchen-academy.org/public-programme-voice
__
The spacious outdoor property of Wüsten Buchholz will serve as the venue for the Field Kitchen Academy to reorganize gathering and community in the form of socially-distanced sound art events. The event will be held at Wüsten Buchholz in Perleberg, two hours from Berlin by train, and will strictly adhere to the health regulations of the Prignitz Gesundheitsamt.
For the visitors from Berlin and other cities who are willing to have a different weekend away from the city, Gutshaus Wüsten Buchholz offers a limited number of rooms and spaces for tents/caravans. Additionally free shuttles will be available from Perleberg train station to Wüsten Bucholz to Perleberg. Both conceptual dinners and accommodations at the location should be booked 24h prior to the events.
For bookings and reservations for conceptual dinners, accommodation and shuttles from Perleberg train station to Wüsten Buchholz please visit: www.fieldkitchen-academy.org/location
__
*The organizers reserve the right to make changes to the event programme.
**Voice as Object, Object (h)as Voice Public Program is supported by Musikfonds and Die Beauftragte der Bundesregierung für Kultur und Medien within the frame of Neustart Kultur.