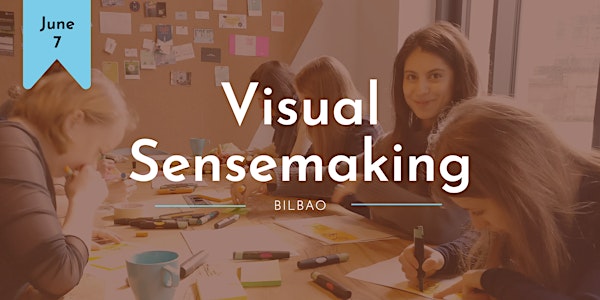 Visual Sensemaking (Bilbao)
Join this workshop to stimulate your creativity and open up new perspectives on stuck or messy situations.
Date and time
Wednesday, June 7 · 10am - 2pm CEST
Location
ESPACIO EMANA Alameda San Mamés, 37 8 Planta 48010 Bilbao Spain
About this event
CONTEXT
The method "Visual Sensemaking" is based on Theory U, a powerful framework for fostering transformational change by accessing deeper levels of awareness and intuition. It invites us to listen deeply to ourselves, others, and the world around us, and to embody the future we want to create.
PROCESS
Participants will go through a mini U-Process to
see and sense into their current context
practice presencing – allowing inner knowing to emerge
crystalize a future wanting to emerge.
The primary mediums for this exploration will be drawing and collage. Participants will engage a system mapping tool to define their current state and then be led through "Visual Presencing", a core social art, to evolve the map. This brings mindfulness into the mark-making process, and helps embody and externalize potential by accessing an intangible, but felt, field of possibility.
There will be ample space for reflection, so that each participant finds perspective through their own image. Each person will also identify specific ways to "stay with" their future as it unfolds.
PARTICIPATION
No drawing experience required! All are welcome. If you are not able to use physical drawing tools for any reason, please let the faculty know, so that a parallel visualized experience might be substituted.
WHO IS THIS FOR?
Everyone who is experiencing challenges, complexity, or a lack of clarity in their personal or professional lives.
Individuals who are interested in personal growth, self-reflection, and gaining clarity about their goals and aspirations.
People who would like to explore a visual way of problem solving but think that they can't draw.
TICKETS
LEARNER TESTIMONIALS
More than 240 participants have taken this course so far, here's what they say about it:
"Great experience, very inspiring, gave me a lot of ideas about how to make people reflect on their own experience through visuals."
– Fanny Didou
"It opened my mind-heart to a new way of working with visuals for problem solving."
– Mariana Diarte
"I felt invited to center myself in my own life in a way I hadn't even conceived of before."
– Meret Nehe
"To me it was just magic. I gained some insights that I am very grateful for and that I can use in
my life right away. And I enjoyed it immensely!"
– Rooske Eerden
YOUR FACILITATOR
"Visual Sensemaking" was developed by Kelvy Bird and Marie-Pascale Gafinen. The session will be facilitated by Marie-Pascale Gafinen.
Kelvy Bird is an artist, internationally recognized scribe and co-founder of the Presencing Institute at MIT.
Marie-Pascale Gafinen is an illustrator and scribe who communicates social and ecological topics. She works with NGOs and public institutions throughout Europe and helps them to visualize the better world they're trying to create. She has a background in communication design and Environment and Bio-Resources Management.
Marie-Pascale is based in Hamburg, Germany.
CONTACT
kontakt@gafinen.com
+49 152 26869025
www.gafinen.com
About the organizer
Marie-Pascale Gafinen is an illustrator and scribe focussing on communicating sustainability topics.
She teaches classes about Visual Thinking and Visual Facilitation – the latter with a focus on intercultural settings. Her work supports those who are actively driving change toward a more environmentally and socially sustainable future. Together with her clients, she makes the world a little better and wants to preserve the planet with all its possibilities for our grandchildren and great-grandchildren. Creating a container for all her students to thrive is very dear to her heart!