From new ways of managing human resources to new forms of office spaces: Frontiers of Dialogue Forum links you to the most exciting experts.
About this Event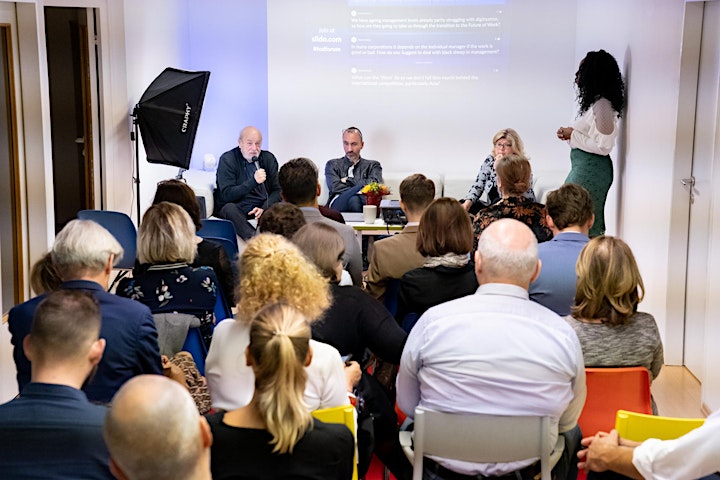 These questions and more we'll explore together with key experts to integrate non-corporate environments to corporate settings, associated costs to transforming the office space, and attract and retain talent in an agile workplace.
SPEAKERS
Brigitte GLEDHILL | Life Coach, kopfpilot
Bernhard HÖTZL | Serial Entrepreneur, Kompany, Funkensprung
Patricia RIEDER | Interior Designer, VIENNA LIVING
Barbara INMANN | Managing Director, Impact Hub
Günther WAGNER | HR Consultant, Günther Wagner Unternehmensberatung
Sigrid MAYER | Managing Director, EIGENSINN
Didi LENZ | Head of R&D, Bene
The Round Table Discussion will focus on:
- Design: Workplace solutions designed to attract and retain talents
- Cost: Correlation of rising costs and innovation sparks
- Wellness: Implementation of health and mindfulness programs
EVENT PROGRAMME
This evening is ideal for decision-makers, including consultants, executives, human resources professionals, flexible space providers and vendors who cater for space.
Our mission is to have an intensive dialogue around the way we work and where we work.
Do not miss it. Secure your seat today!
Frontiers of Dialogue Forum (FoD Forum) is a 3-part event series powered by Funkensprung, a consulting and co-working space company based in Vienna.
The purpose of this FoD Forum series is to introduce and co-design ideas for Managing the Future of Global Work in Austria:
Visions for the Future of the Workplace is a featured event of Frontiers of Dialogue Forum in cooperation with Funkensprung. More info: fodforum.org
If you are interested in working with us - or simply have a question about the conference: We look forward to hearing from you! Email: cornelia.klepeisz@fodforum.org
Tags: thefutureofglobalwork , fodforum , funkensprung , womengointernational business , workplace , future , sustainability , humanresources , hr ,leadership skilldevelopment , workplace , workspace , employeeperformance ,talent innovation
Video Message by Frontiers of 'Dialogue Forum Speakers
Günther Wagner and Dipl.-Ing. Sigrid Mayer