Virtual ZOOM Coffeeshop Group Coaching (A mid-day Event in English)
About this event
Experience group coaching virtual via ZOOM with a few professional ICF credentialed coaches. This style of coaching is just as committed as any other form of coaching only experienced in a more gentle and relaxed way of coaching support, encouragement and none-judgmental accountability.
We meet online via ZOOM over a cup of coffee, hot chocolate, or your favorite cup of tea. These group coachings usually last 90 minutes, and they are FREE!
Virtual Coffeeshop Group Coaching is confidential while using an informal coaching atmosphere and can be done from the comfort of your home, no need to travel! Every participant can join from their respective current global locations which gives the event a very international touch. Diversity is an added twist of value as each of the international participants contribute from their specific approaches adding a variety of new perspectives. Perspectives are valuable in the coaching process for clarity, opening up and leaning into what's new in any change process. This gives a great latitude in creating tools for change. Bring your topic and give it a try!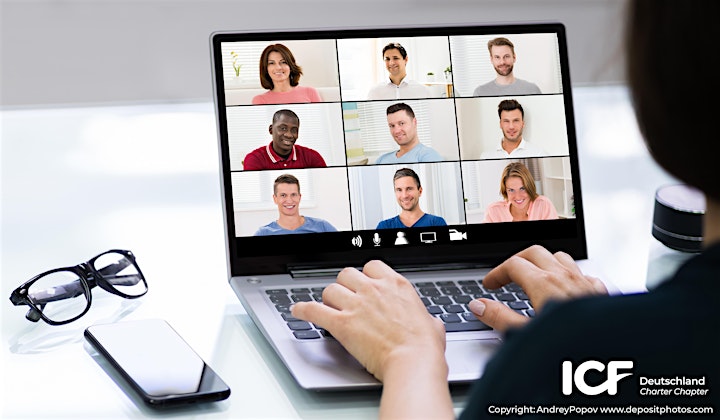 The ICF Chapter Berlin Host Team expand the possibilities of how virtual coffeeshop group coaching facilitates learning and results, uses diversity for discovery and development, awakens curiosity, insight, commitment, and action using the virtual zoom platform and multiple Chapter Member ICF credentialed coaches. Eventbrite tickets are free in celebration of International Coaching Week and ICF Deutschland 's 20th anniversary year of supporting high standards of professional coaching!
Benefits for the participants
If you are struggling with big changes in your life, need to make a decision, or just need to be heard, coffeeshop group coaching can be the perfect platform for you. Coaching is a productive relationship enabling YOU to:
• Creatively explore solutions
• Prevent self-sabotage
• Take actions that move YOU forward
• Achieve YOUR goals
• Attain clarity in what YOU want
Organiser of Virtual ZOOM Coffeeshop Group Coaching (A mid-day Event in English)
Die International Coaching Federation (ICF)  wurde 1995 in den USA gegründet und ist heute mit fast 37.000 Mitgliedern (Stand März 2020) in 143 Ländern, weltweit, die größte Non-Profit-Vereinigung professioneller Coachs. ICF Deutschland gibt es seit 2001, mit derzeit über 630 Mitgliedern.
Die Ziele der ICF sind:
Die Integrität des Coaching-Berufs zu stärken und zu fördern.
Durch Zertifizierung von Coachs mehr Transparenz für Klient/Innen und professionelle Coaches zu ermöglichen.
Die ethischen Standards des Berufsstands auf hohem Niveau zu prägen und weiter zu entwickeln.
Klientinnen und Klienten bei der Auswahl des für sie geeigneten Coachs zu unterstützen.
Forum und Interessenvertretung für die weltweite Gemeinschaft der Coachs zu sein.
Die ICF-Mitglieder durch kollegialen Austausch, interne Weiterbildung, Pressearbeit und internationale Vernetzung bestmöglich bei Ihrer Arbeit und ihrem professionellen Wachstum zu unterstützen.
Die Förderung der Kunst, Wissenschaft und Praxis des professionellen Coachings Die International Coach Federation (ICF) wurde 1995 in den USA gegründet und ist heute mit mehr als 37.000 Mitgliedern in über 143 Ländern der weltgrößte Verband professioneller Coachs und Hauptansprechpartner für Menschen, die einen Coach suchen. Sie ist die einzige Coaching-Organisation mit einer weltweit anerkannten Zertifizierung, hohen ethischen Standards und 8 Kernkompetenzen, die den Rahmen für professionelles Coaching definieren. ICF in Deutschland gibt es seit 2001, mit derzeit rund 630 Mitgliedern. Voraussetzung der ICF-Mitgliedschaft sind Nachweise einer fundierten Coaching-Ausbildung sowie der aktuellen Tätigkeit als Coach. Zudem wird jedem ICF-Mitglied empfohlen, eine der drei ICF-Zertifizierungsstufen (ACC/PCC/MCC) zu absolvieren, um dadurch Professionalität zu demonstrieren.
Coachingverständnis
Die Mitglieder der ICF verpflichten sich zu einer Coaching-Form, die den Klienten als Experten des eigenen Lebens anerkennt. Sie sind demzufolge der Überzeugung, dass alle Klienten über genügend Ressourcen verfügen, um ihre Ziele zu erreichen. Und dass sie kreativ, eigenverantwortlich und in sich vollkommen sind.
Die ICF-Zertifizierung als internationaler Standard Bereits 1998 eingeführt, ist sie die international am weitesten verbreitete und zugleich die einzige weltweit anerkannte Coaching-Zertifizierung. Aktuell gibt es bereits rund 30.000 ICF-zertifizierte Coachs. In zahlreichen internationalen Konzernen und Organisationen (z.B. IBM und NASA) ist eine ICF-Zertifizierung Voraussetzung für die Aufnahme in den Coaching-Pool. Die Zertifizierung ist nicht an eine Mitgliedschaft gebunden; auch verbandsunabhängige Coachs sowie Mitglieder anderer Verbände können sich durch die ICF zertifizieren lassen. Der Neutralität der ICF dient es auch, dass der Verband keine eigenen Ausbildungsinstitute betreibt.