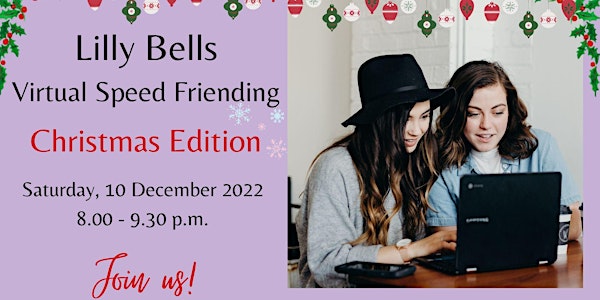 Virtual Speed Friending - Christmas Edition
Virtual Speed Friending to meet, connect and befriend other women. This is an online session, which you join comfortably from your couch!
About this event
WOMEN ONLY EVENT ;)
Do you want to make new friends in Munich? Create genuine connections? And above all have fun?
>>This event is for YOU<<
How does it work?
1) We start with an introduction round in the main room with all ladies.
🎅🏻 Christmas Edition: If possible, wear something Christmassy...for example a Santa hat, a red sweater or simply something sparkly. ✨
Please note, that you are only permitted to participate if you switch ON your camera. We meet to make friends, which works best, if we can also see each other :)
2) Next you will be paired off for short periods of time and have the opportunity to get to know the other ladies individually.
3) At the end, all participants return to the main room for a recap and exchange contacts.
This event is free 👍🏻
Join the club and become part of our international community - Follow us @lillybells.club
We hope to see you then!
*Note: You will get 3 reminder emails with the ZOOM link! (2 days before, 2 hours before, 15 minutes before)